GET Stock

Quotes


CBI Raids a BJP Conspiracy, Will End Amit Shah And Modi's Arrogance: Lalu
Yadav also alleged that media reports about his wife Rabri Devi and son Tejaswi Yadav being questioned were false.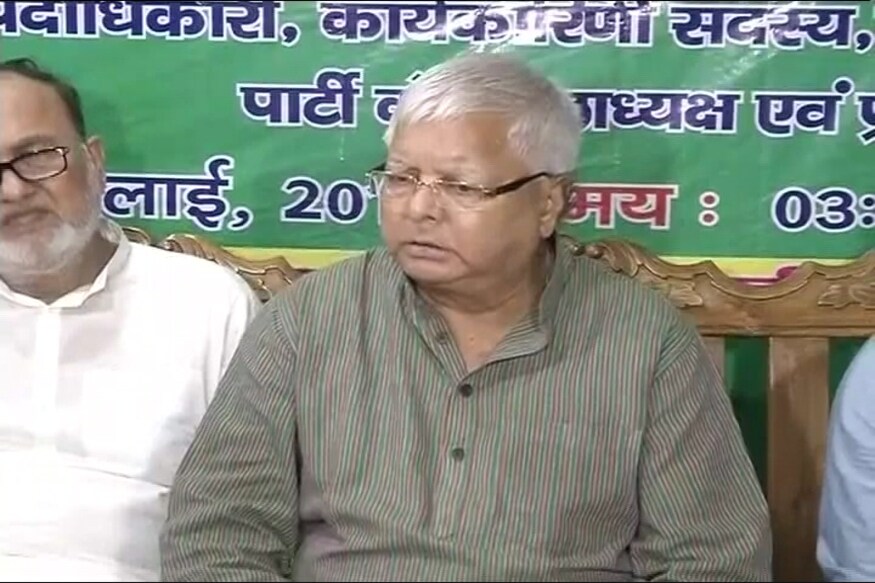 RJD president speaking to media about CBI raids in a corruption case against him. Screengrab from CNN-News18
Patna:
RJD president Lalu Prasad Yadav termed Friday's CBI raids a witch hunt and said it was a conspiracy by the BJP against his family.
"I have done nothing wrong and am open to any probe," he told the media during a press conference in Patna.
He said that the Narendra Modi government was targeting all opposition parties, adding he "will end (BJP president) Amit Shah and Modi's arrogance".
"They (BJP) are scared of me. They know Lalu has the capacity to root them out and we will ensure it in 2019. We will reply in elections," he said.
The CBI on Friday carried out searches at 12 locations after registering a corruption case against the former railway minister and his family members, including wife Rabri Devi and his son, deputy chief minister of Bihar Tejaswi Yadav.
Lalu has been accused of accepting three acres of land for awarding an IRCTC contract to Sujata Hotel Private Limited to develop hotels in Ranchi and Puri. His family allegedly used a benami property to acquire the land.
Lalu also alleged that media reports about Rabri and son Tejaswi being questioned were false. "We have cooperated with the CBI on raids," he said.
He also questioned the rational of action taken against Tejaswi as he was minor when the hotels run by IRCTC were handed over to a private company on lease.
He defended his decision to lease out those hotels as Indian Railways are earning Rs 1.15 crore annually under the agreement and that after expiry of lease period, all properties would be handed back.
The RJD president also ruled out any bickering within the ruling alliance in the state and claimed His planned rally on August 27 will unite all opposition forces.
Meanwhile, reacting to the CBI raids on Lalu, Trinamool Congress chief and West Bengal Chief Minister, Mamata Banerjee, said, "This is nothing but political vendetta. The BJP has only two objectives. It uses government agency to disturb opposition parties and it uses the service of outsiders to engineer political riots. They will be thrown out of power in 2019."
Also Watch
| Edited by: Ashish Yechury
Read full article