Chairs, Tables Fly as Amar Singh Goes to Azam Khan Stronghold Rampur
Amar Singh, who went to Azam Khan's assembly constituency Rampur, had called a press conference and accused Khan of appeasing Muslims.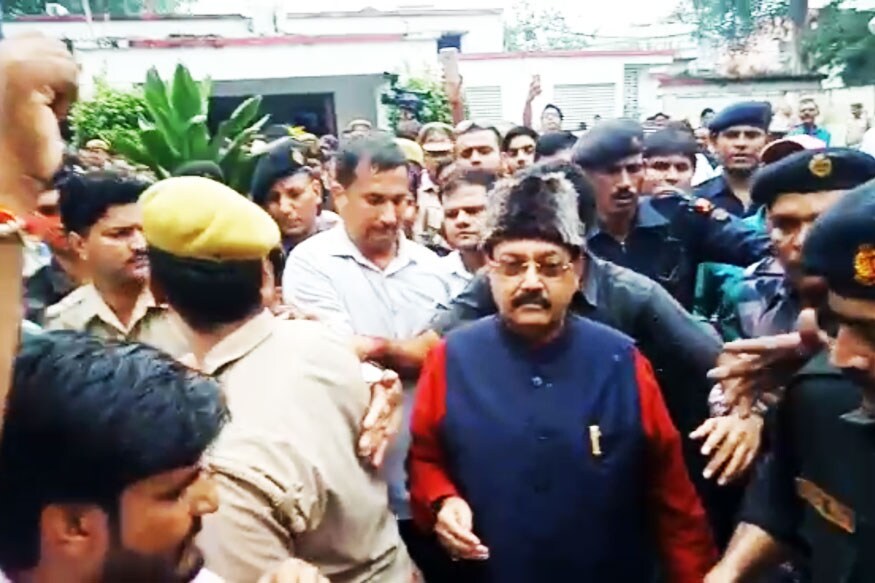 Amar Singh left the venue hurriedly after violent fight broke out between the supporters of Singh and Azam Khan in Rampur.
Lucknow: The war of words between Rajya Sabha MP Amar Singh and Samajwadi Party leader Azam Khan escalated into a brawl between the supporters of the two leaders on Thursday.

Singh, who went to Khan's assembly constituency Rampur, had called a press conference but a mere reference to Khan ticked off a supporter of the SP leader.

Soon, it turned into an all-out brawl between the two groups and they flung chairs and tables at each other. Luckily, no one was hurt in the ruckus. However, on seeing the situation get out of hand, Amar Singh left the venue hurriedly.

Singh, a former SP general secretary, had said he had come to Rampur "to present myself for sacrifice in front of Khan."

"Azam Khan is a 'bahubali' (a person exercising tremendous clout) I am ready to sacrifice myself if he is ready to sacrifice me. On Thursday, I am not going to Rampur for any violence," said Singh.

The Rajya Sabha MP had also met UP Governor Ram Naik and CM Yogi Adityanath on Wednesday evening and raised concern regarding controversial statements made by Khan.

Singh had on Tuesday also accused Khan of threatening that he would rape and throw acid on his daughter and wife.

He had also dismissed the SP as a "namazwadi party", alleging that it only aims at Muslim appeasement. Training his guns on Akhilesh Yadav, Singh accused him of patronising communalists and fundamentalists like "rogue man" Azam Khan.

Replying to allegations made by Singh, Akhilesh Yadav had called the statements a diversionary tactic of the BJP.

Singh bemoaned the fact that party patriarch Mulayam Singh did not pull up Azam Khan even once. "If Mulayam Singh Yadav had condemned Azam Khan even once, I won't be calling it namazwadi party," he said.
Read full article
Countdown To
Elections Results
To Assembly Elections 2018 Results