Chandrababu Naidu's TDP to Remain With BJP for Now, But Will Keep Up Pressure for Andhra Package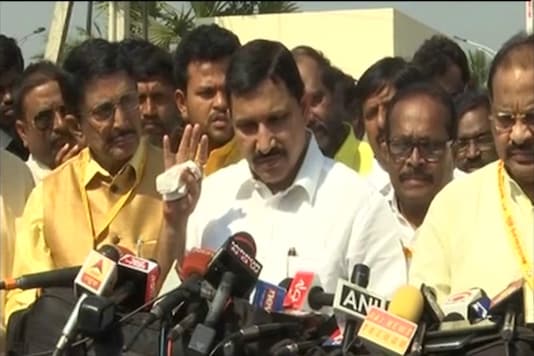 Addressing the media after the crucial meeting of party MPs and senior leaders on Sunday, TDP minister YS Chowdary said the matter would be raised in Parliament if needed (TV grab)
TDP leader and state minister YS Chowdary said the issue may also be raised in Parliament if the Centre failed to deliver on its promise of special package for Andhra Pradesh.
Hyderabad: The Telugu Desam Party (TDP) has decided to remain in the BJP-led National Democratic Alliance for now, but says it will continue to demand a special package for Andhra Pradesh.
Addressing the media after Chief Minister Chandrababu Naidu chaired a crucial meeting of party MPs and senior leaders, TDP minister YS Chowdary said the matter would be raised in Parliament if needed.
"During the meeting, the Union Budget and the absence of allocations to Andhra Pradesh were discussed. We will continue pressurising the Centre for it. We will also raise the matter in Parliament if needed," Chowdary said.
The emergency meeting had been called by Naidu after Andhra Pradesh failed to get substantial budgetary allocations for many key projects in the Union Budget. This was the Modi government's last complete Budget before the 2019 General Elections.
Lack of Andhra-centric sops in the Budget had brought the rift between the TDP and the BJP out in the open in recent days. For a long time, Naidu was disappointed that Andhra Pradesh was denied promised financial assistance by the BJP-led Centre, despite the state reeling under financial crisis after bifurcation.
The resentment grew after state BJP leaders started making public comments against "friendly" ally in the state.
The opposition had been quick to take advantage of the situation.
YSRCP chief Jagan Mohan Reddy said, "The Budget is approved by the Union Cabinet which has two TDP ministers. The theatrics of Chandrababu Naidu will not work. The Union Budget is a collective decision and TDP cannot refrain from taking back the blame that state interests have been ignored. He is acting as if NDA government has presented Budget for first time serving raw deal to the state."
"Did he not feel the pinch when he watered down on the demand of Special Status? Chandrababu Naidu may promise moon to the people, but use your discretion in ensuing elections," Reddy added.
But with elections just round the corner, the pressure is building on Naidu to deliver on the promises of development which brought the TDP-BJP alliance to power in the state.
Greater Hyderabad Municipal Corporation Elections 2020 Live Results - Ward-Wise Results | Detailed Results Tally | GHMC Results Live Updates
Next Story