Chandrababu Naidu Wants to Run Telangana Through His Proxy Congress, Says TRS Leader KT Rama Rao
Kalvakuntla Taraka Rama Rao, mostly referred to as KTR, is a three-time MLA from Sircilla. One of the most popular faces in the state, and a potential successor of K Chandrashekar Rao, is on full swing in his constituency.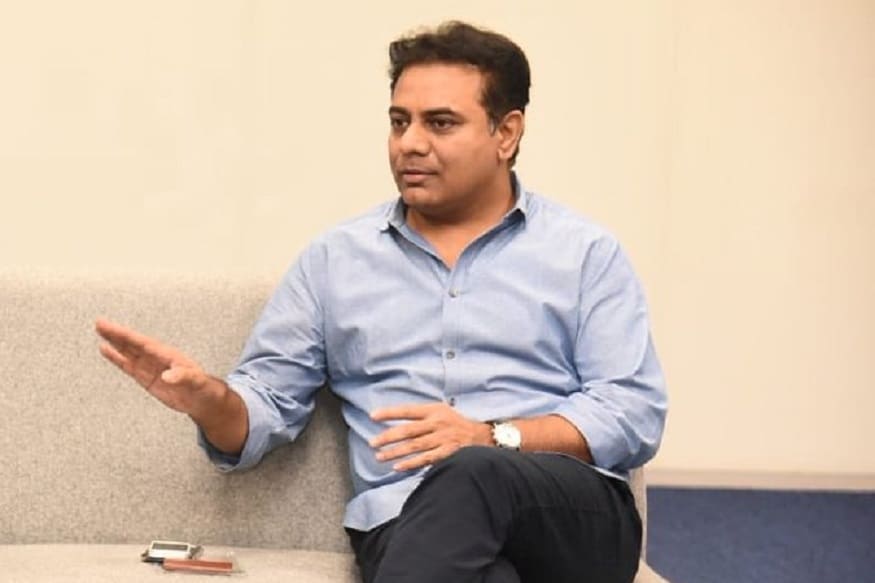 File photo of KT Rama Rao
About 150 kms from Hyderabad is Sircilla town, headquarters for Rajanna Sircilla district. Apart from being a textile hub and home to thousands of weavers, what sets this region apart is that it is the constituency of Telangana IT minister. Kalvakuntla Taraka Rama Rao, mostly referred to as KTR, is a three-time MLA from Sircilla. One of the most popular faces in the state, and a potential successor of K Chandrashekar Rao, is on full swing in his constituency.
With the election fever heating up and the key opposition in Telangana, the Congress, working on an alliance with Chandrababu Naidu's Telugu Desam Party and a few others in the same team, it may not be such a smooth ride for the ruling party Telangana Rashtra Samithi this time.
So, will it be KCR vs. Chandrababu in Telangana again? Definitely not, says KTR. "Chandrababu Naidu wants to control elections in Telangana, but that would not affect the outcome of the polls," he adds. News18's Rishika Sadam catches up with the minister, while on campaign in his Sircilla.
Edited excerpts:
What kind of momentum are you picking up from your constituency and the state in general?
KTR: My opinion would be biased. I am in the middle of a campaign. There is a lot of positive momentum. The general feeling across the state is that is a government that has delivered on welfare and development and has been a role model to other parts in the country. Not just we, but several eminent leaders and other Union ministers feel so. So, yes, there is a lot of positive buzz for us.
But, a lot of your leaders have been facing heat on the ground. They have been asked to go back while on campaign and this is giving the impression that TRS local cadre is not strong and it is just KCR's image that has been the savior. Do you agree to it?
KTR: There are two issues to it. We've only been in power for four years. Prior to this it was 67 years—50 years of Congress and 17 years of TDP – had they worked, there wouldn't have been so many issues. We've made an earnest start and people believe that it will take time for us to deliver as well.
I don't' see a great deal of dissatisfaction but there is bound to be a bit of an issue here and there. By and large—you will see, on December 11, the victory that we will achieve.
What according to you has not worked in last time's manifesto, was a failure, or could not be implemented properly- which will be done this time.
KTR: I wouldn't call it a failure. Two things where we should have done a lot better, one is the housing programme – while it has been kick started- we should have expedited it.
In fact 2,62,000 houses are under construction. We are spending Rs 18,000 crore – you will not see this scheme anywhere else in the country. We've only delivered about 13,000-14,000, which are not satisfactory.
Secondly, while we have taken up employment and recruitment in government sector in big way—we've already completed 38,000 jobs—the expectation was even more. So, the alignment of expectation of employment in government sector, we could have handled it better.
Do you think it is Chandrababu Naidu vs KCR again in the state? Naidu's party TDP is in alliance with Congress for upcoming Telangana elections. How much of his involvement will have an impact on the elections?
KTR: It is absolutely not Chandrababu Naidu vs KCR Let me point out Naidu wants to control the resources in Telangana and wants to run the state through a proxy vehicle and the proxy is chosen – it is Congress.
Naidu is known as person who commercialises elections in AP. He is known to spend tones of money and we' re worried that Naidu being CM of Andhra Pradesh might funnel in using the resources such as intelligence agencies he has at his disposal. His intelligence chaps were caught snooping in. We' re worried that the ill-gotten wealth he has got, he will funnel and fund the Congress here and it might be a concern , but not that it would affect the outcome of elections.
There is a broader alliance which is at work at the national front. Chandrababu Naidu has been at the forefront, meeting Rahul Gandhi and other leaders. How do you think this would shape up?
KTR: The world is not bipolar and it is not just UPA vs NDA. There is definitely scope for other parties which are neither in UPA nor NDA to come together. Unless our states are strengthened you will not see a stronger country. In our opinion, Congress and BJP have been miserable failures and there needs to be a viable alternative. Will this emerge in 2019? I don't know. We do not view Indian politics as Chandrababu Naidu does. He seems to believe his once upon a time arch rival Congress is an answer and we do not believe it. People have tried it, tested it and are done with it.
KCR was also one of the people to float a 'federal front' idea. What is the progress then?
KTR: Telangana CM's focus after December 11 is national politics. Our CM will have ample amount of time after December till the general elections 2019, he will explore that time to focus on federal front.
How would KTR rate Narendra Modi's governance?
KTR: He has let down the country, he has let down Telangana. I will not even give him passing marks, as an individual. In 2019, I think people of the country will choose wisely. The two national parties are very biased and extremely partisan when it comes to implementing schemes and development. On the whole, the positivity there was in 2014 for Modi, certainly does not seem to be there anymore. The aura he projected back then isn't there anymore. We will have to see which way will the wind blow.
Get the best of News18 delivered to your inbox - subscribe to News18 Daybreak. Follow News18.com on Twitter, Instagram, Facebook, Telegram, TikTok and on YouTube, and stay in the know with what's happening in the world around you – in real time.
Read full article