Solar panel scam: Chandy meets Sonia Gandhi in Delhi
Chandy said he did not discuss on cabinet reshuffle with Sonia Gandhi.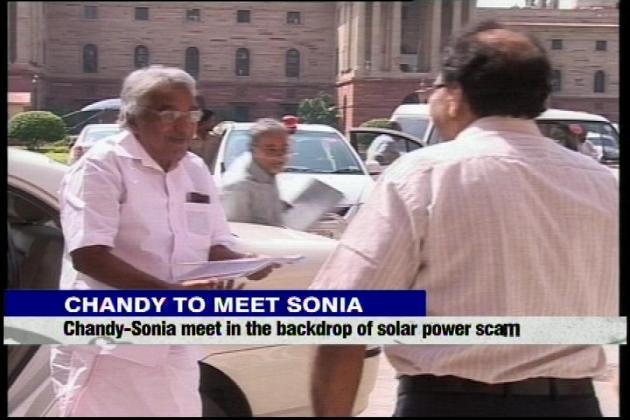 Chandy said he did not discuss on cabinet reshuffle with Sonia Gandhi.
New Delhi: Kerala Chief Minister Oommen Chandy met Congress President Sonia Gandhi in Delhi on Saturday amid calls for him to resign over the solar panel scam. Chandy has been accused of links to the main accused Saritha Nair in the case.
After the meeting, Chandy said he met Sonia Gandhi to discuss the present political situation in Kerala but ruled out that he did not discuss any cabinet reshuffle in the southern state. "We did not discuss a cabinet reshuffle in Kerala. If there is to be one, the initiative will be taken by AICC Kerala in-charge Mukul Wasnik. Only then will the high command intervene," said Chandy.
The solar scam is perhaps the biggest one to hit Kerala in recent times. Chandy's name propped up after it emerged that main accused Sarita Nair used Chandy's office to pursue her business goals and cheat a number of people crores of rupees. Sarita is said to have made phone conversations with atleast three ministers in the cabinet apart from the CM's own staff.
The CPM led LDF in Kerala is baying for Chandy's resignation for his alleged role in the scam. The party had on Wednesday held a 12-hour strike demanding CM's resignation, which saw stray incidents of violence across the state.
However, Chandy continues to remain defiant, reiterating that he has done nothing wrong. He alleged that it was part of a political conspiracy by the CPI-M-led opposition and if he stepped down now, he would be doing an "injustice to truth."
Get the best of News18 delivered to your inbox - subscribe to News18 Daybreak. Follow News18.com on Twitter, Instagram, Facebook, Telegram, TikTok and on YouTube, and stay in the know with what's happening in the world around you – in real time.
Read full article