nda:
Needmore seats to Win

Needmore seats to Win
upa:
'Chinnamma' and Beyond: What to Expect of the Sasikala Regime
No election has been held, but South India's most populous state will have a new chief minister soon. And the suspense for the people of Tamil Nadu on the crowning of the new CM is something like we have never seen before.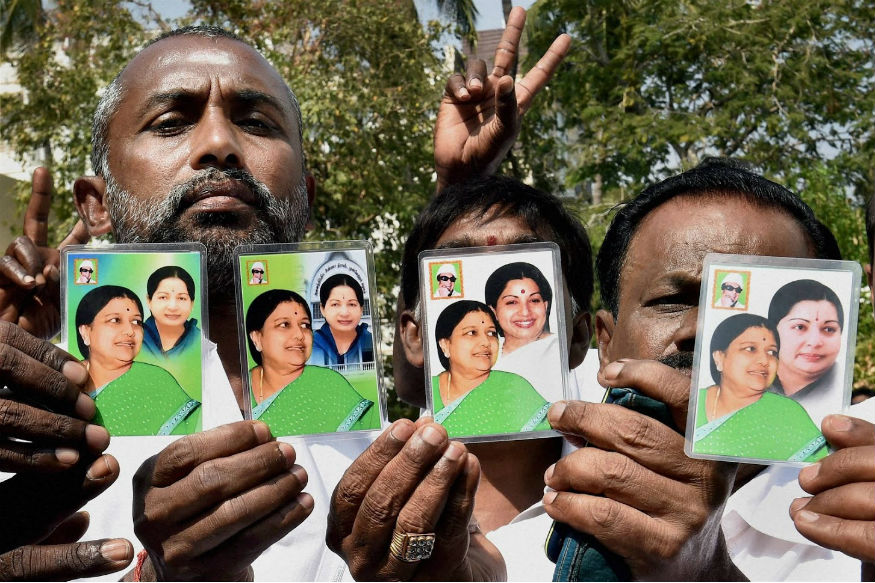 Supporters of AIADMK show the portrait of newly appointed party General Secretary V K Sasikala with J Jayalalithaa during their party's General Council meet in Chennai. (Photo: PTI)
Chennai:
No election has been held, but South India's most populous state will have a new chief minister soon. And the suspense for the people of Tamil Nadu on the crowning of the new CM is something like we have never seen before.
As Tamil Nadu begins to count the days before 'Chinnamma' VK Sasikala takes over as chief minister, state Governor Vidyasagar Rao has kept everyone guessing on when exactly the oath-taking ceremony would be.
As per initial plans, Sasikala was to be sworn in as CM between 9 am and 11 am on Tuesday. But with Governor Rao not clarifying when he would be in Chennai to administer the oath, her rise to the throne is still steeped in mystery. The twist in the tale came late Monday night – with Rao cancelling his programmes in Tamil Nadu. Sources indicate that he has sought legal opinion before Sasikala can be elevated as CM.
Hectic preparations were afoot at the Centenary Auditorium of the Madras University, the same venue where J Jayalalithaa took oath as CM twice in the last three years. The auditorium that can hold over 2,000 people was being spruced up and saw heavy security deployment through the day. And while the oath-taking could well give an idea of the new regime's grand plans, what is to be expected of the 'heir' of J Jayalalithaa is being watched – and speculated – keenly.
One of the ministers in the Tamil Nadu cabinet told News18 that he expected Sasikala to announce some 'welfare measures' that sets a precedent to make her more popular. "Amma (Jayalalithaa) always made some big announcement soon after taking oath. Chinnamma could do the same," he said.
Sasikala, in her acceptance speech at the AIADMK legislature party meeting on Sunday, had also said she would carry forward Amma's dreams for the party to work for the welfare of people "even after a thousand years."
No one can say that it's easy to slip into Jaya's shoes. She had both class and mass appeal. She carried herself off with national and international leaders with aplomb, and never gave in whenever the interests of the citizens of Tamil Nadu were at stake.
Also Read:
Who is Sasikala? Meet the New Tamil Nadu Chief Minister
For Sasikala, who has willingly slipped into the role of 'Chinnamma' – the AIADMK official Twitter handle signs off every tweet of hers with the tag 'Chinnamma' these days – the task will be uphill.
First, she is looked upon with suspicion – many wonder whether she could have done something more for Amma's healthcare in her last days. And then there are those who ask what her experience with the business of governance is.
And she is getting ready to tackle the perception issue: re-jigging her image. The streets of Chennai these days sport large (and obviously photoshopped) posters of her with MGR and Jayalalithaa. A hastily-convened press conference of Dr Richard Beale on Monday talked of how Sasikala was by Amma's side often during her illness – and sought to dispel doubts over whether the best treatment was accorded to her. She has changed the way she dresses and carries herself, including in the 'namam' in her forehead that is so reminiscent of Jayalalithaa.
Also Read:
Saree Choice May Help Chinnamma Become Amma; and Sasikala knows It
Behind the scenes, Sasikala has been quietly turning the cogs of the wheels in her favour. First, Amma's funeral itself was carried off with barely a hitch, the law and order situation strictly under control. Next, after a mourning period of about three weeks, she has ensured she would be made general secretary of the party. Without wasting much time, she has become the leader of the legislature party without becoming an MLA. Next, top bureaucrats who were trusted by Amma were sidelined.
At public events – and even in the Rajya Sabha – AIADMK members first invoke Amma, then Chinnamma, and then carry forward with their speeches. The perception battle is slowly being fought, with legislators being pushed to credit Sasikala with any successes for the government.
So has this all worked? Not immediately perhaps. Cricketer and Chennai-resident Ravichandran Ashwin tweeted that 234 jobs are up for grabs soon (there are 235 members in the Tamil Nadu Assembly).
Filmstars like Kamal Haasan have tweeted what are obviously sly references to the current regime. Quoting the Thirukkural, Haasan said: "Even a load of peacock feathers can derail a cart, if there are enough of them." The reference is that even 'lightweights' or underdogs can bring down a government, if there are enough of them and they join hands.
Some party workers even gathered at the home of Jaya's niece Deepa Jayakumar on Monday, saying they want her to be an "alternative". "She (Sasikala) is not the person we voted for. We will wear black at her oath-taking in protest," they said in anger.
Sasikala's home, in contrast, saw complete silence on Monday. Even at the party headquarters, ministers and MLAs who had only started speaking to the media in the last two months (never daring to do so when Jaya was alive), have resumed their earlier practice of looking away when journalists approach them.
All this points to how Sasikala is silently, but surely, calling the shots in the party everyday. "She has taken care of Amma, and through her, all of us in the party, for so many years. For us, we see Amma in her. It is no different," said a minister loyal to her.
BJP spokesperson Narayanan Tirupathi too pointed to this ghost-control of the party that Sasikala always had. "She has been with Jaya for over 25 years. She has been deciding all of Jaya's day-to-day affairs, all through. And at all times, the candidates – whether Assembly or Parliament election – Sasikala and her family had a say. So the entire party was controlled by her earlier too, and MLAs can't move out of that control," he said.
The next stage of 'management' has evoked questions on who will be in her Council of Ministers.
Speculation is that O Panneerselvam, who vacated his chair as the chief minister on Sunday, could be made the Deputy Chief Minister, and could retain the finance portfolio as well. Chinnamma will also have to balance out her caste matrix to keep different communities happy. KA Sengottaiyan, the MLA who had been sidelined by Jaya and removed from the Ministry earlier, is back in the reckoning – with his Vellala Gounder card, he was made organising secretary of the party last week – even perhaps winning a good portfolio for his loyalty to Chinnamma. The rest of the Ministry will more or less wear the same look, although there is speculation on whether any members of her family would make it to a key post.
Also Read:
Sasikala as CM: Growing Shadow of 'Mannargudi Mafia'
So what is it that makes these MLAs embrace a new leader so easily? What is Sasikala's hold on legislators who have faced multiple elections?
Political analyst R K Radhakrishnan has this to say: "The AIADMK is a party that takes great pride in calling itself a party with military discipline from the time of Jaya. The military has a centralised record of all its people – the AIADMK has one too. It has extensive intelligence on the deeds and misdeeds of its senior party functionaries. Aided by this intelligence network, she is right now the custodian of the fate of all these leaders, who have pledged their loyalty to Jaya earlier and now with Sasikala."
It's a matter of time before custodian of the party's secrets finds herself as the custodian of citizens' fates.
(Get detailed and live results of each and every seat in the Lok Sabha elections and state Assembly elections in Andhra Pradesh, Odisha, Arunachal Pradesh and Sikkim to know which candidate/party is leading or trailing and to know who has won and who has lost and by what margin. Our one-of-its-kind Election Analytics Centre lets you don a psephologist's hat and turn into an election expert. Know interesting facts and trivia about the elections and see our informative graphics. Elections = News18)
Read full article
Countdown To
Elections Results
To Assembly Elections 2018 Results