Nitish Kumar and Lalu Prasad Yadav Break Mahagathbandhan Tradition, to Hold Separate Meetings
Chief Minister Nitish Kumar advanced the JD(U) Legislature Party meeting from Friday to Wednesday after Mahagathbandhan allies RJD and Congress rejected demands for deputy CM Tejashwi Yadav's resignation.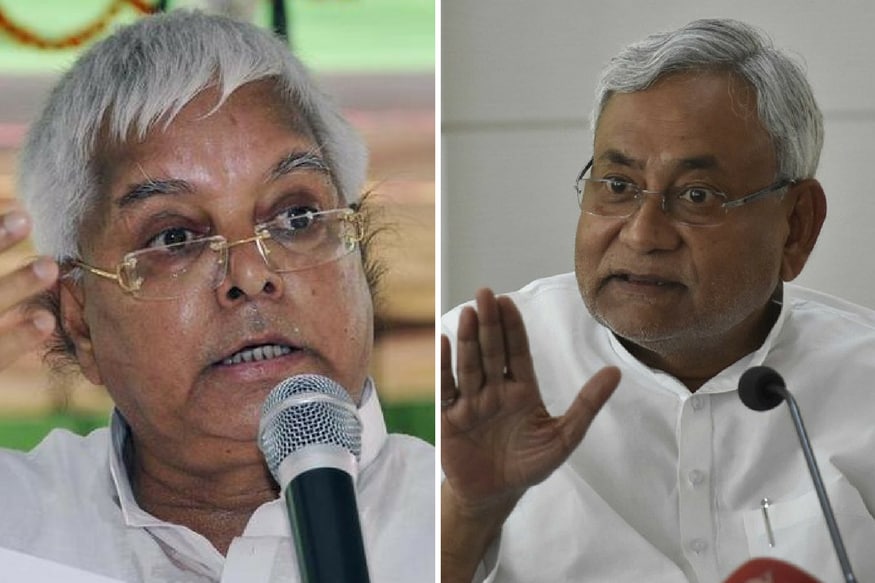 File photos of RJD leader Lalu Prasad Yadav (left) and Bihar CM Nitish Kumar.
Patna: The rift between the JD(U) and the RJD has taken its toll on the Mahagathbandhan with the alliance deciding against holding a joint meeting of its MLAs ahead of the Assembly's Monsoon Session.
Bihar Chief Minister Nitish Kumar will instead hold a separate meeting of JD(U) Legislature Party, advancing the meeting with MLAs from Friday to Wednesday.
At the meeting, Nitish may spell out his next move on deputy Tejashwi Yadav who has been booked by the CBI on corruption charges.
The all-important Legislature Party meeting comes two days before the Monsoon Session of the Assembly on Friday. JD(U) leaders believe sitting with Tejashwi in the Assembly will send wrong signals within the party.
JD(U) chief whip Shravan Kumar has directed all MLAs to be present at the Legislature Party meeting in which, sources said, Nitish is expected to spell out his next course of action.
The JD(U) has pushed for Tejashwi's resignation — a demand rejected by his father and RJD chief Lalu Prasad Yadav, and the Congress.
Nitish had tried to get ally Congress on board during his meeting with Rahul Gandhi and Sonia Gandhi in Delhi last week, but was reportedly told that mere filing of FIR can't be grounds to seek resignation.
With the Congress backing the RJD, pressure is mounting on Nitish to act in order to save his 'clean' image. The opposition BJP has said it will not let the House function if Tejashwi does not resign.
Nitish avoided a Cabinet meeting this week which usually meets on Tuesdays. As he was in Delhi that day, it was expected that he would hold the meeting on Wednesday, but the CM has instead called a Legislature Party meeting of the JD(U).
The RJD and the Congress, too, will hold separate Legislature Party meetings.
After the last Cabinet meeting, Tejashwi had gone straight to Nitish's official chamber and tried to present his case, but the latter reportedly dismissed it, saying it was not enough to give him a clean chit.
Nitish Kumar, who is quiet media savvy, has avoided speaking to reporters since the CBI booked ally Lalu, his wife Rabri Devi and their son Tejashwi in a corruption case and conducted raids.
Nitish even cancelled planned events like the Jan Samvad after which he usually interacts with the media.
JD(U) spokespersons have also been advised to keep mum on Tejashwi. As one party spokesperson said on condition of anonymity, the next decision will come from Nitish himself. "Ye toofaan se pehle ki shanti hai (this is the calm before the storm)", he said.
Get the best of News18 delivered to your inbox - subscribe to News18 Daybreak. Follow News18.com on Twitter, Instagram, Facebook, Telegram, TikTok and on YouTube, and stay in the know with what's happening in the world around you – in real time.
| Edited by: Nitya Thirumalai
Read full article