Congress Asks Ticket Seekers in MP to Swear on Lord Ram They Won't Betray Party
All those who applied for tickets were made to promise by party's working president Jitu Patwari that they would remain loyal even if they are denied a ticket.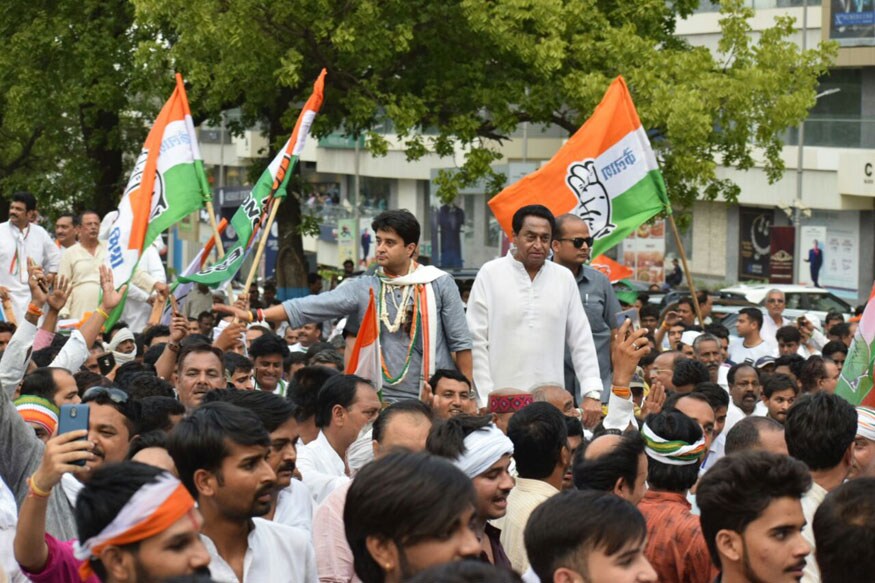 File photo of Kamal Nath and Jyotiraditya Scindia during a rally.
Bhind: Apprehensive of an internal upheaval after the tickets are finalised for the upcoming assembly polls in Madhya Pradesh, the Congress has already started preparing for damage control.
One of the five working presidents of the party, Jitu Patwari, on Wednesday asked a bunch of ticket aspirants in Bhind to take oath that they won't hamper prospects of the one who eventfully gets a ticket from the party.
Patwari, who reached Mehsana as part of his Jan Jagran Yatra, asked all those who have applied for tickets to raise their hands and vouch they would remain loyal to the party even if they are denied a ticket and someone else gets it.
Patwari asked the ticket seekers to swear by the name of Lord Ram they won't betray the party. "Betraying your party would be like ditching your own family," he said amid cheers from party workers.
He asked the gathering to consider panja (hand symbol) as the party candidate and not any person in these elections. Nath had on Tuesday announced that tickets for 80 seats where the party is "weak" would be decided by the second week of September.
Factionalism has been a long standing problem for Congress in the state as the party sees sharp divisions among the party cadre led by influential regional satraps, including former chief minister Digvijay Singh, state head Kamal Nath and campaign committee chairman Jyotiraditya Scindia.
Get the best of News18 delivered to your inbox - subscribe to News18 Daybreak. Follow News18.com on Twitter, Instagram, Facebook, Telegram, TikTok and on YouTube, and stay in the know with what's happening in the world around you – in real time.
Read full article