Congress Buys Truce by Fielding Both Ashok Gehlot and Sachin Pilot, But 2019 Pull Will Decide CM Pick
The first Congress list shows that both Sachin Pilot and Ashok Gehlot camps have drawn a hard bargain to get tickets for their supporters.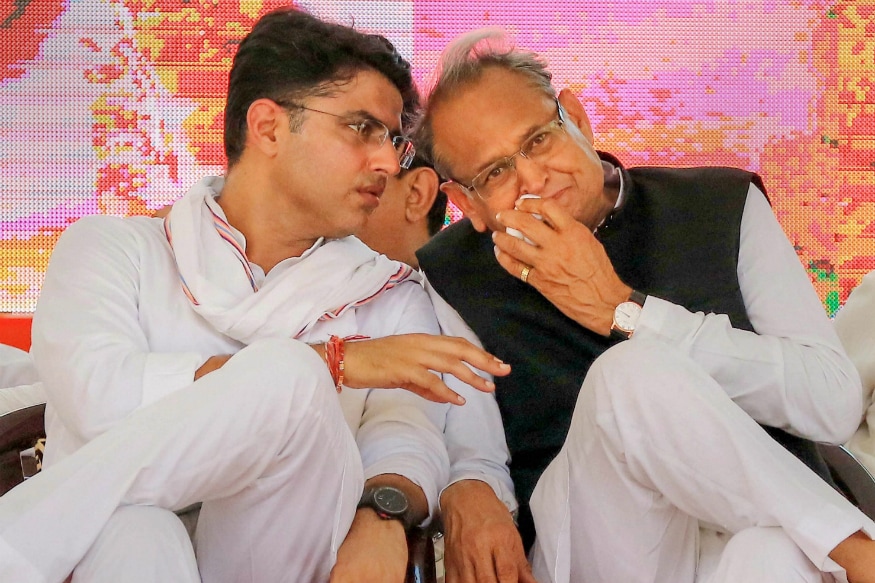 File photo of Rajasthan Congress chief Sachin Pilot and former CM Ashok Gehlot. (PTI)
New Delhi: In politics, you lose some battles and then you win some. But the defeat in 2003 Assembly elections in Rajasthan was mourned by the Congress leadership for a long time.
"Many years later, in one of the interactions with Ashok Gehlot, Sonia Gandhi said it in as many words. The top brass really felt that it was one state the party should have won on the basis of social sector schemes and drought management by the Gehlot government," a senior party leader recently reminisced as candidate selection in the Congress went down to the wire.
There were reports that Gehlot, MLA from Sardarpura in Jodhpur since 1998, would be asked not to contest this time. There was pressure from a section that the Madhya Pradesh formula of not fielding top names be emulated in Rajasthan as well.
It is said that Gehlot's name, despite stiff resistance, was ultimately cleared after intervention from the top.
There was a compromise of sorts with the Congress fielding both former CM Gehlot and state unit president Sachin Pilot.
The Congress leadership had to choose between three available choices to settle the claims by two top contenders for the CM's post in Rajasthan.
First, deny ticket to both Pilot and Gehlot. This would have weakened Gehlot's claims in any post-poll scenario since he has already moved to Delhi as the key manager. Gehlot had not sought being accommodated at the Centre or Parliament even when the Congress lost power in the state. In such a scenario, Pilot, as PCC chief, would have had a strong claim for the CM's post if the Congress wins the mandate to rule, just as Gehlot got the top job after the 1998 Assembly elections.
Second option before the Congress was to field only one of the aspirants. That would have made the other contender and his support base totally disillusioned. It could have alienated certain caste groups at a time when the Congress has sought to build a rainbow social coalition.
The party obviously went with the third option— field both Pilot and Gehlot.
In doing so, the party has sought to maintain a fine balance in a state where caste fault lines run through a complex social matrix.
For instance, Jats are a powerful social block in Rajasthan politics. From Jhunjhunu to Chautan in Barmer district, the land owning community has produced some tall leaders in state politics like Nathu Ram Mirdha, Paras Ram Maderna, Balram Jakhar and Sir Ram Ola.
But none could make it to the CM's post.
On the other hand, someone like Gehlot who comes from the backward Mali community, which has hardly three percent votes in the state, became the CM twice. As it generally happens, in the fight between dominant aggressive groups, smaller caste groups emerge as the real gainer in fleshing out a compromise. It is done with the premise that for survival, the leadership from a numerically smaller community would be forced to take everyone along.
The first Congress list shows that both Pilot and Gehlot camps have drawn a hard bargain to get tickets for their supporters. The Congress leadership has tried to strike a fine balance.
While some Gehlot supporters who lost in 2013 have been denied nominations, other vocal Pilot critics like Lal Chandra Kateria have got nomination from Jaipur Rural.
Who is best suited to get maximum numbers from Rajasthan in 2019 Lok Sabha elections may well be the critical factor which may decide the next CM of the state if the Congress wins.
Get the best of News18 delivered to your inbox - subscribe to News18 Daybreak. Follow News18.com on Twitter, Instagram, Facebook, Telegram, TikTok and on YouTube, and stay in the know with what's happening in the world around you – in real time.
| Edited by: Nitya Thirumalai
Read full article