New Delhi: On a cold winter morning in December 2004, then Prime Minister Manmohan Singh, Congress chief Sonia Gandhi and other party leaders huddled in the party headquarters. After the initial jubilation of coming back to power after a decade of stalemate, the party was now in mourning. P V Narasimha Rao, one of the party's most senior leaders, a former Prime Minister and someone who's considered the father of economic liberalisation, had passed away that very day.
Even in death, Rao didn't get a befitting tribute from his party: the headquarters' lawn lay barren and the leader's mortal remains were kept outside on a little plank. The Congress's ignorance of Rao has come back to spotlight with PM Narendra Modi's Israel visit.
Modi is the first Indian PM to visit the country, with which India revived diplomatic relations for the first time in 1992. It was during his tenure that India established its diplomatic ties with Israel. Even in his foreign policy, Rao was bold enough to digress from the Nehruvian trajectory, which is so well engrained in Indian diplomacy.
It was Rao's foresight which strengthened the foundation of Indo-Israeli partnership. In contrast to the back-channel security ties that existed before the normalization of bilateral relations, India has been more willing, in recent years, to carve out a mutually beneficial bilateral relationship with Israel, including deepening military ties and countering the threat terrorism poses to the two societies.
Interestingly, for a party like the Congress which has been shouting from rooftops about the Goods and Services Tax being their project, it has done nothing to stake claim on laying the foundation of India-Israel ties. Ignorance, as many put it, goes far and wide.
Manmohan Singh's former media advisor and noted columnist Sanjaya Baru says, "Rao remains the only full-term non-Nehru/Gandhi Congress PM. His term was marked by several historic initiatives on both economic and foreign policy fronts. So, it is shameful that the Congress treats him with little or no respect. The Congress's decline is due to the party's inability to acknowledge the contribution of its many leaders, most of whom are from outside the Nehru family."
India has been trying to reach out to Arab countries. But in its war against Pakistan-based terror groups, India has not received strong support from other Arab countries. While the UPA government failed to identify it, the NDA government has. Modi's visit to Israel marks a stepping stone in that direction.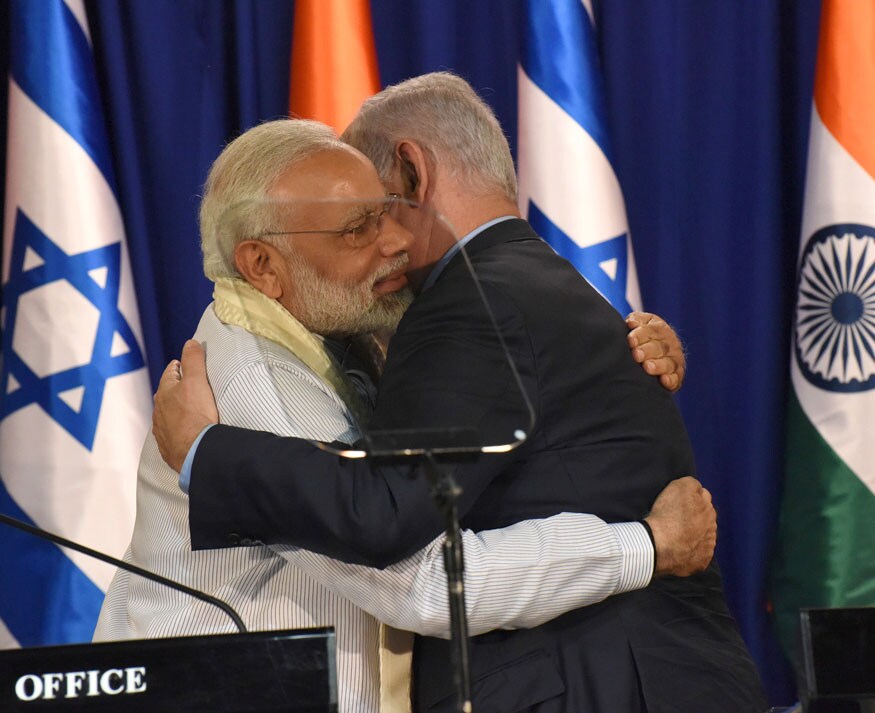 Indian Prime Minister Narendra Modi, left, and Israeli Prime Minister Benjamin Netanyahu embrace at the end of a joint press conference at Netanyahu's residence in Jerusalem, Israel, Tuesday, July 4, 2017. (Image: AP)
The Congress clearly lost a chance there. With its strong disapproval of a non-Gandhi PM, it has failed, yet again, at hitting the right note.
So, why does the Congress dislike Rao so much that it hasn't taken credit for something that he, as a Congress leader, started? There are many theories on why Sonia Gandhi disliked him.
One of the famous ones states that Rao, post Rajiv Gandhi's assassination in 1991, had contested Sonia Gandhi taking over as party president, asking why only a Nehru-Gandhi family member be given the top post. Rao never wanted the party to be seen as a 'family affair'.
Four years later, in 1995, she accused Rao (who became PM despite Sonia's lack of support) of going slow in the probe into her husband's assassination. Then in 1997, when she joined politics, Sonia listed the achievements of her party. Except that she didn't mention Rao's efforts into bringing about the said reforms. Things never got better between the two, and continued to remain frosty even when Rao died.
These many reasons are not good enough for Congress to not stake claim to something that its minister started, says Manmohan Singh's former media advisor.
"Rao's historic decision to establish full diplomatic relations with Israel should be hailed because in the past 20 years, Israel has contributed to India's agricultural development and national security," says Baru.
Baru's statement holds currency in the light of Modi-Amit Shah combo taking steps to claim their place in history. With this visit to Israel and their efforts to re-establish ties, the systematic destruction of the Nehru Gandhi legacy seems to be nearing completion.
As stated in the start, Congress, yet again, lost a chance. "Congress cannot look beyond Gandhis," BJP leader GVL Narasimha tells News18.
While many may argue this, there are a few who still believe in Rao's tenacious efforts. Former PM Manmohan Singh continues to go to Andhra Bhawan in New Delhi, every year, on 23rd December to mark Rao's death anniversary.
Maybe it should take a cue from one of its own.