Congress Hopes to Get Rid of PM Modi, BJP Only Wants Poverty Gone, Says Amit Shah
Mocking the Congress chief's 'obsession' with the PM, Shah said, 'I am not sure if Rahul is campaigning for his party or mine. Seems like they (Congress) have developed a phobia against PM Modi.'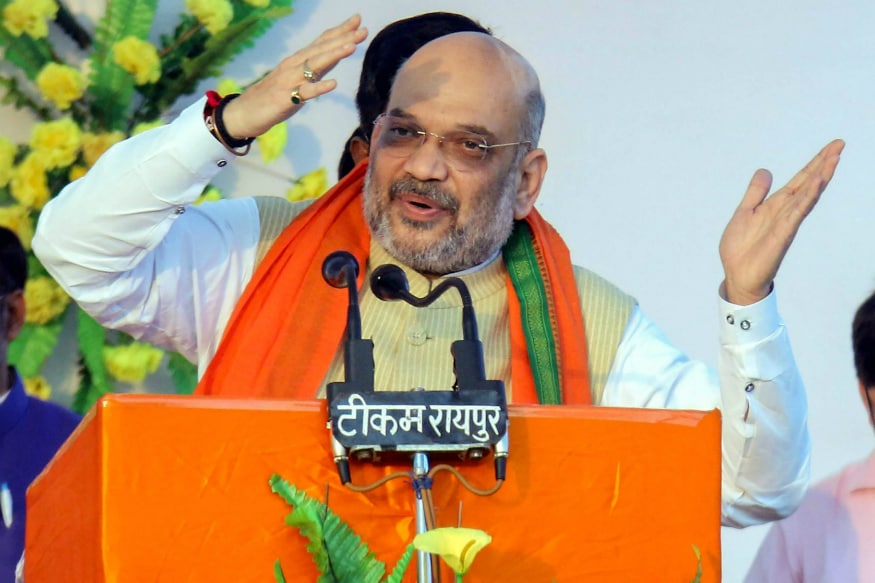 File photo of BJP chief Amit Shah. (PTI)
Narsinghpur:
Bharatiya Janata Party chief Amit Shah on Monday accused the Congress of suffering from 'Modi-phobia' during an election rally in Madhya Pradesh's Narsinghpur.
Quoting a WhatsApp message from a journalist, Amit Shah claimed that Congress president Rahul Gandhi, during one of his rallies, mentioned Modi 44 times in a 22-minute speech. 'Congress wants to get rid of PM Modi, while we want to eliminate poverty, unemployment and darkness,' Shah said.
Mocking the Congress chief's 'obsession' with the PM, Shah said, "I am not sure if Rahul is campaigning for his party or mine. Seems like they (Congress) have developed a phobia against PM Modi."
Naming many of the NDA schemes, including Ladli Laxmi Yojana, Jan Dhan Yojana, Make in India and others, Amit Shah asked, 'Would you vote the BJP to power, which has given cooking gas, houses, power and roads or the Congress?"
Reverberating his new slogan, 'Abki Baar -200 Paar', Shah urged the electorates to vote in the favour of chief minister Shivraj Singh Chouhan.
"At Narsinghpur alone, we brought 3.76 lakh hectare land under irrigation, offered 1.16 lakh Soil Health Cards, offered 31,600 power connections, built toilets in 131000 homes, offered houses to 36,000 families and provided 76,000 cooking gas connections and the Congress asks us to offer details of works," Shah elaborated on the BJP's achievements.
The BJP stalwart further called MPCC president Kamal Nath 'an exhausted politician' and asked him to furnish the details of the developmental work done by the Gandhi family "before seeking details of the achievements of PM Modi."
"UPA had allotted a budget of Rs 1,34,000 crore while the BJP hiked it to Rs 3,44,000 crore. Rahul Baba is daydreaming of forming the Madhya Pradesh government," Shah said.
The BJP chief not only attacked the UPA on grounds pf developmental works but also targeted it for "allowing terrorists intrude freely in the country, whereas when Uri attack led to the death of 12 army jawans, "PM Modi took just ten days to order a surgical strike."
He further lauded the Shivraj government for building 83,000 primary schools, 30,000 middle schools and for hiking the number of engineering colleges from 104 to 306 during his tenure.
| Edited by: Ahona Sengupta
Read full article
Countdown To
Elections Results
To Assembly Elections 2018 Results