Congress Main Anchor of Anti-BJP Front, Says Chandrababu Naidu Amid Efforts to Unite Oppn
The TDP chief, who met DMK leader MK Stalin, said a Mahagathbandhan without the Congress was impossible.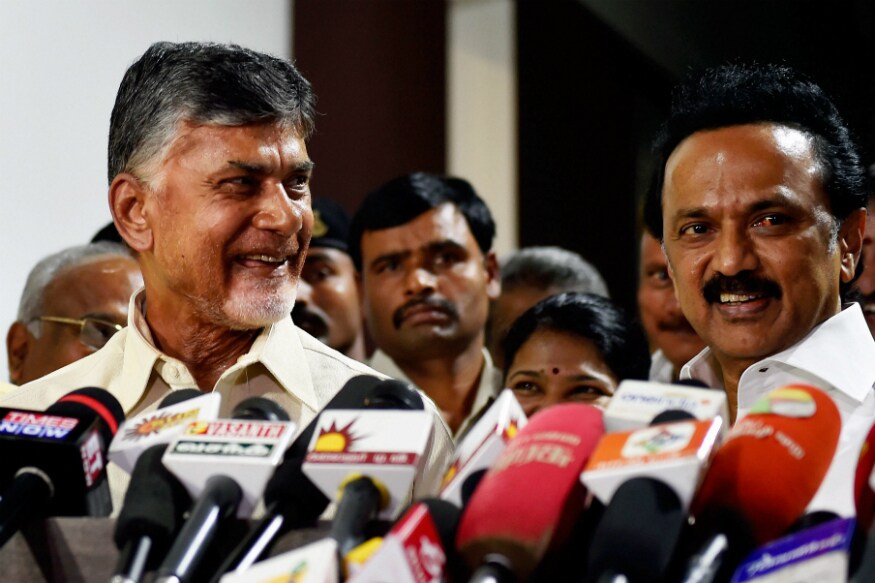 Andhra Pradesh Chief Minister N Chandrababu Naidu addresses the media with DMK president MK Stalin at latter's residence in Chennai on Friday. (PTI)
Andhra Pradesh chief minister N Chandrababu Naidu on Friday called the Congress the main anchor of the anti-BJP front, saying his recent meetings with various opposition leaders was aimed at forging a national coalition.
"Rahul Gandhi is a leader on his own. The Congress is a national party and the main anchor against the BJP.... we are all regional parties. There can be no 'Mahagathbandhan' without Congress," Naidu said after meeting DMK chief MK Stalin in Chennai.
After the meet, Stalin said an "anti-national, anti-secular BJP rule needs to be stopped and Naidu has taken efforts towards that".
Naidu has, in the last one month, met nearly all top opposition leaders in an attempt to bring regional parties on a platform to challenge Prime Minister Narendra Modi in 2019. He is also scheduled to meet West Bengal chief minister Mamata Banerjee to seek her support for the anti-BJP bloc.
With leadership issues still unsettled in the opposition front, Naidu's meeting with Gandhi last week and his recognition of the Congress's 'anchor role' in opposition unity assumes significance. While the TDP may be willing to do business with the Congress despite being arch rivals for years, some other regional parties and leaders nursing prime ministerial ambitions may not be willing to concede leadership to the grand old party.
Naidu on Friday added that the TDP and Congress may have differences, "but we have to ally for national interest".
Attacking the Narendra Modi government at the Centre, Naidu said democracy was in danger, with institutions such as the Central Bureau of Investigation (CBI) and the Reserve Bank of India (RBI) being compromised.
The TDP chief said the economy was in doldrums and the finance minister's statement on demonetisation was "amusing" as "frauds have escaped from the country and all black money has been converted to white."
Asked by reporters if he was the face of the alliance, Naidu said "No, I am not the face of this alliance. You have to understand that. I am very clear I am not an aspirant, I am only a facilitator... I will bring everybody together. we will decide and take things forward."
On who would lead the alliance, he said there were so many leaders. "Even Stalinji is better than Narendra Modiji...there are strong leaders...we will work that out and decide."
Asking journalists if people had got any benefit from the NDA government, the TDP top leader it was a pity that people were not even able to withdraw money from ATMs post demonetisation. To a question on his view on the AIADMK government in Tamil Nadu, he shot back asking "where is the government?"
Meanwhile, Stalin said he pledged DMK'S full support to Naidu's effort to rally all parties to dislodge the BJP government at the Centre, which has been "initimidating" even autonomous institutions like the RBI. Stalin said he assured Naidu that he would participate in a proposed consultative meeting of leaders at Delhi or any other suitable place to take forward the initiative.
(With PTI inputs)
Get the best of News18 delivered to your inbox - subscribe to News18 Daybreak. Follow News18.com on Twitter, Instagram, Facebook, Telegram, TikTok and on YouTube, and stay in the know with what's happening in the world around you – in real time.
Read full article