Congress Packs Off Karnataka Trouble Shooter DK Shivakumar to Telangana Ahead of Voting
Shivakumar is expected to focus on the constituencies bordering Karnataka where Kannada is spoken or understood.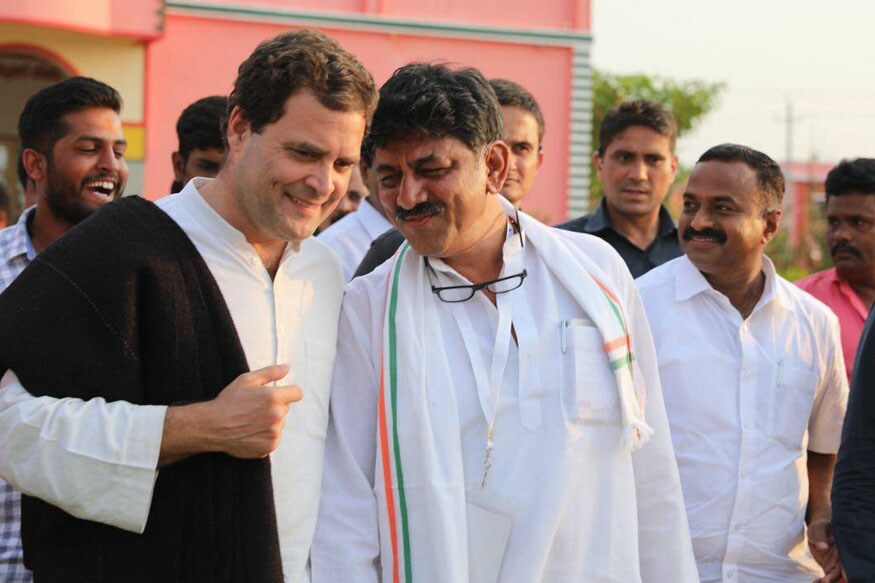 File photo of Congress president Rahul Gandhi with DK Shivakumar. (Facebook)
Hyderabad: After he recaptured the prestigious Bellary Lok Sabha seat for the Congress after 14 years of rule by the Reddy brothers, the party high command has now sent powerful Karnataka minister D K Shivakumar to neighbouring Telangana to give a push to "mahakutami" or "grand alliance" ahead of elections
The 56-year-old water resources and medical education minister has been monitoring Congress' campaign and election strategy in Telangana for the past two-three days. A renowned political strategist, Shivakumar has a history of winning tough elections for the Congress during his 30 years in politics.
The "mahakutami", with Congress and TDP as its constituents, is putting up a spirited fight in Telangana against the TRS, led by its formidable chief K Chandrashekar Rao (KCR).
After the ticket distribution, some Congress aspirants are reportedly unhappy and the party has tasked Shivakumar with pacifying them to put up a united fight in the "do or die" battle.
Shivakumar along with Puducherry Chief Minister V Narayanasamy, and his minister Malladi Krishna Rao from Yanam are camping in Hyderabad to oversee the campaigning.
According to local Congress leaders, Shivakumar was successful in persuading the rebel candidates from withdrawing their nomination papers and is micromanaging booth-level activities.
"There were many rebel candidates. We were worried. The high command has sent Shivakumar to handle the situation. He has been quite successful so far. He is mercurial and understands real politik," said a state Congress leader.
Shivakumar is expected to focus on the constituencies bordering Karnataka where Kannada is spoken or understood.
"Shivakumar's style is similar to Himanta Biswa Sarma of Assam. Rahul Gandhi's arrogance forced Sarma to quit the Congress and join the BJP. He has decimated the Congress in Assam and rest of North East. Perhaps Rahul has realised his mistake and giving prominence to Shivakumar. For Shivakumar politics is a business. He knows how to play his cards and has no qualms about it," said a senior leader of the Congress from Karnataka.
Shivakumar knows that winning Telangana is not going to be an easy task and so he is cautious. Speaking to News18, Shivakumar said, "I am an obedient servant of the Congress. Our leaders Rahul Gandhi and Sonia Gandhi give me directions. I just follow their orders. I was sent to Bellary, we won there. Even in the past, I have handled tough assignments for the party. I will try my best to ensure Congress victory in Telangana".
One of the richest politicians and a Vokkaliga leader, Shivakumar had played a major role in installing a JD(S)-Congress coalition government in Karnataka outsmarting the BJP during the elections held in May last year. Before that he had ensured Congress leader Ahmed Patel's victory in a Rajya Sabha election from Gujarat bysheltering party MLAs at a resort near Bengaluru.
In 2002, Shivakumar had saved the Vilasrao Deshmukh led Congress-NCP government in Maharashtra by sheltering party MLAs in Karnataka. In 2014, he had recaptured Bellary Rural Assembly seat for the Congress from BJP leader B Sriramulu.
Shivakumar is facing several income tax-related cases and blames the BJP government at the Centre for his troubles.
At a young age of 27, Shivakumar entered Karnataka Assembly and was made a minister in the late S Bangarappa government even before he had turned 30. After that he has held several important portfolios, including urban development and power, in Karnataka. He was also working president of the state Congress. A seven-time MLA, Shivakumar has not lost any Assembly election till date. His only defeat was in a Lok Sabha by-election against former Prime Minister H D Deve Gowda in 2002.
Abrasive and sometimes temperamental, Shivakumar is liked and loathed in equal measure.
Get the best of News18 delivered to your inbox - subscribe to News18 Daybreak. Follow News18.com on Twitter, Instagram, Facebook, Telegram, TikTok and on YouTube, and stay in the know with what's happening in the world around you – in real time.
Read full article