Congress Plays it Safe in 1st List of Candidates for MP Polls; Gives Tickets to Senior Leaders, BJP Turncoats
The Congress seems to have refrained from being too experimental by re-nominating several party MLAs, fielding leaders of national repute and trying out youth leaders.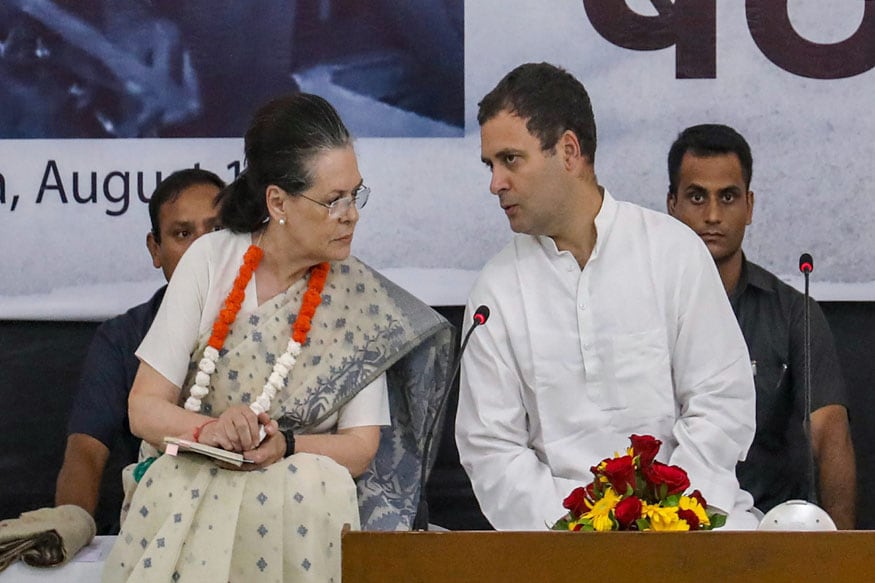 File photo of Congress president Rahul Gandhi with UPA chairperson Sonia Gandhi. (PTI Photo)
Bhopal: The Congress on Saturday evening announced the names of 155 candidates for the upcoming Madhya Pradesh assembly elections.
Keeping in mind the regional and caste equations in the state, the party seems to have refrained from being too experimental by re-nominating several party MLAs, fielding leaders of national repute and trying out youth leaders. Ignoring Congress chief Rahul Gandhi's advice, the party has also offered tickets to several turncoats including those from the BJP and BSP.
The party has held back most names from Bhopal and Indore. It has nominated Jaishree Harikaran from Beriasia and Arif Aqeel from Bhopal North. Former MP chief minister Digvijaya Singh's loyalist PC Sharma has been given ticket from Bhopal South West. Manoj Kumar from Anuppur, Shakuntala Khatik from Shivpuri and Govardhan Upadhyay from Sironj in Vidisha are the three sitting MLAs who have been denied tickets.
Digvijaya's brother Laxman Singh, who was sidelined in MP Congress for a while, has this time been fielded from Chachora. Surendra Singh Baghel from Kukshi and former Samajwadi Party leader Hamid Qazi have been fielded from Burhanpur.
Candidates for Huzur Tehsil of Bhopal, Bhopal Central, Narela and high-profile Govindpura seats have not been declared in the first list. Candidate from Budni, which is CM Shivraj Singh Chouhan's seat, also remains to be announced.
Jai Adivasi Yuva Shakti (JAYS) national convener, Dr Heeralal Alawa, has been fielded from Manwar against Chouhan's former minister Ranjana Baghel.
As announced earlier, the Congress has offered ample room to the youth, giving tickets to NSUI state president Vipin Vankhede from Agar, Youth Congress state head Kunal Chaudhary from Kalapipal, former Union minister Arun Yadav's brother Sachin Yadav, Priyavrat Singh, Digvijaya's son Jaivardhan Singh, industrialist Nilay Daga from Betul, Jitu Patwari, Dr Vikrant Bhuria from Jhabua in Rau and others.
The party's prominent tribal face from Jhabua-Ratlam, Kantilal Bhuria, managed a ticket for his son Vikrant Bhuria and also for his kin Kalawati Bhuria and Veer Singh Bhuria.
To boost the number of winning seats, senior leaders such as former MP Sajjan Singh Verma from Sonkatch in Bhopal, former MP Suresh Pachauri from Bhojpur and former MP Vijaylaxmi Sadho from Maheshwar have also been fielded.
Party's senior MLAs, including leader of Opposition Ajay Singh, Mukesh Nayak, Dr Govind Singh, Govind Singh Rajput, Ashwin Joshi and deputy speaker in assembly Rajendra Sing have been re-nominated.
BJP turncoats such as Sanajy Sharma (Tendukhera) who joined Congress days ago, Padma Shukla from Vijayraghavgarh and Abhay Mishra (Rewa) have also been accommodated. Former BSP MLA Renu Shah, who represented Singrauli has also been given ticket.
The BJP has announced names of 176 candidates for the MP polls.
Get the best of News18 delivered to your inbox - subscribe to News18 Daybreak. Follow News18.com on Twitter, Instagram, Facebook, Telegram, TikTok and on YouTube, and stay in the know with what's happening in the world around you – in real time.
Read full article