Congress Returns to Power in Punjab, SAD-BJP Lose Badly
The party put up its second best performance in the state. In the 1992 state elections, it had won 87 seats. With 77 MLAs it now just one seat short of a two third majority.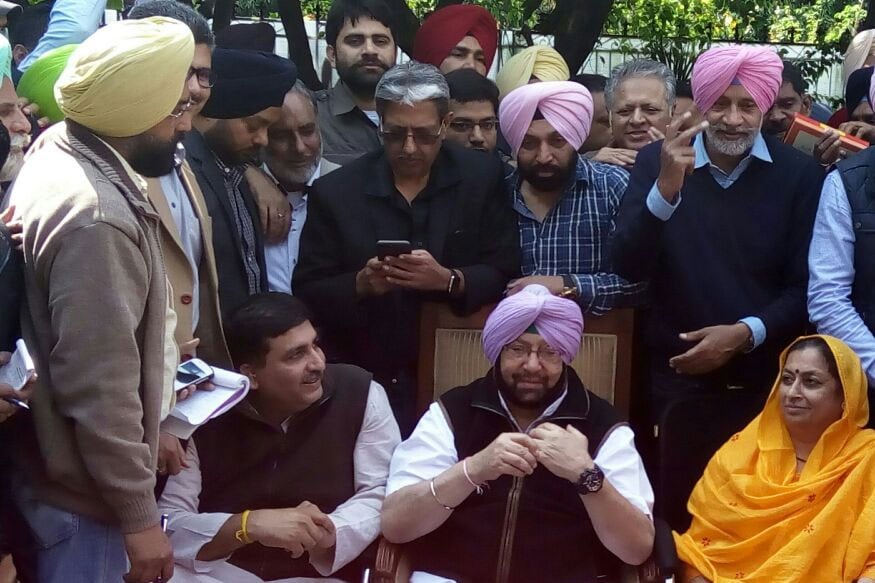 The party put up its second best performance in the state. In the 1992 state elections, it had won 87 seats. (Image: Chaman Lal Palania/ Network18)
Chandigarh: Winning 77 of the 117 state assembly seats, the Amarinder Singh led Congress on Saturday stormed to power in Punjab riding a strong anti-incumbency wave against the ruling SAD-BJP combine and warding off a spirited challenge by newcomer AAP.
The party put up its second best performance in the state. In the 1992 state elections, it had won 87 seats. With 77 MLAs it now just one seat short of a two third majority.
In addition, Congress today also won the bypoll to the Amritsar Lok Sabha seat.
The SAD-BJP alliance finished at number three spot in the state polls, behind AAP, which contesting its first Punjab assembly elections emerged as the largest opposition party with 20 seats.
However, the number fell way short of Arvind Kejriwal's claim of winning 100 seats.
The Prakash Singh Badal led SAD won 15 seats, down from its earlier tally of 56 seats while ally BJP bagged three seats against the 12 it had won in 2012.
A pre-poll ally of AAP, the Lok Insaaf Party, contested five seats and won two of them.
At a packed press conference here, a beaming Amarinder Singh, who was the Congress' chief ministerial face, declared that tackling drug menace would be a top priority for his government.
The issue of drug abuse, especially by the youth in the state, was repeatedly raked by the opposition parties to attack the ruling SAD-BJP.
Not known for sparing opponents, Singh who turned 75 today, hit out at the SAD claiming it had brought the state "down to its knees" and mocked Kejriwal saying he was like a "summer storm that had come and gone".
Singh, lost the Lambi seat where he contested against Chief Minister Prakash Singh Badal but won from the Patiala assembly seat where he defeated Gen (retd) J J Singh.
Improving its tally from 46 in 2012 to 77 now, the Congress also proved wrong the exit polls and predictions which had suggested a close fight between it and AAP.
AAP had pinned great hopes on Punjab polls, a state where it got four seats in the 2014 Lok Sabha polls. The party was hoping for major gains in the Malwa belt, which has bulk 69 seats, but it did not materialise.
"We accept the people's mandate. All volunteers worked hard. Our struggle will continue," Kejriwal tweeted.
Accepting the humbling verdict, five-time Chief Minister and Akali patriarch Parkash Singh Badal (89) said he would be submitting his resignation to the Governor here tomorrow.
For the Congress, the icing on the cake was victory in the Amritsar Lok Sabha seat bypoll where its candidate G S Aujla defeated nearest rival R S Chhina of BJP by 1,99,189 votes.
Badal said he would ask his son and Shiromani Akali Dal
President Sukhbir Badal to form a committee to introspect the party's defeat.
Congress will hold a meeting of its elected MLAs here tomorrow to elect the Congress Legislative Party leader.
The party won 40 seats in Malwa belt while AAP had to stay content with 18. The SAD-BJP won 9 seats in the region. The Congress won 22 (of 25) seats in Majha belt and 15 (of 23) in the Doaba region.
Immediately after the win, upbeat Congress workers celebrated at Capt Amarinder Singh's residence here while there were celebrations at his main residence and hometown in Patiala.
In other towns including Amritsar, Jalandhar and Ludhiana, Congress workers celebrated, even applying 'gulal (colour)' on each others faces with Holi festival being round-the-corner and distributed 'ladoos' and broke into 'bhangra' dancing to the beats of traditional 'dhol'.
Singh thanked the people for the overwhelming support and also expressed gratitude to the Congress' central leadership and party workers.
"Committed to good governance, tackling drug menace, besides health and education will be priority," he said, spelling out his priorities.
Among key candidates of the Congress party who won included Singh from Patiala, where with a huge margin of 52,407 votes as he defeated his nearest rival AAP candidate Balbir Singh. While former army chief J J Singh came third position by securing 11,677 votes.
Navjot Singh Sidhu, who had switched over to the Congress recently from BJP, also registered a huge win from his Amritsar-East seat, which was earlier held by his wife Navjot Kaur.
Other prominent Congress candidates who won include Manpreet Singh Badal (Bathinda Urban), former captain of Indian hockeyh team Pargat Singh (Jalandhar Cantt), O P Soni (Amritsar Central) and Charanjit Singh Channi (Chamkaur Sahib).
However, senior leaders of the Congress who lost included former CM Rajinder Kaur Bhattal, who failed to win from her traditional seat Lehra losing to Cabinet Minister Parminder Singh Dhindsa, and Sunil Jakhar who lost from Abohar to BJP candidate Arun Narang.
Meanwhile, prominent among the Akali candidates who won included Punjab Chief Minister Parkash Singh Badal, who retained his traditional Lambi seat defeating Singh by 22,770 votes poliing 66,375 votes against the latter's 43,605 votes.
Deputy Chief Minister and SAD President Sukhbir Badal, Cabinet Ministers Bikram Singh Majithia and Parminder Singh Dhindsa also won their seats--Jalalabad, Majitha and Lehra, respectively.
AAP's prominent winners included H S Phoolka, who won from Dakha, Kanwar Sandhu from Kharar and Sukhpal Khaira from Bolath while the party's prominent losers included Bhagwant Mann (Jalalabad), Jarnail Singh (Lambi), Himmat Singh Shergill (Majitha) and Gurpreet Singh Ghuggi (Batala).
Get the best of News18 delivered to your inbox - subscribe to News18 Daybreak. Follow News18.com on Twitter, Instagram, Facebook, Telegram, TikTok and on YouTube, and stay in the know with what's happening in the world around you – in real time.
Read full article