Congress Slams Mayawati Over Jogi Alliance, Sees BJP Role in Tie-up
The alliance between the BSP and the JCC was announced in Lucknow Thursday by Mayawati, who said Jogi will be its chief ministerial candidate. According to her, the BSP will contest 35 seats and the JCC 55 in the 90-member House.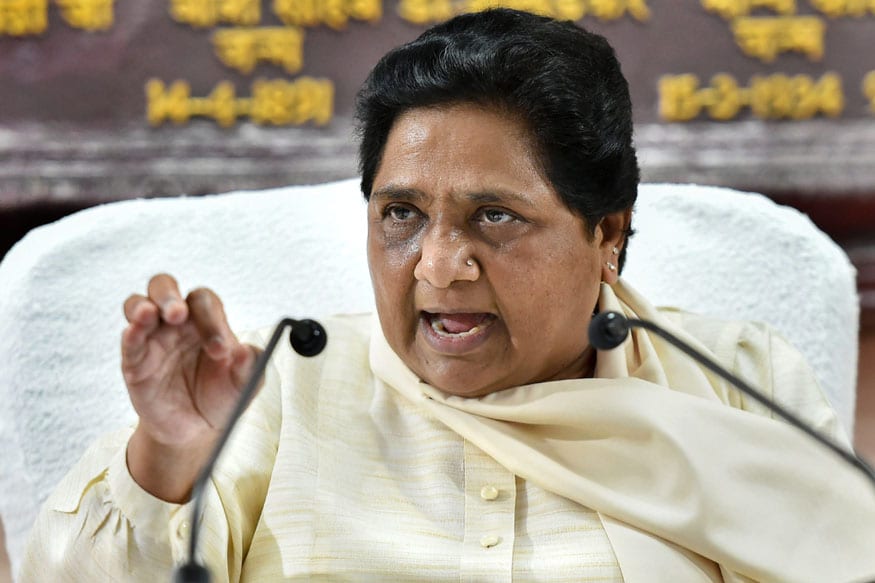 File photo of BSP supremo Mayawati.
Raipur: The Congress in Chhattisgarh has hit out at Mayawati-led BSP for allying with former chief minister Ajit Jogi's party for the upcoming state assembly election and claimed the pre-poll tie-up has the support of the ruling BJP.

The main opposition party was hoping for an alliance with the Bahujan Samaj Party to take on the BJP in upcoming polls.

It said the BSP has allied with Jogi, an ex-Congressman, as it was facing heat from central government agencies.

The Congress said the alliance between the BSP and Jogi's Janta Congress Chhattisgarh (JCC) has the support of the BJP, which is ruling the state since 2003.

The alliance between the BSP and the JCC was announced in Lucknow Thursday by Mayawati, who said Jogi will be its chief ministerial candidate. According to her, the BSP will contest 35 seats and the JCC 55 in the 90-member House.

"Pressure from the Central Bureau of Investigation and the Enforcement Directorate on the BSP has led to the creation of this alliance.

"This alliance had been formed with the BJP's support and the people of the state had an understanding of it," state Congress chief Bhupesh Baghel said Thursday.

He claimed the BSP had been fielding candidates on the direction of the BJP in all elections in the state so far.

"In the coming polls too, the BSP will field candidates as per the ruling party's choice. This time the party has been exposed by supporting Jogi who has acted as a 'B' team of the BJP," Baghel said.

On the other hand, the BJP said it sees no threat from the BSP-JCC tie-up and is hopeful that the alliance will benefit it.

"Hopes of the Congress were dashed as it had been trying for an alliance with the BSP. The political scenario emerging after the alliance between the BSP and the JCC reflects that the state will see a triangular fight in the coming election," state BJP president Dharamlal Kaushik said.

"However, the BJP is not at all worried as it (BSP-JCC tie-up) will benefit the party and it will storm back to power for a fourth consecutive term," Kaushik said.

The BJP had been working on a mission to win 65 of the 90 assembly seats this time and it will achieve its goal, Kaushik said.

Political observers said the alliance has come as a jolt to the Congress, which was hoping to end the long reign of the BJP in the state.

The BJP and the Congress have dominated the bipolar political landscape in Chhattisgarh, which came into existence in November 2000, and there has been a very limited impact of smaller parties in elections.

However, the BSP-JCC alliance will make the contest triangular when the elections are held by the year-end.

"The Congress has suffered a setback with the move as it was attempting to take the BSP to his side for the upcoming election in view of the latter's hold among Scheduled Caste population, particularly the Satnami community, in districts like Janjgir-Champa, Raigarh and Bilaspur," veteran journalist Ramesh Nayyar told PTI.

However, the development has made the BJP anxious, Nayyar said.

The BSP-JCC combination will prompt both the national parties to devise strategies to attract Scheduled Caste and Scheduled Tribe voters, who comprise nearly 50 per cent of the population of the state, and Jogi has considerable influence among these sections, he added.

Ajit Jogi's son Amit, a legislator, said only the BSP-JCC alliance is capable of stopping the BJP from coming to power in the state.

"BSP chief Mayawati was well aware of the fact that the Congress is a sinking ship. She knows it is only the JCC which has the potential to snatch power from the ruling BJP," said Amit Jogi, MLA from Marwahi seat.

"The people of the state will get a better alternative this time and very soon a joint programme of both the leaders

(Mayawati and Ajit Jogi) will be held in the state," he said.

In the 2013 poll, the BJP had won 49 seats, Congress 39, the BSP 1 and Independent 1. The BJP had secured 41.04 per

cent of the total votes polled, the Congress 40.29 per cent and the BSP 4.27 per cent.

Ajit Jogi quit the Congress in 2016 and launched his own party
Read full article
Countdown To
Elections Results
To Assembly Elections 2018 Results