Congress workers protest against BJP in National Herald case, show solidarity with Sonia and Rahul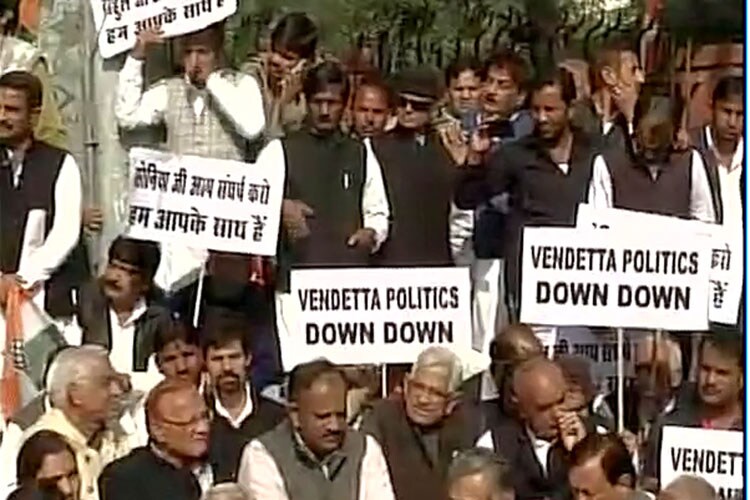 New Delhi: Congress leaders and workers are protesting against the Centre and Bharatiya Janata Party (BJP) for what they call is "willful defamation" of their president Sonia Gandhi and her son Rahul Gandhi in the alleged National Herald corruption case.
Massive protests have been organised across the country. Reports of protests have come in from Delhi, Mumbai, Jaipur, Lucknow, Kanpur, Varanasi, Patna, Nagpur and Coimbatore.
Hundreds of Congress workers started assembly at the party headquarters 24, Akbar Road in New Delhi and shouted slogans against the BJP and Narendra Modi led Central government.
Congress Lok Sabha MP from Kaliabor (Assam) Gaurav Gogoi said the protests were against BJP's vendetta politics. "BJP is attacking non-Congress government in states. It is against the vendetta politics of BJP that workers are gathering. Congress workers have gathered as a show of solidarity with the party leadership," said Gogoi outside the Congress office in Delhi. He also cited the example of political instability in Arunachal Pradesh and alleged BJP's hand in destabilising the Congress government in the state.
Delhi Police has made elaborate arrangements to deal with any untoward situation. "As per our communication with Congress party and the presiding officer of the court, we are not expecting any march. But we have deployed RAF (Rapid Action Force) and paramilitary force to avoid any untoward incident," said Jatin Narwan, Deputy Commissioner of Police, New Delhi.
In Bhopal more than 50 Congress workers were arrested under section 151 of Criminal Procedure Code as they were holding chakka jam at Roshanpura Square in the city to protest against National Herald issue. Earlier they had also burnt an effigy of Prime Minister Narendra Modi.
Read full article