Cow Politics Reaches West Bengal, Mamata Banerjee Govt to Distribute Cows Ahead of Panchayat Polls
State Animal Resources Development Department Minister Swapan Debnath went on to clarify that the move has nothing to do with the panchayat elections.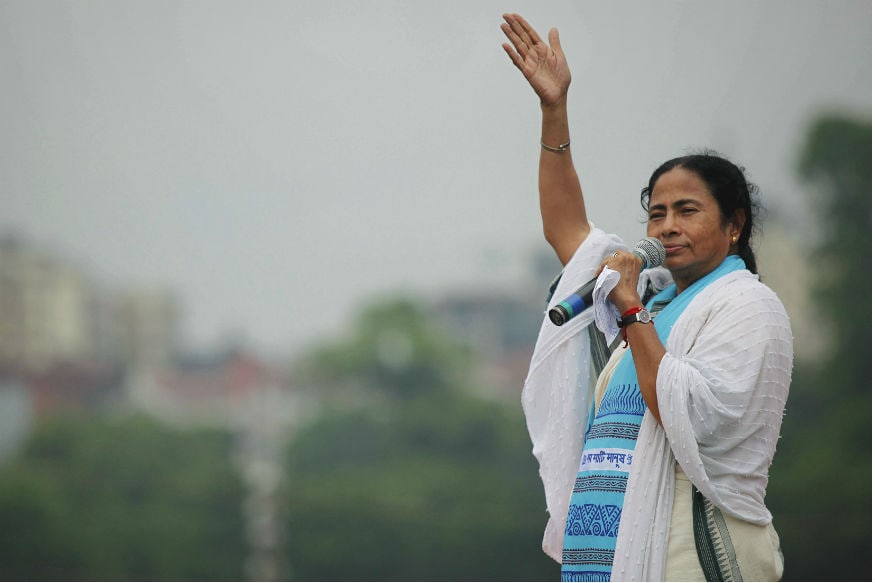 File Photo of Mamata Banerjee addresses her supporters during a rally in Kolkata.
Kolkata: Ahead of the panchayat elections, the West Bengal government has decided to distribute cows in panchayat areas of the state.
In a pilot project, the state Animal Resources Development Department has planned to distribute about 2,000 cows to all rural households in Birbhum district.
The department has also planned to extend the project to other districts of the state in the next year over several phases.
State ARD department minister Swapan Debnath has told CNN-News18 that the project has been planned to make rural houses self-reliant and enhance milk production in the state.
Debnath said, "We already distribute chicken and goats to rural households. This year we are adding female calves to that list."
According to a PTI report, the process of distribution of cows would start soon and the entire process would be completed in the next couple of months.
During the Trinamool Congress government regime, milk production in West Bengal has gone up by 16 per cent compared to what it was during the Left Front rule, he said. "But there is still shortfall and we want to overcome it," Debnath said.
The minister went on to clarify that the move has nothing to do with the panchayat elections. As per the decision, each family will get one cow, the minister said.
(With PTI inputs)
Get the best of News18 delivered to your inbox - subscribe to News18 Daybreak. Follow News18.com on Twitter, Instagram, Facebook, Telegram, TikTok and on YouTube, and stay in the know with what's happening in the world around you – in real time.
| Edited by: Sanchari Chatterjee
Read full article