GET Stock

Quotes


CPI (M) Hints Alliance with Congress Will Continue in West Bengal
The CPI (M) in West Bengal has hinted that their alliance with the Congress party will continue.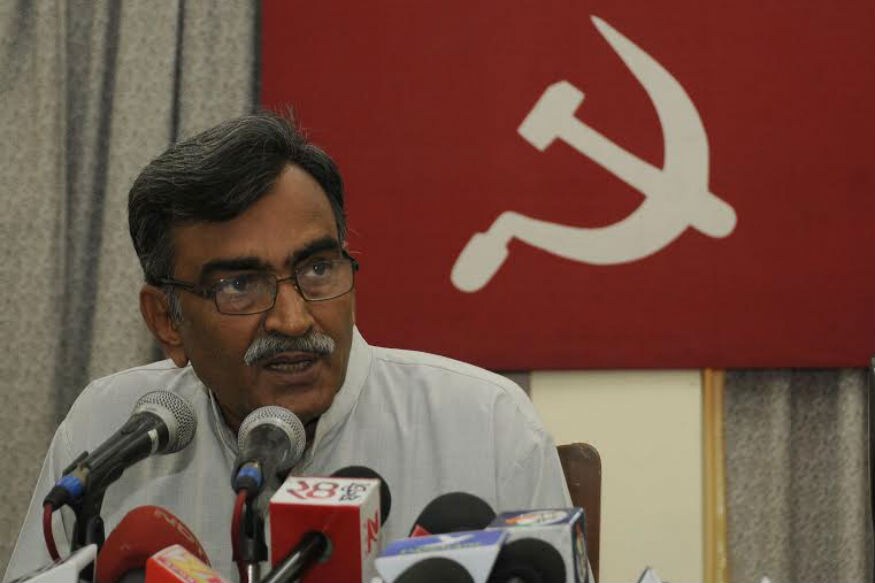 CPI (M) state secretary Surjya Kanta Mishra addressing a press conference in Kolkata.
Kolkata: The CPI (M) in West Bengal has hinted that their alliance with the Congress will continue.
This comes after the BJP came second, behind Trinamool Congress, in the Kanthi Dakshin assembly by-election.
Speaking to reporters, West Bengal, CPI (M) state secretary Surya Kanta Mishra, said, "There are districts, constituencies where we are weak and to need to fight together against BJP and TMC. We will continue to have our alliance."
Mishra's statement - without naming Congress - came after there was rumour that Congress-CPI (M) alliance may break in Bengal.
"There is no future of Bengal under Trinamool rule. Rise of BJP in the state is also a dangerous sign. We will support other political parties (anti BJP and TMC) where we are not strong in Bengal. This is necessary to prevent both the parties from coming to power," he said.
He said, "It's only TMC which is responsible for BJP's growth in the state. There is a confidential understanding between TMC and BJP. They have some mutual understanding, which we need to be fight politically."
On Left's poor show in Kanthi Dakshin assembly seat, he said, "The vote share which Left got in Kanthi need to be discussed. It's time for the party to strengthen it in the grass root level."
In Kanthi Dakshin, Trinamool's Chandrima won the seat with a huge margin of 42,526 votes. BJP's Sourindra Mohan Jana stood second and got 52, 843 votes. CPI's Uttam Pradhan got only 17,423 votes, while Congress was cornered to fourth place with only 2,270 votes.
While admitting that Left supporters may have voted for the BJP in large numbers in Kanthi South, he said, "Such vote swing happens in politics. This is nothing new but we have to rework our political strategy to increase our vote share in Bengal. Though, the next Assembly election is not so near, but we need to start working now to get some positive results."
Recently, state Congress president Adhir Chowdhury had said, "We have formed an alliance with CPI (M) not for this election only. The alliance will continue in future to fight against BJP and TMC."
Also Watch
| Edited by: Ashish Yechury
Read full article