After Amit Shah Criticises PDP's 'Soft Approach', Mufti Tells BJP to Review Performance of its own Ministers
The BJP had on Tuesday withdrawn from the government in a surprise move, which analysts say was pushed by its traditional vote base growing increasingly unhappy with the Ramzan ceasefire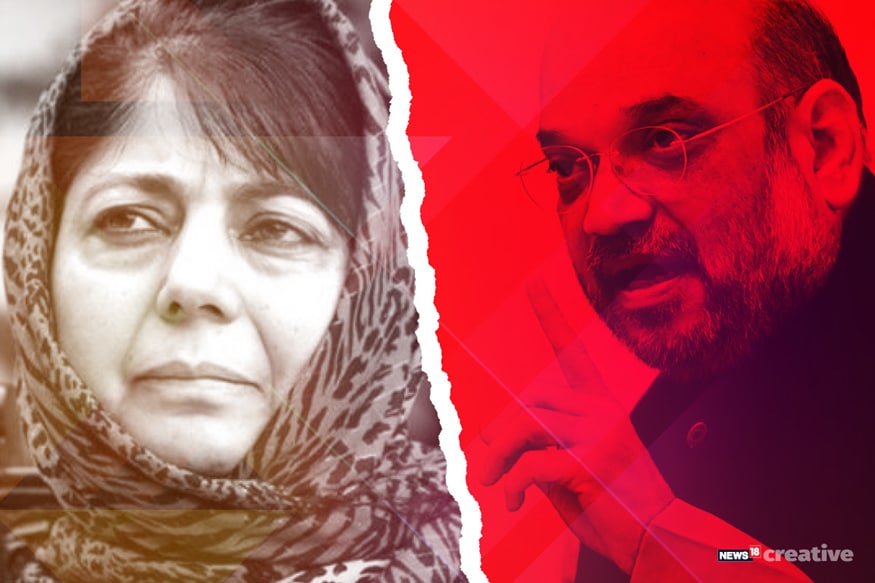 File photos of Mehbooba Mufti and Amit Shah. (News18 Creatives)
New Delhi:
In the wake of criticism by former alliance partner BJP that PDP employed soft policy on terror in the Valley and did not utilise funds for the development of Jammu region, former CM Mehbooba Mufti hit back saying it is "sad" to see BJP disown their own initiative and label it as "soft approach".
"Many false charges levelled against us by our former allies. Our commitment to the Agenda of Alliance, co-authored by Ram Madhav & endorsed by senior leaders like Rajnath Ji never wavered. It is sad to see them disown their own initiative & label it a 'soft approach," said Mufti in a tweet.
BJP chief Amit Shah on Saturday alleged how the Hindu-dominated Jammu had fallen behind in the race for development under the Mehbooba Mufti government.
He claimed that the discrimination against Jammu was the main reason for pulling out of its four-year old coalition with PDP.
"The development was never balanced. We decided it is better to not be a part of such a government and sit in the opposition benches. How can we let a government run that does not let Jammu and Ladakh develop?" Shah said.
Mufti, in a series of tweets, rubbished the claims and said the charges had "no basis in reality".
"Allegations of discrimination against Jammu & Ladakh have no basis in reality. Yes, the valley has been in turmoil for a long time & the floods of 2014 were a setback, therefore needed focused attention. But that does not mean that there was any less development elsewhere," said Mufti.
Mufti took the opportunity to advise the BJP to have a relook at the performance of its own ministers.
"Results on the ground for all to see. If anything they should review the performance of their own ministers, who largely represented the Jammu region if there were any such concerns, none among them either at state or central level talked about it during the last 3 years," Mufti said.
The BJP had on Tuesday withdrawn from the government in a surprise move, which analysts say was pushed by its traditional vote base growing increasingly unhappy with the Ramzan ceasefire
Earlier, referring to the killing of veteran journalist Shujaat Bhukari, BJP's J&K in-charge Ram Madhav said, "Policemen and journalists are being killed because of the soft approach.
| Edited by: Ashutosh Tripathi
Read full article
Countdown To
Elections Results
To Assembly Elections 2018 Results