Day After BJP Workers Roughed Up Auto Driver, Party's TN Chief Gives Him Sweets
Tamilisai Soundararajan's visit to the residence of Kathir came a day after a video clip purportedly showing the man being shoved aside when he asked about rising fuel prices went viral on social media, drawing widespread criticism of her.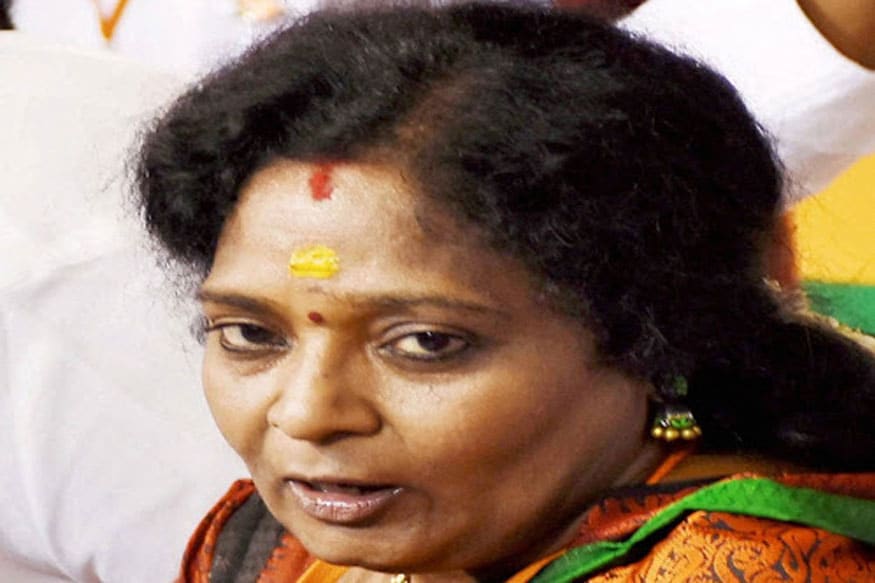 File photo of Chennai BJP president Tamilisai Soundararajan (PTI)
Chennai: Bharatiya Janata Party (BJP)'s Tamil Nadu unit chief Tamilisai Soundararajan on Tuesday visited an autorickshaw driver, whose alleged manhandling after he posed a question to her on rising fuel prices triggered a controversy, and enquired about his wellbeing.
The BJP leader's visit to the residence of Kathir in the city came a day after a video clip purportedly showing the man being shoved aside went viral on social media, drawing widespread criticism of her.
After the visit, Soundararajan told reporters that she called on the driver as a "wrong depiction" was being made out regarding the incident.
On Monday, she had asserted the man "was not manhandled as is being claimed by some channels. I did not even see him, but I did answer his question," she had told PTI.
The BJP leader uploaded a video of her visit to the house of Kathir on Twitter in which she is seen having a casual interaction with him enquiring about his well-being and offering sweets to his family members. Soundararjan, who was accompanied by her aides, also shared a couple of pictures she shot on the occasion.
In the brief video clip which went viral, the man emerged from behind the gathering when Soundararajan was fielding questions from reporters on the sidelines of an event organised in connection with Prime Minister Narendra Modi's birthday in the early hours of Monday.
He was heard asking her about the rising fuel prices and immediately a party functionary shoved him aside even as Soundararajan answered without turning around to see him.
#WATCH Saidapet(Chennai): BJP leader V Kalidass pushes and hits an auto rickshaw driver who asked Tamil Nadu BJP Chief Tamilisai Soundararajan about petrol price hike (16.9.18) pic.twitter.com/5SRH60sb23

— ANI (@ANI) 17 September 2018
She had said since the identity of the man was not known and as it was about 12.30am, party workers as part of security measures took him away. Later, the auto driver had told reporters that he was "misunderstood," by the BJP workers. "I only tried to vent my grievance. The petrol price hike is hurting drivers like me more," he had said.
Soundararajan calling on the autorickshaw driver comes weeks after DMK chief MK Stalin visited employees of a restaurant in the city after they were assaulted by some party workers. Then also, a video of the incident had gone viral, with netizens attacking the DMK.
Get the best of News18 delivered to your inbox - subscribe to News18 Daybreak. Follow News18.com on Twitter, Instagram, Facebook, Telegram, TikTok and on YouTube, and stay in the know with what's happening in the world around you – in real time.
Read full article