Day Before Trust Vote, Congress-JD(S) MLAs Confined to Hotels Over Fears of 'Operation Kamal' Rerun
The lawmakers have been cooped together at one resort/hotel or another ever since the Assembly polls' verdict on May 15. The families of the MLAs are still waiting to meet them.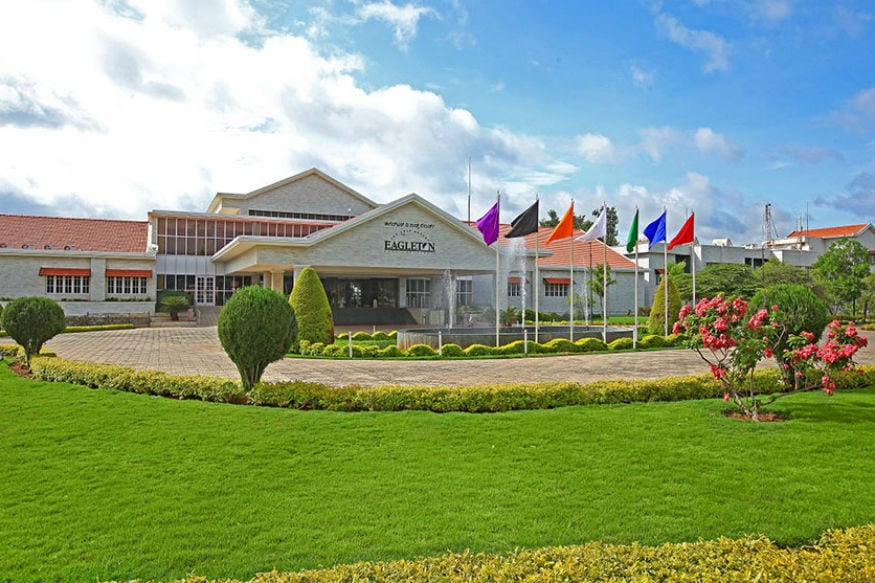 The Eagleton resort in Bengaluru where Congress MLAs were initially lodged.
Bengaluru:
Over fears that the BJP would repeat its 2008 'Operation Kamal', the JDS-Congress alliance in Karnataka has decided to keep its MLAs confined to hotels until Friday — the day of the trust vote.
The lawmakers have been cooped together at one resort/hotel or another ever since the Assembly polls' verdict on May 15. The families of the MLAs are still waiting to meet them.
There were reports that these MLAs did not even have access to a phone but that was quickly rebutted by both Congress and JD(S) leaders.
Reports said these "restless, homesick" legislators pleaded to be allowed to go home even for a day, but their request was turned down.
Though nobody could vouch for the authenticity of these claims, the MLAs have been kept away from media glare. As no political party or a pre-poll alliance secured a clear majority, the Congress and JD(S) came together and HD Kumaraswamy, the leader of the coalition, was sworn in as the chief minister yesterday.
Kumaraswamy will seek a confidence vote tomorrow which he is widely expected to win. However, taking no chances, the Congress has lodged itsMLAs at the Hilton Embassy Golflinks at Domlur, while their JD(S) counterparts are staying at Prestige Golfshire Resort off Devanahallion the outskirts of Bengaluru city.
"Our MLAs will be in the resort till the floor test is over. They will then be free to unite with their families," said a Congress leader who did not wish to be identified. "There is a wrong impression that our MLAs are confined. If this is confinement, then everybody would wish to be like them. People are forgetting that they are in the top luxury resort, which ordinary people cannot afford," he said.
He also rubbished claims that their mobile phones have been seized to ensure they have no contact with the outside world. "They have their phones with them and they are talking to their families. Some people are spreading rumours to ensure that the new government fails the floor test," he said.
The JD(S) too rubbished the claim that its MLAs were in confinement, with no contact with the world beyond the hotel premises.
Its media cell in-charge Sadananda said, "Our MLAs will go back to their constituencies once the floor test is over. Nobody has taken away their mobile phones. They are freely talking to their family members."
Exercising great caution, the MLAs of the two parties were brought to the swearing-in ceremony in buses and herded back soon thereafter despite the BJP having boycotted the event.
The term "Operation Kamala" or "Operation Lotus" was coined in 2008, when the BJP state chief B S Yeddyurappa took over as the chief minister. The party was short of three MLAs for a simple majority.
As part of "Operation Kamal", named after the BJP's election symbol lotus, some Congress and JD(S) MLAs were persuaded to join the saffron party, relinquish their membership of the Assembly, and recontest elections. Their resignations brought down the numbers required for a victory during the trust vote, which Yeddyurappa won.
When Yeddyurappa was sworn in as chief minister this time in similar circumstances, Kumaraswamy had claimed the BJP was trying an "Operation Kamala" redux. Some Congress MLAs claimed they received calls from BJP leaders asking them to break ranks and support Yeddyurappa.
BJP president Amit Shah had taunted the Congress for keeping its MLAs "locked up in hotel rooms", claiming the coalition would lose majority "even now" if they are released. In his emotional speech before resigning as chief minister, Yeddyurappa had taken a swipe at the Congress-JD(S) coalition, saying it had kept its MLAs in "captivity".
"You kept MLAs in captivity. The condition of these MLAs is so pitiable that they cannot even speak to their families on phone," he had said before stepping down on May 19.
"Today, their families would be a bit happy as they are seeing them (on TV)," Yeddyurappa had said, knowing little that their agony was not over yet.
(With PTI Inputs)
| Edited by: Aditya Nair
Read full article
Countdown To
Elections Results
To Assembly Elections 2018 Results