GET Stock

Quotes


Decoding the 'Baba' Symbol That Could be the Logo of Rajinikanth's Party
The hand gesture is not new to the Tamil audience. It had first gained significance after the 2002 release 'Baba', which was directed and produced by Rajinikanth.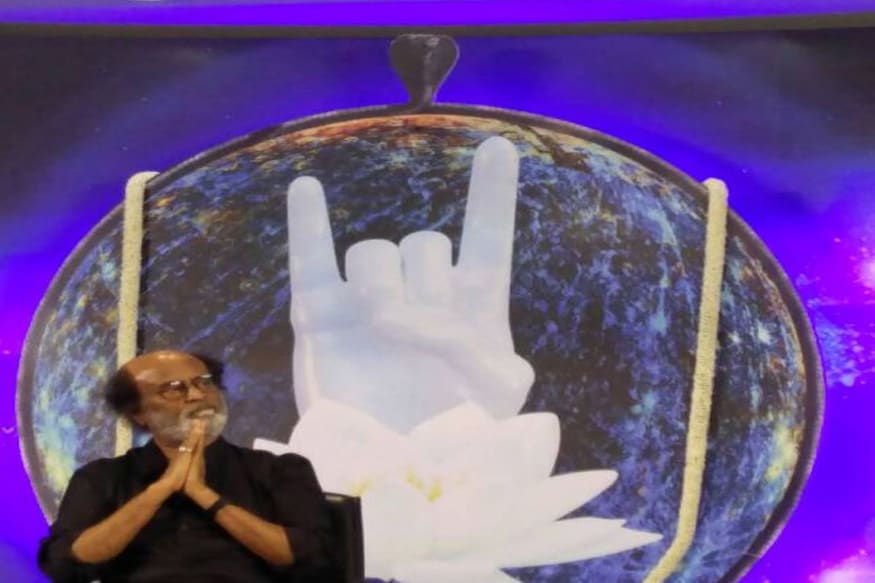 The Apana Mudra symbol is displayed at Rajinikanth's fan meet. (Photo: News18)
Since announcing his political debut, Rajinikanth has made three public appearances in which he has outlined his vision and gone about setting up the base for the launch of his party. Be it the Twitter video for the launch of his website, or his fan meets, one thing has been constant – a symbol that is hard to miss. It is always in the background, but at the same time, front and centre.
At first glance, it may look like a symbol that is more commonly seen at rock concerts - the 'hand horn'. But a closer look shows that the hand gesture is placed on a white lotus, with a snake encircling it. The ever present imagery at his events has fans, and others alike, guessing if this would be the logo of his party.
This hand gesture is not new to the Tamil audience. It had first gained significance after the 2002 release 'Baba', which was directed and produced by Rajinikanth. In the fantasy action film, he played an atheist who is the reincarnation of a Himalayan saint.
Baba is taken to Mahavatar Babaji, of whom he was a follower in his previous life. He makes this hand gesture several times in the movie. In real life too, Rajinikanth is a follower of Mahavatar Babaji and often takes spiritual retreats to the Himalayas.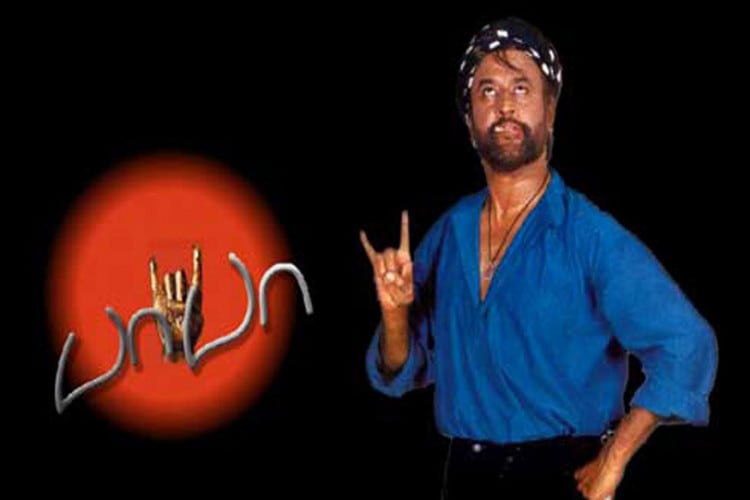 Rajinikanth makes the 'hand horn' gesture in his 2002 film 'Baba'.
This gesture he uses has a lot of significance in yoga too, says Sruthakeerthi Mohan Ram, a yoga instructor at Teal Zeal Yoga studio. "It is known as Apana Mudra. It represents detoxification. It helps to flush out toxins. The white lotus is associated with enlightenment and the snake that encircles the Mudra and the lotus is associated with healing the world," Ram said.
Rajinikanth has also used the snake reference in many of his movies. This trend began with Thambikku endha ooru and he even incorporated it in his sci-fi blockbuster, Enthiran (Robot). The snake also has a religious connotation as it is an important symbol among Hindus. In astrology, is represents Raghu and Ketu.
Veteran actor Mohan V. Raman said that while it is true that the symbol was present in many of his movies, we should wait for the star to tell the significance.
There is speculate that the symbol has something to do with his brand of "spiritual politics" that he revealed during his address on December 31.
Bhavdeep Kang, author of Gurus: Stories of India's Leading Babas, says, "Religiosity has an appeal in Tamil Nadu and Rajinikanth is trying to tap that. He understands symbolism very well and is trying to be a politician with a difference. Tamil Nadu politics has remained strictly secular so far. Projecting himself as being above politics. Someone genuinely interest in people, away from the rough and tumble."
But the question remains if the symbol will have any impact on Tamil Nadu's voters.
Political analyst Sampath Kumar feels gestures and symbols have no use anymore. Citing the RK Nagar bypoll is the proof. When MGR was given the two leaves symbol, it was not popular. He popularised it. The same goes for Rajinikanth. He has to popularise this symbol. The personality is always more important than the symbol itself. After Rajinikanth becomes a popular leader, the symbol will gain more significance," he says.
Also Watch
| Edited by: Aakarshuk Sarna
Read full article