'He Must Return to Hassan': Pained by Deve Gowda Defeat, Grandson Wants Him to Re-Contest From Family Bastion
Former Prime Minister Deve Gowda had vacated his constituency Hassan for grandson Prajwal Revanna and fought elections from Tumkur. He lost from the constituency by a margin of 13,339 votes.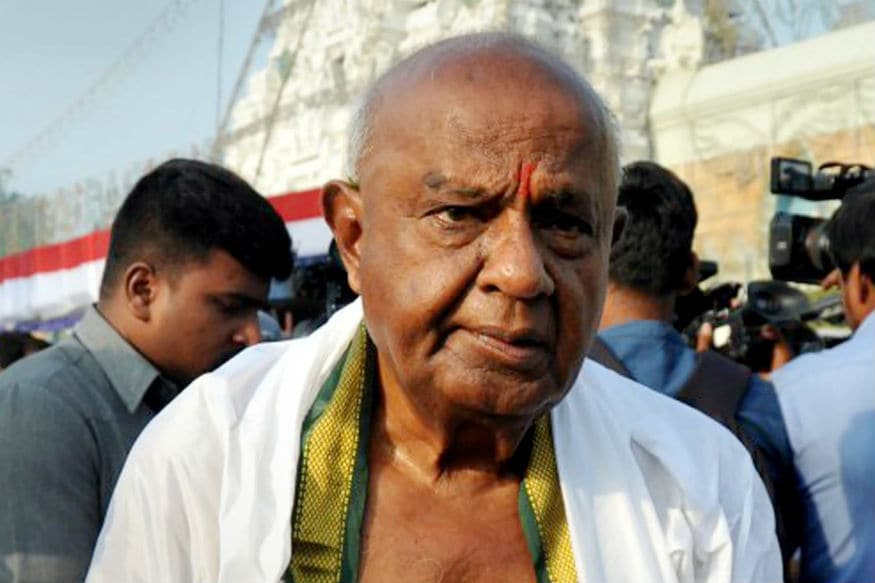 File photo of HD Deve Gowda.
Bengaluru: Janata Dal (S) leader Prajwal Revanna, who was handed over the family bastion Hassan seat in Karnataka by his grandfather, former Prime Minister Deve Gowda, is not a happy man despite having won the seat by a handsome margin. The reason: Gowda, who had relented to Revanna's wishes and fought elections from Tumkur, lost the polls himself by 13,339 votes.
Gowda's other grandson, Nikhil Kumaraswamy, also lost to BJP-backed Sumalatha Ambareesh in Mandya.
Revanna won the Hassan seat by a margin of over 140,000 votes but said he will resign and "convince" Gowda to re-contest from the family stronghold. "I will resign with the blessings of cadres and senior leaders. I am set to resign. Nobody pressurised me. Don't mistake me. I will convince Deve Gowda today. Will meet him at 1pm. He must come back to Hassan," he said.
"I'm not bringing disrespect to anyone. I respect the people who voted for me. I am still young. I will fight. I am indebted to the love of Hassan people. Gowdaru (Gowda ji) vacated this seat for me. Although I won and am happy, I feel like I have lost in spite of winning. I thank the people of Hassan. I thank party workers of Congress and JDS. Unfortunately, there has been a loss but nobody should feel bad. Deve Gowda is our party's roots," the 28-year-old added.
The ruling Congress and the Janata Dal-Secular (JD-S) have suffered a humiliating defeat in Karnataka with the BJP sweeping 24 parliamentary constituencies out of a total of 28. But the results are particularly humiliating for the Deve Gowda family. The only saving grace for the family was Revanna's win from Hassan.
The JD(S)-Congress coalition had agreed upon a 20-8 seat-sharing plan, with majority of the seats going to the Congress. JD(S) was allotted Tumkur, Hassan, Shimoga, Mandya, Bengaluru North, Uttara Kannada, Chikkamagaluru and Vijayapura seats.
Read full article