GET Stock

Quotes


Digvijaya Singh Removed as Congress General Secy In-charge of Goa, Karnataka
Senior Congress leader Digvijay Singh was today removed as party's general secretary in-charge of poll-bound Karnataka and Goa after its fiasco in government formation in the coastal state.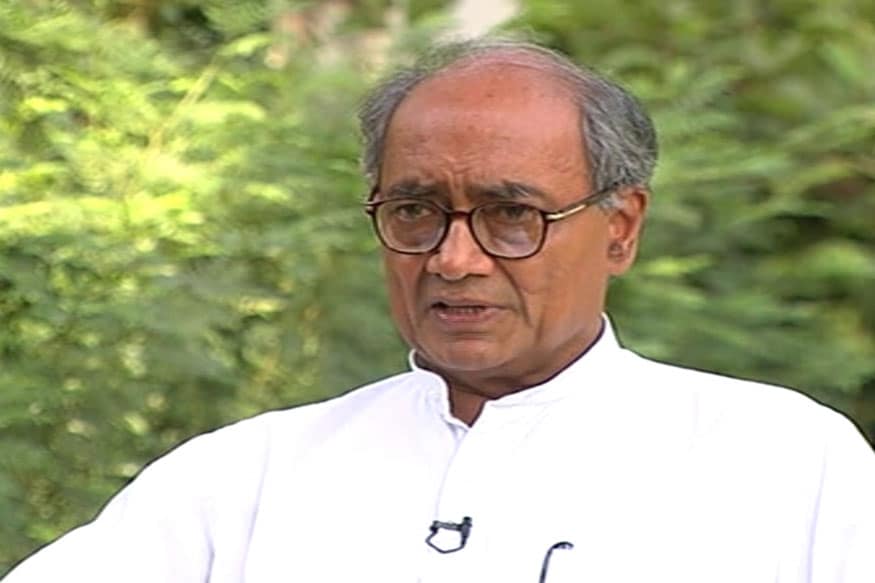 File photo of senior Congress leader Digvijaya Singh.
New Delhi: The Congress on Saturday replaced Digvijaya Singh as general secretary in-charge of poll-bound Karnataka as well as Goa, where the party failed to form government despite emerging as the largest single party.
Initiating a reshuffle within the party, Congress president Sonia Gandhi appointed K C Venugopal as its general secretary in-charge for Karnataka along with four secretaries. She also elevated Congress secretary A Chella Kumar as incharge of Goa, replacing Digvijaya.
.
Under Digvijaya's guidance, the Congress emerged as the single largest party in Goa winning 17 seats, while the BJP was restricted to 13 Assembly seats. But the BJP with the support of the Goa Forward Party, the Maharashtrawadi Gomantak Party (MGP) and independents formed government in the state while the Congress lagged behind.
The inaction on the part of Digvijaya led to the resignation of Vishwajit Rane from the party. Rane, who later joined BJP, openly criticised the former for his inability to manage the party's affairs properly.
However, the Congress leader in a series of tweets on Saturday expressed his 'loyalty' to the party and welcomed the formation of a new team under party vice president Rahul Gandhi's leadership.
Here are the tweets:
I am loyal to the Party and Nehru Gandhi Family and owe my position to the Party and to them.

— digvijaya singh (@digvijaya_28) April 29, 2017
I enjoyed working with Congress Leaders and Workers in Goa and Karnataka. Convey my gratitude for all their support.

— digvijaya singh (@digvijaya_28) April 29, 2017
I am happy finally new Team is being picked up by Rahul ji.

— digvijaya singh (@digvijaya_28) April 29, 2017
Taking a swipe at Digvijaya for Congress's failure to form government in Goa, Union minister Nitin Gadkari had told K C Venugopal, "Your film would have run if your hero had not slept through the night. If your hero slept, why are you blaming me... why are you making me a villain?"
On April 1, Singh had sought an apology from Goa CM Manohar Parrikar for "cheating the people of the state", and asked him to thank Union Minister Nitin Gadkari for "aggressive MLA buying", thus helping him form the government in the coastal state.
His remarks came a day after Parrikar took a dig at him by thanking him for the government formation in the state. Singh said Parrikar should instead thank Nitin Gadkari for doing "aggressive MLA buying
ALSO READ: Regional Players Want to Run the Show, But is Congress Ready to Share Control?
Around one-and-a-half month after the Congress failed to grab the opportunity to form government in Goa, Digvijaya on April 23 had said "not having a pre-poll alliance with the Goa Forward Party" was a "mistake".
"Our mistake was not to go for a pre-poll alliance with the Goa Forward headed by Vijay Sardesai which was seen to be anti-Parrikar and BJP (sic)," the Congress general secretary said in a series of tweets.
Digvijaya, in his tweets, had termed as "totally biased" the media's view that the party took time to decide their leader after it won a majority of seats in the Goa Assembly election, the result of which was announced on March 11.
"Totally biased and wrong on facts. Congress didn't take more than few hours to decide CLP Leader and Rahulji had given free hand," he tweeted.
About events that unfolded after the results were declared, the Congress' in-charge of the state tweeted, "But at the last moment Vijay Sardesai joined hands with Parrikar and Gadkari ditching his mentors who wanted him to ally with Congress."
According to Singh there was a trust deficit between Sardesai and Goa Congress leadership.
Also Watch
Read full article