Dilemma of Sharad Yadav and Political Life of an Indian Socialist
Over the years, like all good socialists, Sharad Yadav found his calling in Bihar. He, however, undertook this journey via Uttar Pradesh, winning one LS election from Badayun.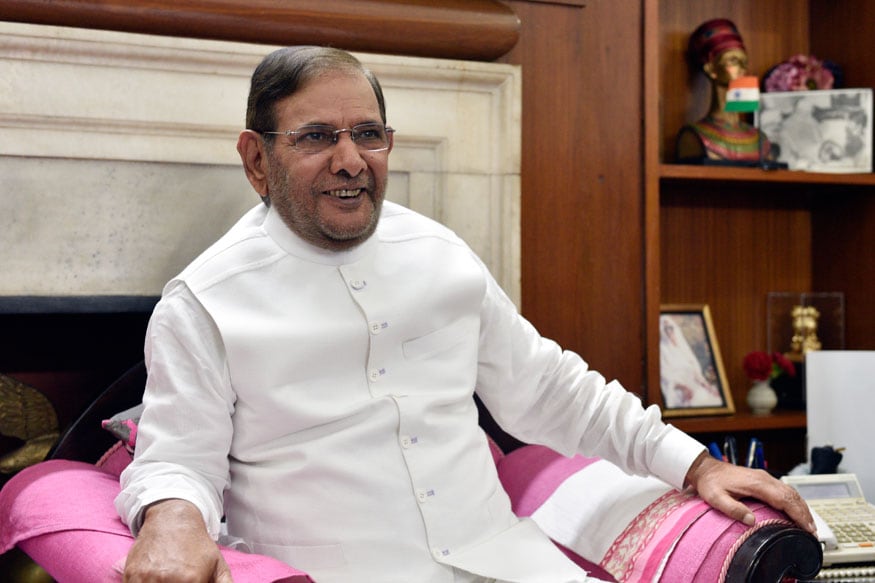 File photo of JDU leader Sharad Yadav (Getty Images)
If Parliament of India, like the Union Public Service Commission, were to allocate a batch number to its members, Sharad Yadav would be among the senior most leaders from Bihar. 1974, to be precise. When the young engineering graduate was handpicked by Jayaprakash Narayan to test Opposition unity against Indira Congress, Yadav won his maiden election from Jabalpur in Madhya Pradesh.
From the crucible of Emergency, imposed soon after the historic Jabalpur poll, emerged many a sharp political mind which would for decades weave their own charm around the complex caste matrix in the Hindi heartland. Lalu Yadav won his first Lok Sabha election in 1977. So did Ram Vilas Paswan by setting a record victory margin from Hajipur. Nitish Kumar, though in active politics, was yet to earn his spurs.
Sharad Yadav, by virtue of a grand head start, was way ahead of the rest. Sample this: In late eighties, when the concept of Janata Dal was beginning to take shape, a minor rebellion in Lok Dal forced Karpoori Thakur to relinquish leadership of the Opposition in Bihar assembly.
The choice of the new leader narrowed down to an old school socialist Anup Lal Yadav and one another MLA attempting to leapfrog an entire generation and cast the die in the fast crystallising backward politics after Charan Singh's death. Lalu Yadav had staked his claim, with support from non-Yadav OBC MLAs mobilised by Nitish Kumar.
The two, Lalu and Nitish Kumar - in what would later prove to be a far reaching transition in national politics - argued their case before three central observers — Hemvati Nandan Bahuguna, Devi Lal and Sharad Yadav.
Over the years, like all good socialists, Sharad Yadav found his calling in Bihar. He, however, undertook this journey via Uttar Pradesh, winning one LS election from Badayun. When Mandal, the great disruptor of contemporary Indian politics redefined fault lines, regional satraps moved in quickly to declare independence. Mulayam appropriated UP to himself, Lalu Bihar.
Sharad Yadav, 1974 batch and senior most, however, got the cadre wrong. He contested and won from Bihar many times. Even defeating Lalu Yadav from Madhepura once. But so did George Fernandes, who seamlessly shifted base from Mumbai to Muzaffarpur. When it came to settling leadership issues, what mattered was the domicile.
So when George Fernandes was to be removed as party chief and a Yadav face was needed to take on Lalu, there was always one Sharad Yadav to be fielded at the helm. But the position was notional, always notional. As it happens in regional parties, the chief minister is the leader. As Chandrababu Naidu is in Telugu Desam Party. Or Mulayam Singh was in Samajwadi Party. Other posts and positions are auxiliary.
After winning Bihar polls with RJD, Nitish Kumar was prompt in reclaiming JD(U) presidentship from Sharad Yadav. In retrospect, one sees in his actions instincts of a thoroughbred politician wary of his own alliance partner that he decided to tighten his grip on the party. Imagine if Sharad Yadav today would have been the national president of JD(U).
Bihar CM made that point amply clear in his interaction with the media. Indirectly referring to Sharad Yadav, Kumar said he is not concerned about what other state units are saying or doing. He is concerned about Bihar.
In doing so, Nitish Kumar has made his choice. And made peace with it. In the meantime, Lalu Yadav has called "our leader Sharad Yadav" to lead the fight against BJP.
Get the best of News18 delivered to your inbox - subscribe to News18 Daybreak. Follow News18.com on Twitter, Instagram, Facebook, Telegram, TikTok and on YouTube, and stay in the know with what's happening in the world around you – in real time.
| Edited by: ---
Read full article