Disbelief, Doubt in RK Nagar on Eve of Bypoll Over Jaya Hospital Video
AfterJ Jayalalithaa's death, voters of RK Nagar still remember her. Thus the bypoll in this constituency has also turned into a battle for Jayalalithaa's legacy.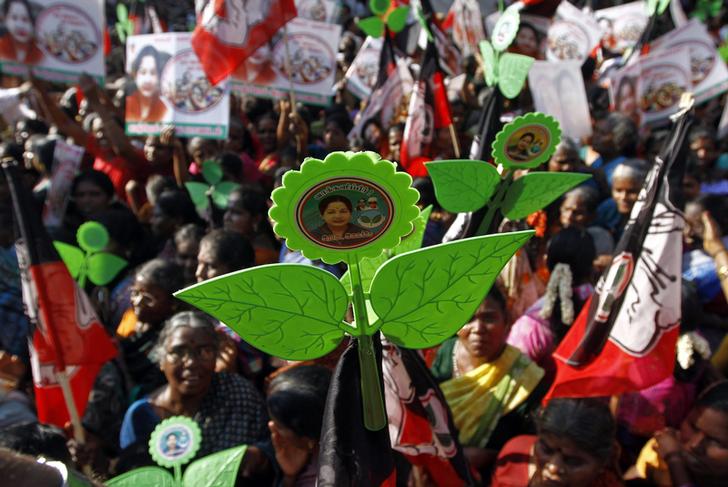 Image for representation only. (Reuters)
Chennai: RK Nagar constituency was always an AIADMK bastion since 1990s. It is this constituency where J Jayalalithaa won twice-- once in 2015 and the other in 2016.
After her death, voters of RK Nagar still remember her. Thus the bypoll in this constituency has also turned into a battle for Jayalalithaa's legacy.
Both warring factions of the AIADMK tried to garner votes using Jayalalithaa's name and memory.
Ever since her death, many conspiracy theories are doing the rounds. In April, during the campaign for RK Nagar bypoll, the faction lead by O Panneerselvam paraded a replication of Jayalalithaa's mortal remains to remind voters of the doubts raised over her 75-day hospitalisation before her death.
While VK Sasikala and her family were blamed for Jayalalithaa's demise, the faction now led by Sasikala's nephew TTV Dinakaran tried wooing voters by releasing a video of Jayalalithaa in hospital. P Vetrivel, a Dinakaran loyalist also added that he released a video after there were pamphlets and posters that blaming the family for the death.
Reactions to the video ranged between scepticism to pure disbelief over the authenticity of the clip, besides a multitude of questions about the timing of the release.
Vetrivel, who had vacated the RK Nagar constituency for Jayalalithaa in 2015 after she was acquitted in the disproportionate assets case, released a video of a convalescing Jayalalithaa sipping some sort of a fruit juice. Purportedly this video was shot by Sasikala inside Apollo Hospital.
Fiery debate followed in the political circles on the propriety of this move a day before RK Nagar goes go polls.
Meanwhile, several residents in Tondiarpet, a working class town in RK Nagar, said they would not believe it was Jayalalithaa in the first place. "Her left hand looks somewhat different... I do not remember seeing this feature of hers," said an ardent Amma fan.
Another inhabitant said: "Her movements are so off. I can't believe it's her."
In Korukkupet, another densely populated area in RK Nagar, inhabitants asked 'Why Now?'
Nagaraj R, who works in film crews, wonders why would they release it a day ahead of the polls. He also has not seen the pamphlet campaign done by the ruling AIADMK faction which allegedly blamed the Sasikala family for death of Jayalalithaa, which in turn triggered Vetrivel to release this video. "I just do not know why Jayalalithaa's video should surface now. What is its purpose? Why now?" he asked.
Get the best of News18 delivered to your inbox - subscribe to News18 Daybreak. Follow News18.com on Twitter, Instagram, Facebook, Telegram, TikTok and on YouTube, and stay in the know with what's happening in the world around you – in real time.
| Edited by: Ashish Yechury
Read full article