Disgruntled With BJP's 'False Promises', Apoorva and Prashant Hiray Return to NCP
The challenge before NCP now, is to balance the interests of Bhujbals and Hirays, in case they come at loggerheads.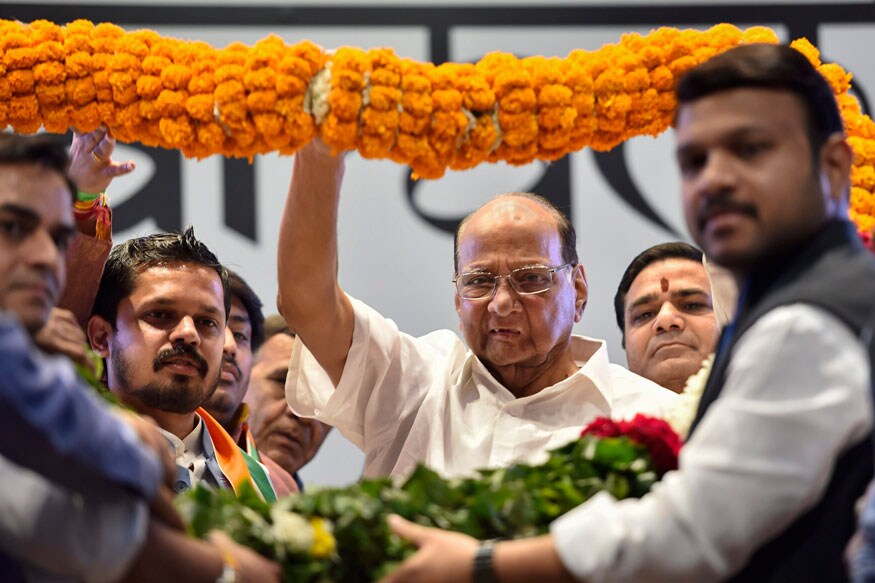 File photo of Sharad Pawar (Image: PTI)
Mumbai: After six years' honeymoon with the BJP, the Hirays are back with the NCP in Maharashtra. Prashant Hiray and Apoorva Hiray, two prominent leaders from western Maharashtra's prosperous Nashik region, left the Bharatiya Janata Party and entered the Nationalist Congress Party on Friday in the presence of Sharad Pawar.
The move is being considered a big blow to the BJP which had got the family under its umbrella six years ago. With this, the two strong families of Nashik — the Bhujbals as well as the Hirays, are with the NCP now. The challenge before the NCP is to balance the interests of both the families, in case they come at loggerheads.
Sources in the NCP told CNN-News18 that Apoorva Hiray has been promised ticket for the State Legislative Assembly. Prashant Hiray won't participate in active politics. The Bhujbals will contest the Lok Sabha elections on the party ticket.
"Our four generations have worked with Sharad Pawar. So this is gharwapasi for us. Why have we returned? Because we got tired of the jumlas. When we entered the BJP, we were told that Nashik will get developed. We will get industries, employment opportunities. But over the years, we have got nothing. The chief minister had announced that he would adopt Nashik. But we are still away from development," Apoorva Hiray told CNN-News18.
"When I entered that party six years ago, it was time for enrollment of new members. I single-handedly got 6.3 lakh new members for the BJP. The CM even appreciated me for the speed of my work. But then, after we won the mahapalika elections for them, we were sidelined. Seats were sold to people who got maximum money. We got fed up of it," Prashant Hiray said.
This 'poaching' by the NCP is being considered as a big blow to BJP in western Maharashtra's prosperous Nashik region. It is a grape-producing and exporting region, with many rich farmers. The Hirays are a politically dominant family in the region for several generations now. They own colleges, schools and hospitals in the area.
Meanwhile, Sharad Pawar did not miss the opportunity to target the BJP at this time. "We don't want any outsiders to adopt us. What is happening to the farmers of Nashik is loot. Those who had promised to adopt us, haven't shown any concern towards us. We have our own 'baapzade'. We don't need outsiders," Sharad Pawar targeted Maharashtra Chief Minister Devendra Fadnavis during his address.
He further said, "The ideology of the Hirays and that of the BJP would never match. I always knew it. Accidents do happen. That is what happened six years ago. Let us forget it. I am happy that the Hirays are back."
| Edited by: Sumedha Kirti
Read full article
Countdown To
Elections Results
To Assembly Elections 2018 Results