DMK Accuses Centre, State Government of Imposing Hindi on Tamil Nadu
MK Stalin clarified that while DMK was not against any languages, they would not allow the rights of Tamil to be trampled.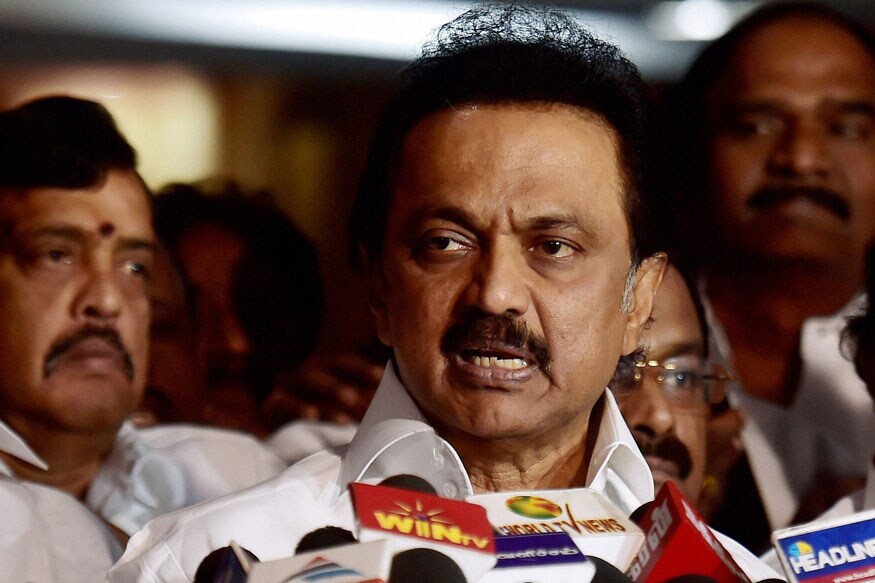 MK Stalin
Chennai: DMK working president MK Stalin on Tuesday launched an attack on the Centre and the Tamil Nadu government for imposing Hindi on the state.
The attack came after reports that the state will implement a three-language formula in schools which was suggested by the Centre.
"The news published in various newspapers about efforts to implement '3-language policy' from 2018-19 academic year is shocking at the least. The information about school education officers considering the recommendations of the Central Government's NCERT officials about '3-language policy' has revealed that the danger of onslaught of our mother tongue by hegemonic forces," Stalin said.
"While states like Karnataka, Kerala, Kerala, Telengana, West Bengal and Maharashtra have taken adequate measures to promote their mother tongue and have come against the imposition of Hindi in recent years, Peraringnar Anna took the decision to embrace '2-langauge policy' 50 years ago, due to his foresight about the tendency of the central government towards increased centralization, thereby stemmed the domination of the Hindi language in this land," he added in a statement.
Stalin clarified that while DMK was not against any languages, they would not allow the rights of Tamil to be trampled.
Stalin's statement comes at a time when the Vice President and former cabinet minister Venkaiah Naidu advocated the use of one's mother tongue in everyday conversations.
Speaking at a Network18 event in Chennai, Naidu said: "Everyone should speak in their own mother tongue. Mother tongue is like a pair of eyes and other languages are like spectacles. If one's eyes are weak, there is no use of spectacles. "
Responding to Stalin's statement, BJP spokesperson Narayanan Tirupathy said, "BJP's policy is three-language formula in schools. By having this formula, people from other states living in Tamil Nadu will have the advantage of studying Tamil. In 2011, during the UPA rule, in all kedriya vidyalayas, Tamil was removed and German was replaced. In 2014, we re-instated Tamil in all kendriya vidyala schools."
"DMK doesn't have the moral rights to criticise the BJP. DMK does not want others to learn Hindi but want their members to learn Hindi to capture power in Delhi. DMK has denied opportunity for tamilians to learn other regional languages in Tamil Nadu. They cannot stop the three-language formula being implemented in Tamil Nadu," he added.
Political analyst Sumanth Raman said: "The people in the state would welcome Hindi being offered as an additional language. They are clear that they dont want Hindi as a compulsory language. "
While the state government has not responded to Stalin's statement, political observers say it should clarify on whether Hindi will be imposed in schools. RK Radhakrishnan, Associate Editor, Frontline, said: "When there's a doubt in the minds of people if there was a move to impose Hindi in Tamil Nadu, it is the duty of the state government to clarify its position, and the facts of the matter. The allegation is being made by a responsible member of the largest party in Tamil Nadu today, the DMK, and it is incumbent on the government to respond to this allegation."
In Tamil Nadu, campaign against Hindi imposition began in 1937. When the DMK came to power in 1967, a resolution was passed that the state will follow a two-language formula making it compulsory for schools to teach Tamil and English. Till date, the state is following this policy irrespective of whichever party is in power.
Get the best of News18 delivered to your inbox - subscribe to News18 Daybreak. Follow News18.com on Twitter, Instagram, Facebook, Telegram, TikTok and on YouTube, and stay in the know with what's happening in the world around you – in real time.
| Edited by: Ashish Yechury
Read full article