DMK tussle: Alagiri meets Karunanidhi after he was warned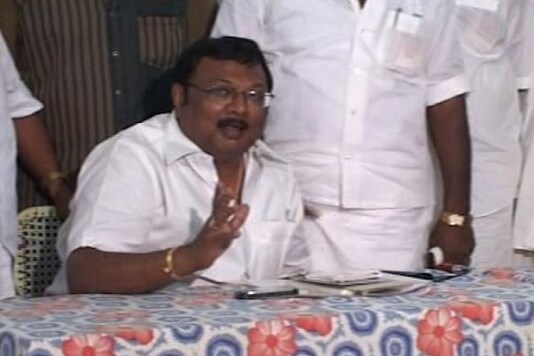 Chennai: Former Union Minister and DMK leader MK Alagiri on Saturday met party chief and his father M Karunanidhi at the latter's Gopalapuram residence. Before meeting, Alagiri had indicated that he was going to wish his father for Pongal.
After a brief meeting Alagiri came out and told the media that he and his father had only spoken about family matters. Alagiri said that Karunanidhi inquired about his family and Alagiri's grandchildren in the US and they didn't talk anything else. This is the first time Alagiri has met his father after the latter had suspended five workers of the Madurai unit for putting up posters supporting Alagiri. When asked about them, Alagiri did a U-turn and said those workers weren't his supporters and the party had taken disciplinary action against them.
The Stalin-Alagiri succession row came into focus once again after the Madurai unit of the DMK was disbanded a few days ago. Post this Alagiri spoke to a Tamil channel saying he wouldn't accept anyone other than his father as DMK chief.
Karunanidhi then cracked the whip when he issued a statement that anyone who acts against the party's discipline will be removed from the party. It was in line with this that five supporters of Alagiri were suspended. But questions are being raised about why is the DMK chief acting against supporters and not his own son.
A few days ago, Karunanidhi had issued a veiled warning to Alagiri and said that anyone flouting party discipline faces expulsion from primary membership. He said that this has been the "rule in DMK yesterday, today and tomorrow".
The Stalin vs Alagiri tussle is not a good news for the DMK, which is facing an uphill task in the coming Lok Sabha polls. Karunanidhi's two sons - Stalin and Alagiri- have been against each other for a long time. Karunanidhi's decision to anoint Stalin as his successor has worsened the sibling rivalry.
While Alagiri has been DMK's southern commander lording over Madurai region, Stalin has been the leader of DMK in north Tamil Nadu and the state capital Chennai.
The DMK cadres like Stalin. Even though Alagiri is a powerful leader in Southern TN with an iron grip over Madurai region, his abrasive ways have made him unpopular.
In 2009, a reluctant Alagiri was dispatched to national capital New Delhi as a Union minister by his father. Alagiri, who is fluent only in Tamil felt like a foreigner in Delhi, started spending more time back home.
Stalin who controls the DMK central units is wary of his elder brother and his political ambitions. He thinks that he is the only leader who can keep the DMK intact and relevant. He has also been a favourite of his father.
In 2007, a survey projecting Stalin as the most popular leader conducted by a Tamil daily 'Dinakaran' had led to a huge furore in Madurai. The newspaper office was set on fire and there were deaths.
A shocked Karunanidhi had mediated a truce between two sons. The reason for the fresh trouble is ticket distribution in the coming Lok Sabha polls. Alagiri feels that he should be the final word as far southern TN is concerned. He is also angry over dissolution of Madurai unit.
Over the years Stalin has been very assertive and Alagiri feels slighted. The sibling rivalry has also divided the DMK vertically. If Karunanidhi fails to mediate a truce between two warring sons, the DMK will have to face huge challenge in the Lok Sabha polls.
First Published: January 11, 2014, 13:07 IST
Next Story