DMK Amps up Protest as Ram Rajya Rath Yatra Enters Tamil Nadu
The tension at the Kerala-Tamil Nadu border was palpable as Ram Rajya Rath Yatra entered Tamil Nadu through Tirunelveli district.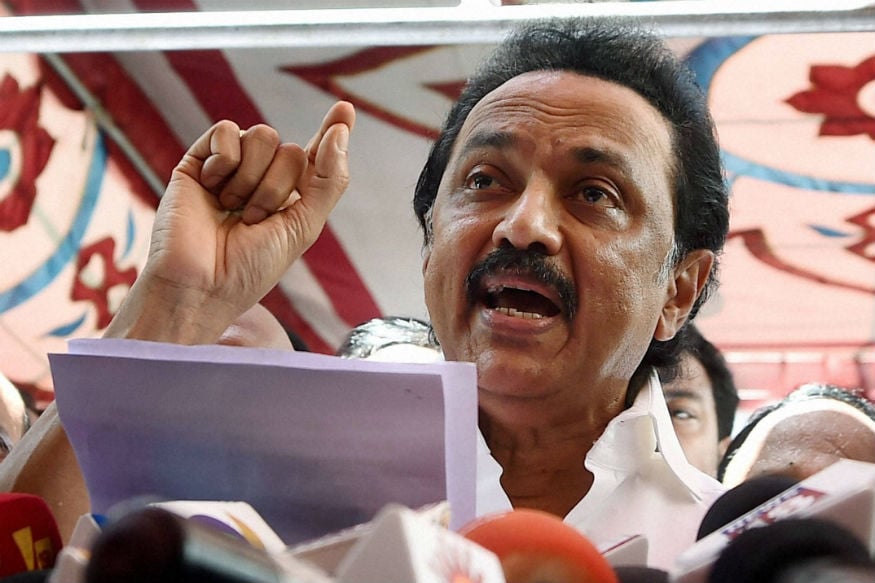 File photo of DMK working president MK Stalin. (PTI)
Chennai:
The tension at the Kerala-Tamil Nadu border was palpable as Ram Rajya Rath Yatra entered Tamil Nadu through Tirunelveli district on Tuesday.
Keeping this in mind, the Tirunelveli Collector on Monday had imposed Section 144 in the district. The people protesting on the border were promptly arrested.
In Chennai, there was high drama inside the state Assembly with the Speaker evicting the DMK MLAs protesting the yatra during the Assembly session.
It all started when Chief Minister Palaniswami made a statement supporting VHP yatra.
"The yatra has passed through five states. It is not right to give it political colour. As far as Tamil Nadu is concerned, all religions have equal rights. Nobody can stop that. It is a democracy. We can't differentiate between religions. It is the government's duty in a democracy to protect its people. We are fulfilling that duty. But some leaders are looking for political mileage in this," said Palaniswami.
Following this, DMK MLAs created ruckus inside the Assembly and were evicted and then staged a road roko outside the Secretariat condemning the state government's decision to allow the yatra to pass through Tamil Nadu.
Addressing reporters before detention, Stalin said: "You cannot allow religious fanaticism in the soil where Periyar and Anna were born,Is it the AIADMK or a BJP government that is in power in the name of Anna? Don't spoil Anna's name. The Chief Minister must resign."
Stalin reiterated that the state government is dancing to the Centre's tune.
"This just shows that the current government is doing whatever the BJP says. They dance to the Centre's tune. Even when a Periyar statue is vandalised they will not take any action," he added.
Many smaller parties too criticised the government for allowing the yatra in Tamil Nadu.
Actor-turned-politician Kamal Haasan lashed out at the ruling AIADMK government as well.
He said: "Voices for social harmony being throttled with 144 and arrests. Procession with divisive political agenda allowed with protection. The TN government, dancing to someone else's tune, is neither reflecting people's opinion nor being empathetic to students writing their board exams."
However, Rajinikanth remained non-committal.
He said: "Tamil Nadu is a peace loving state. Rath Yatra should not affect the communal harmony of Tamil Nadu."
There have been speculations that he may be leaning towards the BJP considering he said his politics would be 'spiritual politics'.
When asked if BJP is behind him, he said: "BJP is not behind me. God is behind me and the people are behind me."
| Edited by: Ashutosh Tripathi
Read full article
Countdown To
Elections Results
To Assembly Elections 2018 Results