UP: 24 doctors released, threaten hunger strike if charges not dropped
The doctors have given a deadline of 6 pm for the charges against them to be expunged.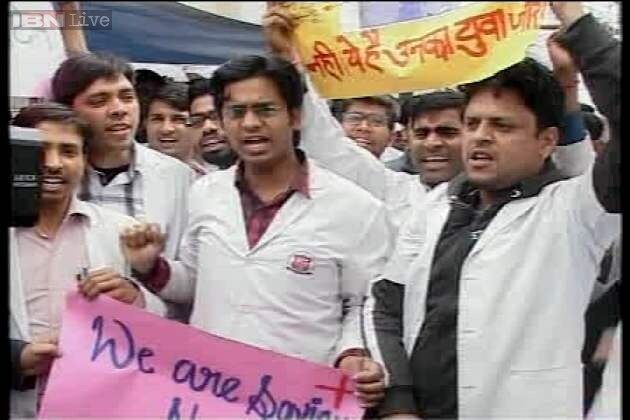 The doctors have given a deadline of 6 pm for the charges against them to be expunged.
Lucknow: The doctors in Uttar Pradesh have threatened to go on strike with more demands. The 24 doctors arrested in Kanpur are out of jail but have threatened to go on hunger strike if all charges against them are not expunged by 6 pm. All resident doctors in Kanpur and Lucknow are also reportedly back on strike till the demand for dropping all charges is not met.
Earlier on Thursday, the doctors' strike in UP was called off a day after the Allahabad High Court stepped in. The Allahabad HC has pulled up the state government giving it a 2 pm deadline to explain the steps it has taken. The UP government has been asked to give a report on the investigation conducted so far and what action has been taken against Kanpur SSP and SP MLA Irfan Solanki.
The HC had on Wednesday taken suo motu congnizance of the strike and had ordered a probe into the incident that had led to the strike. The Lucknow Bench of the Allahabad High Court had ordered a judicial inquiry into the Kanpur incident that led to doctors' strike and had also ordered the transfer of the SSP, DIG and IG of Kanpur, requesting the protesting doctors to call off their strike.
The strike had crippled the state of Uttar Pradesh as it spread to other parts too. The protest had broken out after 24 junior doctors at Kanpur medical college were held for getting into a scuffle with Samajwadi Party workers.
Caught in the crossfire were the patients, with no access to medical facilities. Several patients' deaths have been reported.
Doctors met UP Chief Minister Akhilesh Yadav on Tuesday evening after which he gave assurances that all charges against the 24 arrested doctors will be dropped. However, he did not give any assurance to the doctors on strike of any action taken against the accused SSP and MLA.
The protests had begun after the supporters of SP MLA Irfan Solanki allegedly clashed with doctors at a Kanpur hospital over the reported mistreatment of a patient. The doctors claimed that they were mercilessly beaten up by the police, whereas the police claim that the doctors pelted stones at them.
Get the best of News18 delivered to your inbox - subscribe to News18 Daybreak. Follow News18.com on Twitter, Instagram, Facebook, Telegram, TikTok and on YouTube, and stay in the know with what's happening in the world around you – in real time.
Read full article