Don't Know When I'll be Transferred: J&K Governor's 2nd Bombshell After Hinting at Pressure from Delhi
Governor Satya Pal Malik expressed fears of being transferred out of J&K at an event to mark the death anniversary of Congress veteran Girdhari Lal Dogra.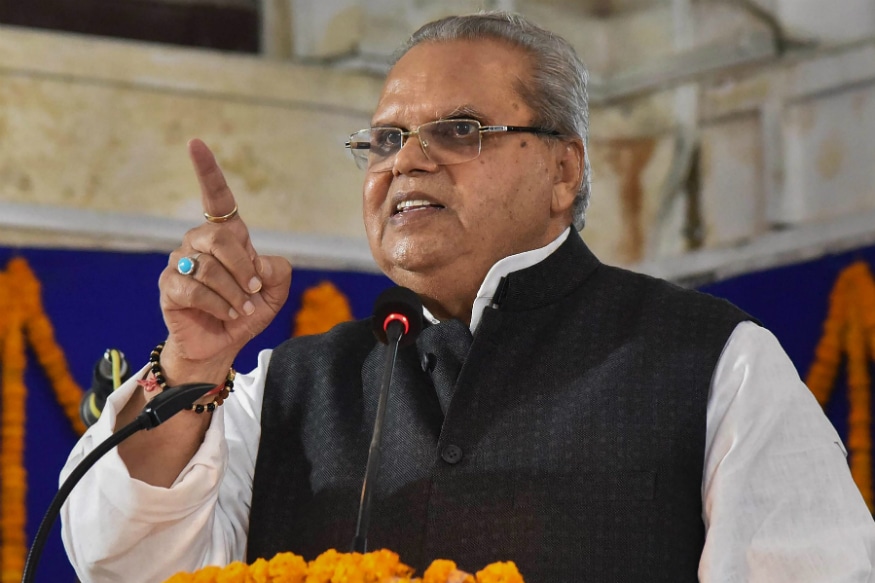 File photo of J&K Governor Satya Pal Malik.
Srinagar: Jammu and Kashmir Governor Satya Pal Malik hopped from one controversy to another within 24 hours, this time voicing fears of being transferred out of Jammu and Kashmir over his remark that the central government wanted him to invite BJP-backed Sajad Lone to form the government.
Speaking at a function in Jammu to mark the death anniversary of Congress veteran Girdhari Lal Dogra, Malik said, "It's not in my hands… I don't know when I will be transferred. The threat of transfer is always there. As long as I'm here, I assure you that I will come to pay my respects whenever you call me."
The statement caused more embarrassment to the Centre after a video clip surfaced in which the governor hints at pressure to pick Lone over PDP chief Mehbooba Mufti before he abruptly dissolved the assembly. The opposition said the claim vindicated its charge that Malik was under pressure to put in place a "BJP-supported government".
"Delhi ki taraf dekhta toh muje Lone ki sarkar banana padhti aur mein ithihas mein ek bayiman aadmi ke tor pe jata ...(Had I looked to Delhi, I would have had to install a government led by Lone, and history would have remembered me as a dishonest man)," Malik had said during a pre-convocation academic conclave of ITM University in Gwalior on Saturday.
"Therefore, I ended up the matter. Whosoever wants to scold, can do so now but I am convinced that whatever I did, was right," he said.
As the comments created a flutter, a Raj Bhavan spokesperson clarified that the governor while taking the decision to dissolve the Assembly on the night of November 21 acted in an "objective and impartial" manner. "There was no pressure or any kind of intervention from the Centre in the entire matter," he said in a press statement.
But the chiefs of Peoples Democratic Party (PDP) and National Conference, Mehbooba Mufti and Omar Abdullah, both former chief ministers, complimented the governor for not taking "instructions" from Delhi thereby stopping the installation of a government of the "BJP and its proxies".
Malik abruptly dissolved the Assembly after the PDP staked claim to form a government with the backing of arch rival NC and the Congress. Mehbooba claimed the support of 57 MLAs in the 87-member Assembly.
The PDP claim was quickly followed by another bid from the People's Conference which claimed the support of the BJP and 18 legislators from other parties. The BJP had 25 MLAs while the strength of the People's Conference was two.
| Edited by: Nitya Thirumalai
Read full article