Don't Need Nationalism Sermons From a PM With 'Compromised' Track Record, Manmohan Singh's Stinging Reply to Narendra Modi
Manmohan Singh, responding to Modi's allegation that he and several top Congressmen had held a secret meeting with the Pakistani establishment, said he was anguished by the falsehoods being spread to score political points ahead of the Gujarat election.
File photo of former prime minister Manmohan Singh. (PTI)
New Delhi: In one of the most scathing political attacks that one has heard or read from him, former PM Dr. Manmohan Singh has accused Narendra Modi of setting a "dangerous precedent by his insatiable desire to tarnish every constitutional office, including that of the former Prime Minister and Army Chief".
In a written statement, the mild spoken Congress leader sought to clarify his position regarding a speech made by Prime Minister Modi accusing senior Congress leaders of holding a secret meeting at Mani Shankar Aiyar's residence, which was attended by a former Pakistani envoy and foreign minister.
Demanding an apology from Modi, the former prime minister said he was anguished by the falsehoods being spread to score political points ahead of the Gujarat election.
"Fearing imminent defeat in Gujarat, desperation of Prime Minister to hurl every abuse and latch on to every straw is palpable," he said, adding that no one, including Modi can question his track record.
"My track record of public service over five decades is known to everybody. No one, including Modi, can lamely question it to gain lost political ground," the former Prime Minister said.
"The Congress party needs no sermons on nationalism from a party and Prime Minister, whose compromised track record on fighting terror is well known," Singh added, reminding Modi that he had gone to Pakistan uninvited in 2015 after the terror attacks in Udhampur and Gurdaspur and had also invited ISI to the air force station in Pathankot to investigate the attack in 2016.
Modi on Sunday had alleged that senior Congress leaders held a meeting with Pakistan's former foreign minister and High Commissioner to India at Mani Shankar Aiyar's residence a day before he made the "neech" comment.
"There were media reports yesterday about a meeting at Mani Shankar Aiyar's house. It was attended by Pakistan's high commissioner, Pakistan's former foreign minister, India's former vice president (Hamid Ansari) and former Prime Minister Manmohan Singh," Modi said, claiming that the meeting lasted for around three hours.
Manmohan rejected the allegations and said that he did not discuss the Gujarat elections with anyone at the dinner. "The discussion was limited to India-Pakistan relations. None of those present can be accused of indulging in any anti-national activities," he said.
"I sincerely hope that Prime Minister will show the maturity and gravitas expected of the high office he holds instead of concentrating his energy solely on erroneously conceived brownie points," he added in the statement released on Monday.
Here is the full statement of Manmohan Singh: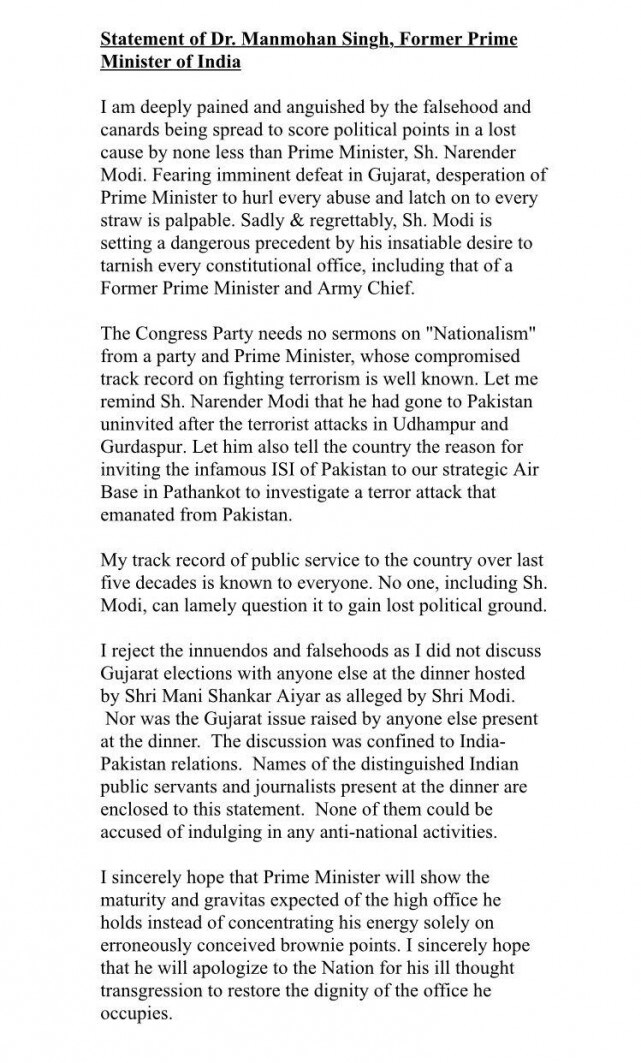 | Edited by: Ashish Yechury
Read full article
Countdown To
Elections Results
To Assembly Elections 2018 Results