EC rejects Swamy's plea seeking de-recognition of Cong
The Janata Party leader said he was expecting the Eelection Commission to reject his plea and called it mere procedure.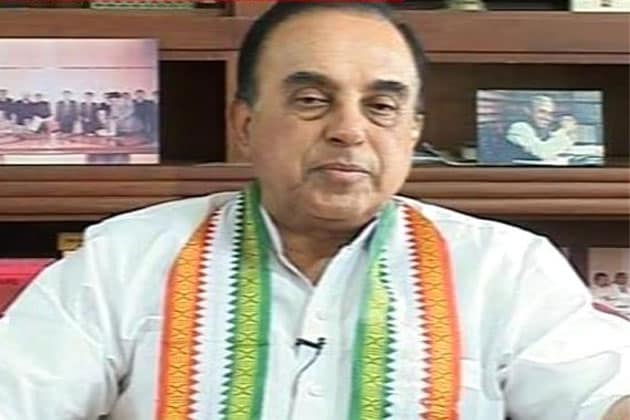 The Janata Party leader said he was expecting the Eelection Commission to reject his plea and called it mere procedure.
New Delhi: In a major setback to Janata Party leader Subramanian Swamy, the Election Commission on Tuesday rejected his plea seeking de-recognition of Congress. The EC, while rejecting his petition, said, "The Commission takes serious exception to Swamy's allegations questioning the impartiality of the Commission, which the Commission rejects as completely baseless."
In his petition, Swamy had contended that Congress should be de-registered after reports came out that the party had loaned Rs 90 crore to the National Herald. The EC gave a 4-page reply stating the EC could act only if there was any violation of model code of conduct. The EC said that Swamy had failed to show just how was any model code of conduct violated by the Congress.
"The Commission does not have anything to do with newspaper reports referred by you," the EC told Swamy. "The Commission had not taken any decision on the third and fourth of November. So the question of leaking of decision does not arise."
Responding, Swamy said that he was expecting rejection of his plea. "This was a procedure to go through before approaching the court," he said. "The EC should have at least held a hearing, which they didn't do. This is a very pliant institution and is undermined by the Congress," he said.
Swamy added that he will be approaching the court next.
Swamy's allegations
Swamy had earlier this week alleged that Sonia and Rahul formed a private company named Young Indian and acquired a public limited company, the Associated Journals Limited. Swamy said a company allegedly floated by Sonia Gandhi and Rahul Gandhi had done a "sham and bogus" deal to "grab the Rs.1,600 crore worth Herald House" and other properties of the group and demanded a CBI probe. The Congress was dismissive of the allegations and referred to Swamy as an "ajube" (strange character).
Swamy told the media that the two Gandhis floated a company called Young Indian in which each had 38 percent stake. Young Indian, he said, acquired Associated Journals Pvt Ltd (APPL) and became owner of the National Herald and Quami Awaz and all high value real estate property in Delhi and Uttar Pradesh belonging to the group. "Rahul Gandhi was already a shareholder in APJ Private Ltd in 2008 but failed to disclose this in his affidavit filed for the Lok Sabha elections in 2009," Swamy said.
Swamy said AJPL obtained unsecured zero interest loan of over Rs 90 crore from the All India Congress Committee (AICC). He termed the transaction illegal, saying a political party can't give loans for commercial purposes. He said in February 2011 AJPL was sold by transfer of shares to Young Indian. Swamy said Rahul Gandhi later transferred his 262,411 shares in AJPL to his sister Priyanka Gandhi Vadra.
The Janata Party leader said Young Indian filed statements with the Registrar of Companies disclosing that the shareholders meeting was held at 10, Janpath, a government house allocated to Sonia Gandhi. "This is in violation of law since government accomodation cannot be used for commercial purposes and business," he said. "The deal was to grab Herald House and other properties of the National Herald and Quami Awaz in Delhi and UP."
Swamy demanded an investigation by the Serious Fraud Investigation Office or the Central Bureau of Investigation. He also urged the Election Commission to look into the illegality of loan given by the Congress to a private company. The Congress poured scorn on Swamy. "In every country and every society there are some strange characters," party general secretary Janardan Dwivedi said. "The name you are taking (Swamy), he probably is one of them. He can say anything, anytime."
The BJP said Swamy's allegations that Sonia and Rahul Gandhi misused political funds are serious in nature and demanded a probe into the matter as well as clarification from the two Congress leaders. "Swamy has raised serious allegations against Sonia Gandhi and Rahul. A private company was acquired by them and political funds were used to buy two big newspapers. A property worth Rs 1600 crore was amassed. All these charges deserve an answer. These are not small charges and should be clarified in the public domain," BJP spokesperson Rajiv Pratap Rudy said. The party demanded that Sonia, Rahul and the Congress should respond to these allegations and issue a clarification.
Get the best of News18 delivered to your inbox - subscribe to News18 Daybreak. Follow News18.com on Twitter, Instagram, Facebook, Telegram, TikTok and on YouTube, and stay in the know with what's happening in the world around you – in real time.
Read full article