Empty Booths Mark Urban Body Polls in Kashmir While Jammu Sees Record Turnout
The first of the four-phase urban local body elections that were held in Jammu and Kashmir after a 13-year break on Monday.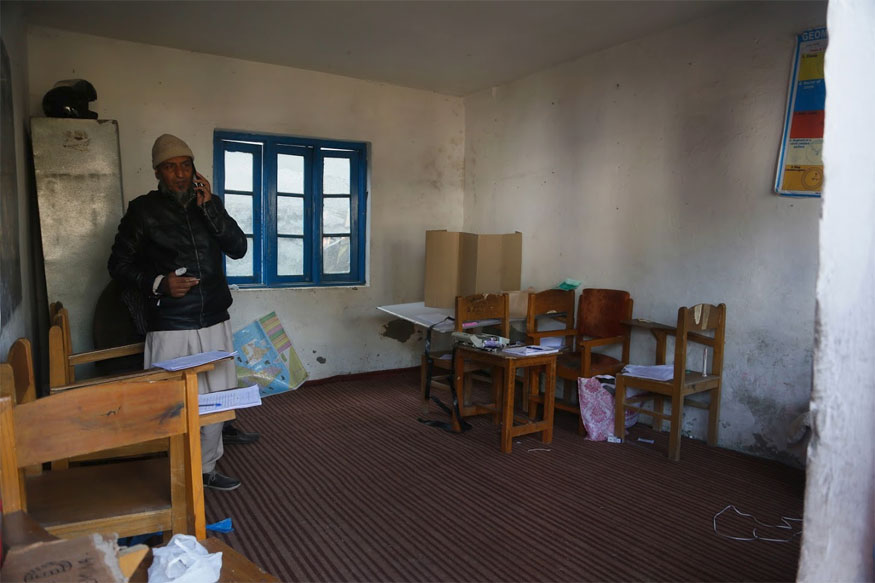 A Kashmiri poling officer inside a poling station during the first phase of local elections in Srinagar. (AP Photo)
Srinagar:
Sporting a black veil, accompanied by her 6-year-old daughter, Hameeda (name changed) cast her vote at Bamina (ward-16) in Srinagar. After ten minutes, she returned to the government school building where the polling booth was situated and attempted to vote again. An official denied her entry this time. She resisted and begun shouting. "I want to cast the vote for my aged mother," she told News18, showing the voter ID of her mother.
Hameeda was among a dozen ladies who cast their votes early on Monday morning. The road from her house to the polling booth was guarded by paramilitary forces.
"My relative is contesting (elections) and we want him to win," said Hameeda and added, "but not knowing what he will become after winning."
The first of the four-phase urban local body elections that were held in Jammu and Kashmir after a 13-year break on Monday.
There were militant threats against the contestants and the two major political parties, Peoples Democratic Party (PDP) and National Conference, who boycotted the elections. Joint Resistance Leadership (JRL), a separatist amalgam issued boycott and shutdown call with the support of J&K High Court Bar Association.
The first phase of polling started at 7 am and ended at 4 pm. 820 polling stations across the state went to polls on Monday. While Kashmir had 150 booths, Jammu division had 670 polling booths.
DESOLATE STREETS IN KASHMIR
The road to Budgam, 10 miles west of J&K's summer capital Srinagar, wore a deserted look on Monday. Paramilitary forces and local police were guarding the streets with checkpoints were set up and suspicious vehicles being frisked rigorously.
The markets were shut and public transport were also off roads. At the Budgam 5 polling station in Government Girls High School, the two candidates Nisar Ahmad and Mushtaq Ahmed sat next to each other on the porch.
While Nisar contested on a BJP ticket, Mushtaq was a Congress candidate. In Budgam district's three municipal seats, elections were only held at this polling station. At all other centres, candidates were declared victorious unopposed.
By noon, 23 people, including 13 men and 10 women, had cast their votes out of the total 642 registered voters.
Nisar and Mushtaq both were tense and blamed the media for a low voter turnout. "The people are reluctant to vote because of the presence of the media here. The voters don't want their identities to be revealed," said Nisar.
"Those who come out to vote face social boycott and are labelled anti-people," says Nisar, adding "fear has been created by militants".
Ali Mohammad, who is in his 80s, came to vote but like most others, but was reluctant to talk.
By the end of the day, over 100 votes were polled, but Nisar and Mushtaq were both puzzled.
In Bagh e Mehtab (ward-74) on the outskirts of Srinagar, the polling booth was put up at a newly constructed community hall. It was the first public activity at the two-storey government building.
By afternoon, eight people had cast their votes out of a total of 5,160 voters.
Two people are contesting from this ward — BJP's Basheer Ahmad Mir and another Independent candidate.
Mir, who has contested two assembly elections earlier in 2003 and 2008 unsuccessfully, says he was a Congress worker before switching over to join BJP days before filing nominations for the civic polls.
People have to realize, he says, that these elections are for their benefit.
"I want to serve people of this area and elections are the only way," he says.
VOTER TURNOUT
While Kashmir had a dismal voter turnout, the picture was completely different in Kargil and Jammu.
8.3 per cent of the electorate voted on Monday in Kashmir Valley while Kargil recorded the highest turnout of 78 per cent, an official said.
"Only 7,057 voters of the 84,692 eligible persons turned up to vote in the wards which went to polls Monday. The polling was by and large peaceful," the official said.
According to official data in south Kashmir's Anantnag, 7.3 per cent votes were recorded while Budgam in central Kashmir recorded 17 per cent.
In north Kashmir's Bandipora, Baramulla and Kupwara districts, 3.4, 5.1 and 32.3 per cent votes were polled, respectively.
Srinagar, on the other hand, recorded 6.2 per cent votes.
The twin towns of Kargil and Leh recorded a poll percentage of 78.2 and 55.2 respectively.
In Jammu division, the Jammu district recorded a percentage of 63.8, Poonch 73.1 and Rajouri 81.
As per figures provided by J&K Jammu Municipal Corporation CEO, the area recorded 61.92 per cent turnout while MC Khour witnessed highest 89 per cent polling in Jammu district.
CLASHES IN PARTS OF KASHMIR
Clashes erupted in north Kashmir's Bandipora area after angry protesters attacked a government vehicle. A pregnant woman identified as Shabeena was injured after hit by pellets. She was referred to SMHS hospital in Srinagar for treatment.
A 13-year-old boy was also brought to the hospital with multiple pellet injuries. He was discharged after his condition stabilised.
Earlier, a BJP worker was attacked by stonepelters in Bandipora. He sustained injuries and his car was damaged. Identified as Adil Ahmad, the worker was hospitalized for treatment.
| Edited by: Sanchari Chatterjee
Read full article
Countdown To
Elections Results
To Assembly Elections 2018 Results