0/288 Seats ((145 Seats to Win)
Alliance
BJP+
YSRCP+
TDP+
INC+
OTH
Wins + Leads
0
0
0
0
0
+/- 2014
+0
-0
-0
+0
0/90 Seats ((145 Seats to Win)
| Alliance | BJP+ | INC+ | BJD+ | OTH |
| --- | --- | --- | --- | --- |
| Wins + Leads | 0 | 0 | 0 | 0 |
| +/- 2014 | +0 | -0 | -0 | +0 |
Every Time Nitish Kumar Quits, He Comes Back More Powerful
Now that Nitish Kumar has resigned as Bihar CM, interesting question is what could be his next move.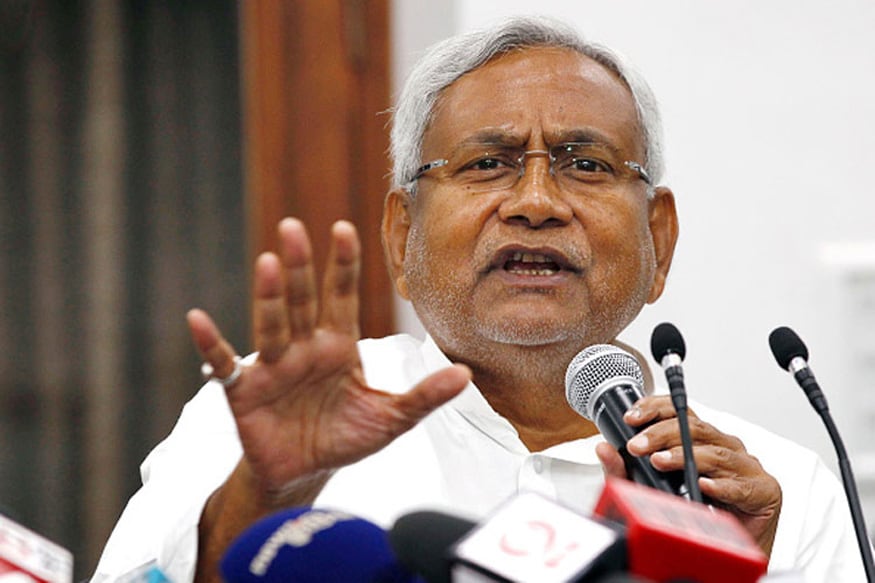 File photo of Bihar CM Nitish Kumar.
The more you bend, the more you rise. This is a popular saying in Hindi heartland. Nitish Kumar has practiced it in his politics with great craftsmanship. Here are the instances when he quit from a powerful position, interestingly to only return in a more powerful role. Now that he has resigned as Bihar CM, interesting question is what could be his next move:
1999: As railway minister after Gaisal train accident
2005: As Bihar CM when he couldn't muster majority support
2014: As Bihar CM when JD(U) lost badly in parliamentary election
2017: As Bihar CM
A BRIEF PROFILE
- Born on March 1, 1951, Bakhtiarpur,
- Place of birth Patna district, Bihar
- Family history: Nitish Kumar belongs to Kurmi caste.
- His parents are Kaviraj Ram Lakhan Singh and Parmeshwari Devi.
- Kumar's father, Kaviraj Ram Lakhan Singh was a freedom fighter and an Ayurvedic Vaidyaraj.
- Kumar's father left the Indian National Congress to join the Janata Party, as he was denied party ticket to contest 1952 and 1957 general elections.
- Kumar graduated in mechanical engineering from Bihar College of Engineering, Patna. Kumar's wife Manju Kumari Sinha passed away in 2007 and he has a son Nishant, who pursued engineering from the BIT, Mesra, Jharkhand.
Political career: After participating in the stalwart Jayaprakash Narayan's movement in 1974 to 1977, Nitish made his political debut in 1980 Bihar elections.
In 1985, he was first elected to the Bihar Legislative Assembly as an independent candidate.
In 1987, Nitish became the President of the Yuva Lok Dal and in 1989, he became the Secretary-General of the Janata Dal. After working with the RJD President Lalu Prasad Yadav, both parted ways and Nitish founded Samata Party in 1994. Kumar was first elected to Lok Sabha in 1989 and he served as the Minister of Surface Transport (1998 to 1999), Minister of Agriculture (1999 to 2001) and Minister of Railways (1998 to 1999 and 2001 to 2004).
Nitish took first oath as the Bihar CM in 2000, but his first stint was short-termed that lasted only for a week because of lack of majority.
Then, the RJD formed the government with Rabri Devi as the state's chief minister.
In 2005 Bihar assembly elections, Nitish's JD(U) formed the government and since then, he has transformed Bihar from a backward state to one of the best-governed states in terms of development, infrastructure and most importantly, the crime also reduced under his rule. Besides, Nitish has introduced various schemes related to education and employment in rural areas.
In his second term, some of the notable achievements of Nitish Kumar-led JD(U) government in Bihar are- Jankari scheme, E-shakti NREGS program, bicycle and meal programs (that led to fall in school dropout rates), 50% reservation in electorals to women and extremely backward castes, health schemes and loan schemes for farmers.
Get the best of News18 delivered to your inbox - subscribe to News18 Daybreak. Follow News18.com on Twitter, Instagram, Facebook, Telegram, TikTok and on YouTube, and stay in the know with what's happening in the world around you – in real time.
| Edited by: Bijaya Das
Read full article