GET Stock

Quotes


Exuberance in Son's Seat Varuna, But Siddaramaiah Faces a Tough Fight in Chamundeshwari
Siddaramaiah vacated Varuna for his son and returned his old seat Chamundeshwari in this "do or die" election for him. The happy mood in Varuna and tense atmosphere in Chamundeshwari explain what is right with Varuna and what is wrong with Chamundeshwari.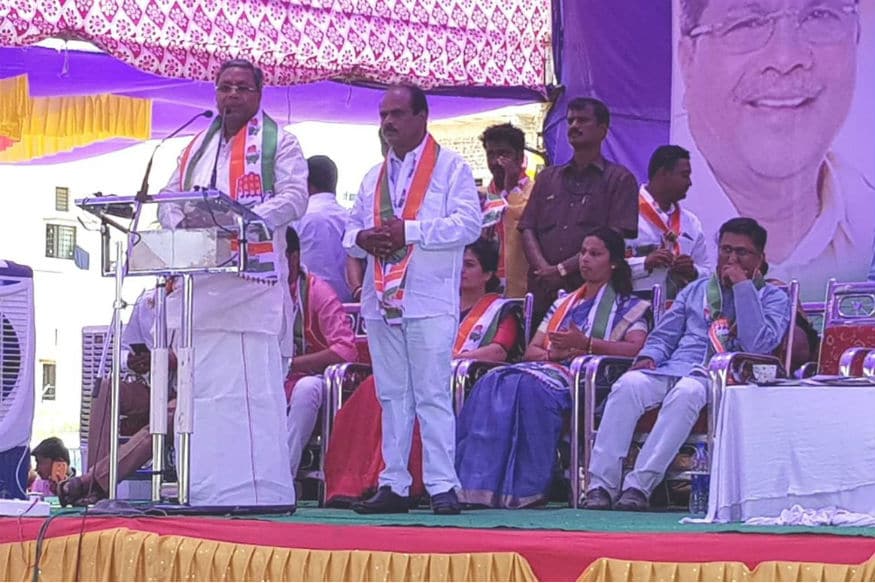 Karnataka CM Siddaramaiah during a campaign rally in the state.
Mysore:
A few hundred enthusiastic voters and children are waiting for the Congress candidate Dr. Yatheendra, the son of Chief Minister Siddaramaiah. Some have brought even drums and garlands. But there is no sign of Yatheendra even after 1 o'clock in the afternoon.
Someone announces that there was a road accident near their village, and Yatheendra was busy helping the victims.
Soon after Yatheendra arrives there. The slogans praising him and Siddaramaiah rend the air. Mild mannered and humble, Yatheendra, a qualified pathologist, shakes hand with youngsters and greets the aged and women with folded hands. The village headman receives him at his house and declares that the entire village will vote for him.
When News18 visited Varuna, people at several villages said that Yatheendra will surely win by a decent margin. They feel that he is a good person and should be elected.
After the BJP denied ticket to B S Yeddyurappa's son Vijayendra from Varuna, the contest has now become one sided. Even the local BJP leaders agree. But not ready to take chances, Yatheendra, braving the hot summer sun, has been campaigning extensively in Varuna.
Outskirts of Mysore City (part of Chamundeshwari seat)
A group of elders backing their candidate and Chief Minister Siddaramaiah is holding an informal meeting at a local shop. They are trying to convince some local leaders to back Siddaramaiah against sitting JDS MLA GT Deve Gowda.
Naganna, leader of the elders, tells them that Siddaramaiah is fighting his last election and he must be supported at any cost.
After a 15-minute meeting, the locals agree to vote for the Chief Minister and the group moves to next village.
The exuberance of the Congress workers in son's seat Varuna is missing in father's seat Chamundeshwari. But Siddaramaiah's backers claim that he will definitely win from Chamundeshwari even though it is not going to be easy for him.
Siddaramaiah vacated Varuna for his son and returned his old seat Chamundeshwari in this "do or die" election for him. The happy mood in Varuna and tense atmosphere in Chamundeshwari explain what is right with Varuna and what is wrong with Chamundeshwari.
In Varuna, Siddaramaiah's main vote bank AHINDA (Minorities, Backward Classes, SC/STs) looks intact. These community leaders claim that the AHINDA is solidly behind his son and Yatheendra will make it to the Assembly without much efforts.
Venkataramana, a Dalit, said that he was going to back Yatheendra because of Siddaramaiah. He said, "In Varuna, all of us are voting for the Congress. Siddaramaiah is our leader. We are proud of him. The BJP is trying to project him as an anti-Dalit. But we don't buy that argument. Actually we are worried about BJP. Our admired leader V Srinivasa Prasad quit Congress to join BJP. They have sidelined him completely. Lingayats and Vokkaligas have an understanding to defeat the Congress. But we won't let that happen."
Kumar, a local Congress leader, told News18 that 30% of the Lingayats and Vokkaligas are backing Siddaramaiah and the BJP was dividing the society on caste lines by spreading the rumours that they are not with Congress.
Manteswamy, a Lingayat from the neighbouring village, admitted that majority of them are rooting for the BJP because of Yeddyurappa.
He said, "Our caste prefers Yeddyurappa. But we can't say that all of us vote for him. There are many who are undecided." He also agrees that there is no wave in this election.
Speaking to News18, Yatheendra said that he was above caste politics and he had faith in every caste and religion.
"I don't discriminate. All castes and religions vote for me. I am hopeful of a decent win," said Yatheendra.
He also expressed confidence that his father would easily win from neighbouring Chamundeshwari.
He said, "My father was Chamundeshwari MLA five time before 2008. He will win. The media reports about a tough fight are not accurate."
However, Chamundeshwari presented a different picture when News18 travelled across the constituency.
The Vokkaliga mobilisation behind JDS was clearly visible at many villages. The seat has 72,000 Vokkaligas and 40,000 Veerashaiva/Lingayats. Many of them appear to be with the JDS to defeat Siddaramaiah for various reasons. The JDS supremo HD Deve Gowda and his son HD Kumaraswamy have taken it as a challenge and campaigned extensively across Chamundeshwari. Speaking to News18, they said Siddaramaiah would bite the dust in Chamundeshwari.
On the other hand, Siddaramaiah's poll managers exude confidence that he will win from Chamundeshwari.
Mayi Gowda, a local Vokkaliga leader, said that it was wrong to say that all Vokkaligas are with the JDS.
He said, "I agree that 50-60% of them may vote for the JDS. Since JDS has an "understanding" with the BJP, they are getting even Veerashaiva/Lingayat votes. But at least 30% votes from these two castes will also go to Siddaramaiah."
He also said that the AHINDA mobilisation behind Siddaramaiah was taking place on a big scale in Chamundeshwari.
"We did not want to make it an upper caste versus lower castes election. But the JDS and BJP have made it like that. They should be blamed for caste divisions here," Mayi Gowda said.
Siddaramaiah said that he was supremely confident of his win and no amount of mudslinging and harassment by the JDS and BJP will work against him.
| Edited by: Ashutosh Tripathi
Read full article