Eye on 2019 Target for Bengal, PM Modi Attacks Mamata, Calls for End of 'Syndicate Rule'
PM Modi carefully chose Midnapore for his speech as this is also a region that comes under the Jangalmahal area, where BJP had fared well in the panchayat elections.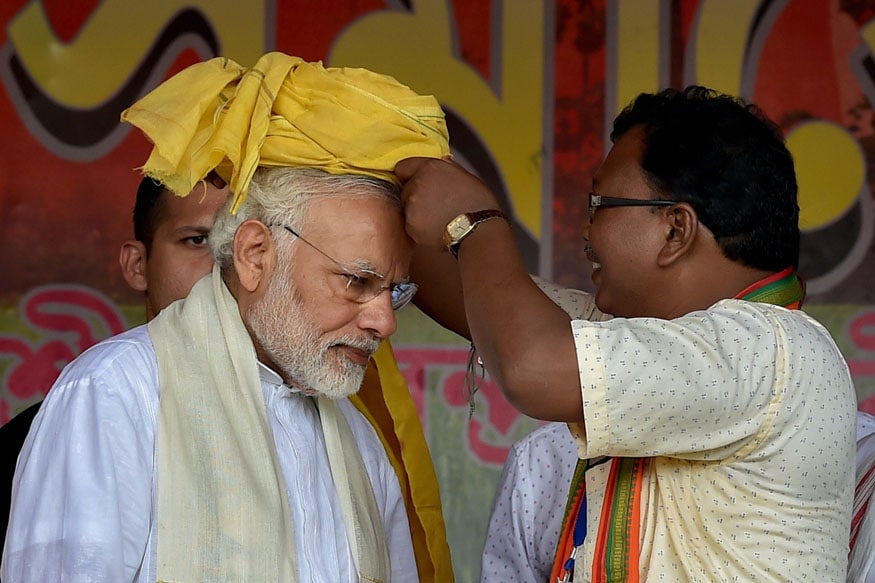 Prime Minister Narendra Modi being felicitated with a 'pagri' by a BJP Kishan Morcha leader during 'Krishi Kalyan Sabha' rally in Midnapore on Monday.(PTI Photo)
West Midnapore: Prime Minister Narendra Modi lauded BJP's performance in the recent panchayat elections in West Bengal and threw a challenge at Trinamool Congress chief Mamata Banerjee for the 2019 Lok Sabha polls while addressing a rally in West Midnapore on Monday.
Addressing a huge gathering at Midnapore College Ground, PM Modi started his speech in Bengali and said, "Bondhugon, Sakalkei Amar Namaskar (Friends, please accept my greetings)."
Slamming Mamata, he said, "Now it's time to free Bengal from those who captured it for their vested interests. Time has come to free Bengal from the clutches of syndicates. I can vouch for the fact that this government won't survive."
"I salute the people of Bengal for extending their support to BJP despite all the atrocities being done on them. So many BJP workers were brutally killed by the ruling party workers but despite that the panchayat results shows that change is inevitable in Bengal," he said.
Taking a jibe at Mamata, he said, "When I was coming here, I saw several posters, banners and cutouts of Didi and TMC greeting me with folded hands. This shows that even Didi is happy to see me here."
Trinamool Congress had put out several posters alongside BJP's banners welcoming PM Modi to the Midnapore Town.
"Please don't be demoralized. Be brave and fight back to break this syndicate and ill rule of the Bengal government. This syndicate is syphoning central funds meant for the poor and needy people of Bengal. I would like to ask you, did she give you the balance sheet of expenses. Where have all the central funds gone? Our government is working hard to double the farmer's income by 2022 but here, a syndicate is running the show. This needs to stop," he said.
PM Modi carefully chose Midnapore for his speech as this is also a region that comes under the Jangalmahal area, where BJP had fared well in the panchayat elections. Not the least, Midnapore is surrounded by politically sensitive districts, including Howrah, Bankura, Purulia and Hooghly and his speech could also have affect the neighbouring districts ahead of the 2019 polls.
In November 2011, Maoist leader Koteswar Rao alias Kishenji was gunned down by security forces in Jangalmahal.
Years have passed and amid allegations of atrocities by local Trinamool leaders in Jangalmahal, BJP saw an opportunity to mobilize the villagers.
Within a year, BJP has emerged as a major for the TMC, that earlier used to enjoy political supremacy over the killing of Kishenji.
BJP has managed to enroll nearly 1,30,000 members and established 140 party offices in Jangalmahal, which includes areas such as Taldangra, Ranibandh, Sarenga and Raipur in Bankura, Jhargram, Garbeta and Gopiballavpur in West Midnapore and Baghmundi, Ayodhaya Hills, Jhalda, Manbazar and Arsa in Purulia districts.
Considering all these, BJP plans to penetrate Bengal via Jangalmahal. This is the reason why party President Amit Shah decided to visit Purulia last month.
Out of the 42 Lok Sabha seats in Bengal, BJP won just two in the 2014 elections when the Modi wave was at its peak. The party is now eyeing 22 seats for the elections next year and Monday's event in Midnapore could very well be seen as the beginning of BJP's campaign in the east.
| Edited by: Sanchari Chatterjee
Read full article