Eyeing Rich Results in Lok Sabha 2019, BJP Fuels Separate North Karnataka Demand
It is a great irony that the BJP is demanding a separate north Karnataka state. Because the demand for the state unification came from north Karnataka people in 1956.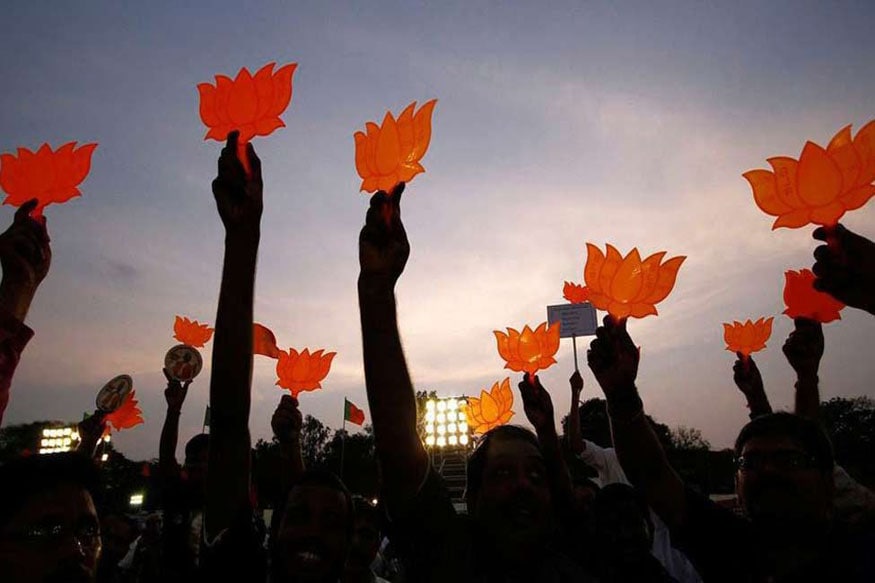 Representative Image. (Reuters)
Bengaluru: A day after Karnataka chief minister HD Kumaraswamy presented his budget in the state Assembly, several hitherto unknown organisations dubbed it as a south Karnataka budget or old Mysore region budget. The opposition BJP, which narrowly lost the race to power, backed the claim of organisations. Many BJP leaders from north Karnataka, including Umesh Katti and B Sriramulu, claimed that they may have to ask for a separate north Karnataka state as the JDS is interested only in the development of its stronghold south Karnataka.
A perturbed Kumaraswamy hit back at them alleging that a jealous BJP was spreading lies about his party's commitment towards north Karnataka as it has failed to come to power. An emotional Kumaraswamy said that his farm loan waiver had benefited the north Karnataka farmers more than the southern farmers. Angrily, he also said that north Karnataka people should have voted for his party if they wanted more from him.
As if on cue, the BJP started hitting back at Kumaraswamy. The leader of opposition BS Yeddyurappa said that power had gone to the head of Kumaraswamy and he should talk like the chief minister of entire Karnataka.
A few days earlier, former chief minister Jagadish Shettar had alleged that former Prime Minister HD Deve Gowda and his son Kumaraswamy had done nothing for the north Karnataka. It was countered by Deve Gowda with documents. He challenged Shettar to come for a public debate on it. But the BJP leader decided to keep quiet after that.
The demand for a separate north Karnataka state after the JDS–Congress government came to power two months ago has more to do with the BJP politics and nothing much to do with the aspirations of common people from Mumbai–Karnataka and Hyderabad–Karnataka regions.
The Congress, which won 43 Assembly seats out of total 96 seats in these two regions, has attacked the BJP for trying to divide the state for the electoral gains. It has also expressed unhappiness over Kumaraswamy's criticism of north Karnataka voters, claiming that they have voted for the Congress and it is a coalition government. Deputy chief minister Dr G Parameshwara told News18 that there was only one Karnataka and it would not be divided just because the BJP was desperate for power and a few more Lok Sabha seats in 2019.
One has to understand the Karnataka unification movement to realise BJP's game plan. Most Kannada speaking areas came under one administration on November 1, 1956 as Mysore State or New Mysore State. It was renamed as Karnataka on November 1, 1973 because the ancient name of the region was Karnataka or Carnatic. For centuries, Kannada speaking areas were under different administrations causing immense misery to the Kannadigas.
The unification demand came from north Karnataka regions of Mumbai Karnataka under the Bombay presidency and the Hyderabad Karnataka under the Nizam's rule. There was a strong opposition to unification of the Kannada speaking areas in old Mysore region. The old Mysore state was a well-developed state under the Wodeyars of Mysore Kingdom and the southerners were not ready to share their wealth with the under developed north Karnataka cousins. And the most important reason was caste politics. It is Lingayats versus Vokkaligas. The two most dominant castes accounts for 25% of Karnataka's population, but have total control over state's politics. They view each other with suspicion. While north Karnataka is a Lingayat stronghold, Vokkaligas dominate the south.
BACKGROUND
Sometime in early 1950s, during the height of Karnataka Ekeekarana Andolana (Karnataka Unification Movement), top leaders of the Vokkaliga caste had gathered at a house in central Bengaluru to decide the future course of action.
All of them were Congress leaders and had participated in the freedom movement. Most had impeccable personal credentials. But majority of them were not too enthusiastic about the unification of all Kannada speaking areas under one administration. They had many reasons for that.
Some argued that Maharaja's Mysore or Old Mysore was already a well-developed model state, and merging poor Mumbai-Karnataka and Hyderabad-Karnataka regions would be a burden on the state exchequer and resources. Others had bigger fears.
They argued that once all Kannada speaking areas unite, the Vokkaligas will lose their caste dominance, paving way for the Lingayat hegemony. Two most powerful castes of the state were wary of each other even then.
But the then chief minister of old Mysore state, Kengal Hanumanthaiah, was all for state unification. A freedom fighter and an able administrator, Hanumanthaiah was a tall leader of the Vokkaligas.
Vetoing his own caste leaders, Hunumanthaiah told them that future generations of Kannadigas would never forgive them if they oppose unification for caste and political reasons.
The Vokkaliga leader threw his might behind the unification movement and the new Mysore state with Kannada-speaking regions of Bombay Presidency – including some districts of present-day Karnataka, Nizam's Hyderabad, Karnataka, Madras Presidency and an independent, tiny state of Kodagu (Coorg) was born on November 1, 1956.
Sadly, Kengal Hanumanthaiah lost power and a Lingayat strongman, S Nijalingappa, took charge as the first chief minister of New Mysore state. As expected the Vokkaligas lost the chief minister's chair to Lingayats and they had to wait for 38 years to reclaim the chair. In 1994, HD Deve Gowda became the first Vokkaliga chief minister of united Karnataka.
Between 1956 and 1972, four Lingayat chief ministers (S Nijalingappa, BD Jatti, S R Kanthi and Veerendra Patil) ruled the state. Between 1972 and 1983, a Kshatriya D Devaraja Urs and a Brahmin R Gundurao ruled the state minus much Lingayat backing. Ramakrishna Hegde, who became Karnataka's first non-Congress chief minister in 1983, was also considered a Lingayat leader even though he was a Brahmin.
To end Hegde's rule, the then Prime Minister and Congress president Rajiv Gandhi made a Lingayat stalwart Veerendra Patil KPCC president and chief ministerial candidate in 1989. Under his leadership, the Congress swept the polls by winning 181 seats in the 224-member house.
After Patil was unceremoniously removed by Rajiv Gandhi at Bengaluru airport in October 1990, the Lingayats once again started moving away from the Congress. In 1994, the combined strength of Lingayats and Vokkaligas decimated the Congress which managed to win just 36 Assembly seats under then chief minister M Veerappa Moily.
These instances prove that without Lingayats' backing no political party in Karnataka can really come to power and even if it manages, it may not be able to remain in power for long. Since the unification of state, Lingayats have dominated the socio-political life of Karnataka, forcing the Vokkaligas to play second fiddle to them. With their political and economic power, the Lingayats control the biggest vote bank in the state.
Contrary to the recent claims of the saffron parivar, Lingayats are not the traditional backers of the BJP. They were once the backbone of the Congress in Karnataka. After Devaraja Urs ended Lingayat hegemony in the party, they shifted to Janata Parivar. After the disintegration of the Janata experiment, they started backing the BJP and accepted BS Yeddyurappa as their leader.
According to political analysts, Lingayats decide the outcome in close to 100 Assembly seats and 14 Lok Sabha seats in the state. In Mumbai-Karnataka and Hyderabad-Karnataka region they are the deciding factor in about 70 Assembly seats. These two regions together have 94 Assembly seats and 12 Lok Sabha seats.
In Vokkaliga-dominated Old Mysore region with 89 Assembly seats, Lingayats play an important role in deciding the fate of candidates in about 30 Assembly seats. According to some unauthenticated data, Lingayats have 30-35% population in 85-90 Assembly seats and they have 10-15% population in 45-50 seats.
Even though the Lingayats claim that their population is over 17% of the state's total population, the leaked "caste census" report says they form 14% of the population and count only after Dalits and Muslims with 19.5% and 16% respectively. The Vokkaligas have 11% population, the census reveals.
CURRENT DEMAND
According to political analysts, the BJP is raking up the separate state issue just to consolidate the north Karnataka voters in favour of the BJP. Both the ruling JDS and Congress are also making similar allegations against BJP. "The BJP is so desperate for power at the Centre. It is now dividing the Kannadigas in the name of a separate state. It will backfire and they will pay for it dearly," said HD Kumaraswamy.
BS Yeddyurappa, who is from old Mysore, is in a fix and making feeble protests against a separate state demand being made by some of his own party men. Speaking to News18 he said that separate state was not a solution to development related issues.
The new age Kannada activists who are well educated and net savvy are attacking the RSS and blaming its smaller states theory for the current demand. They have launched an online attack holding RSS responsible for this.
"The RSS does not believe in diversity. It sees it as a threat to its skewed "one nation" theory. That's why its cadres are silently fuelling the demand. They don't even know that it was north Karnataka people who made a huge sacrifice to join the old Mysore region in 1956. We will fight them," says Banavasi Balaga, a prominent pro-Kannada organisation.
ENTIRE NORTH KARNATAKA NOT ONE UNIT
Even though they call it a separate north Karnataka state, entire north is not one unit. Mumbai-Karnataka and Hyderabad- Karnataka are two entirely different regions. They have nothing much in common and the separate state demand has no visible support anywhere in Hyderabad-Karnataka region. The Congress has a strong base here.
The BJP is strong in Mumbai-Karnataka region and the demand is coming only from that area is making it obvious that it is a BJP sponsored political drama ahead of the most crucial Lok Sabha elections in 2019.
| Edited by: Ashutosh Tripathi
Read full article