Patna:
A press statement purportedly written and signed by Congress general secretary, Janardan Dwivedi created a flutter in the Bihar unit of the party, which is already reeling under internal differences.
The letter said Congress Vice-President Rahul Gandhi has approved the proposal to appoint Akhilesh Singh, Madan Mohan Jha, Shakeel Ujjaman Ansari and Ashok Ram as working presidents of Bihar Pradesh Congress Committee.
The letter with Dwivedi's signature on it surfaced on Tuesday evening.
Even state Congress President, Ashok Chaudhary, who has been critical of the party high command over the handling of an internal conflict, initially confirmed that Dwivedi had issued the letter.
However, as soon as the letter started doing to rounds on social media and news channels picked up the story, the party high command clarified that the letter was fake.
The letter named Akhilesh Singh as a working president. Singh is considered to be a rival of Ashok Chaudhary, Ashok Ram, Madan Mohan Jha and Shakeel Ujjaman Ansari.
All the four suddenly started getting congratulatory messages from other Congress leaders. However, the celebrations came to an abrupt end with Janardan Dwivedi himself denying to have written any such letter.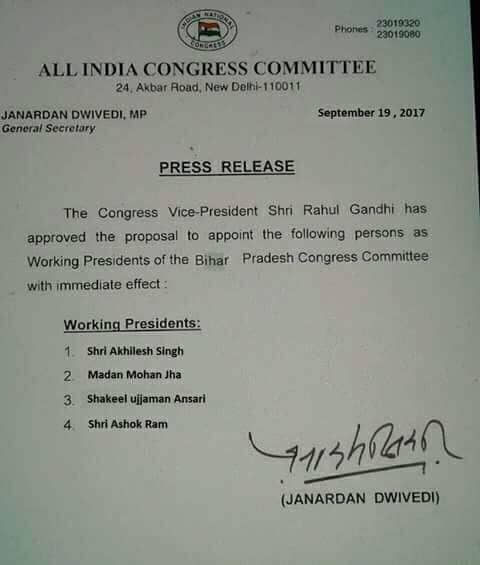 The letter with Janardan Dwivedi's name on it.
Recently, Rahul Gandhi had called all Congress MLAs and MLCs of the Bihar unit to Delhi for a meeting that was not attended by state president Ashok Chaudhary and seven other MLAs.
Chaudhary then openly criticised the party leadership saying some of the senior AICC leaders were conspiring against him and trying to destabilize the party in Bihar.