Fall of The Saviour: A Look Back at Ajay Maken's Tenure as Delhi Congress Chief
It was in March 2015, less than a month after the Grand Old Party was wiped out in the Delhi Assembly polls that Ajay Maken took over the reins of the Delhi Congress.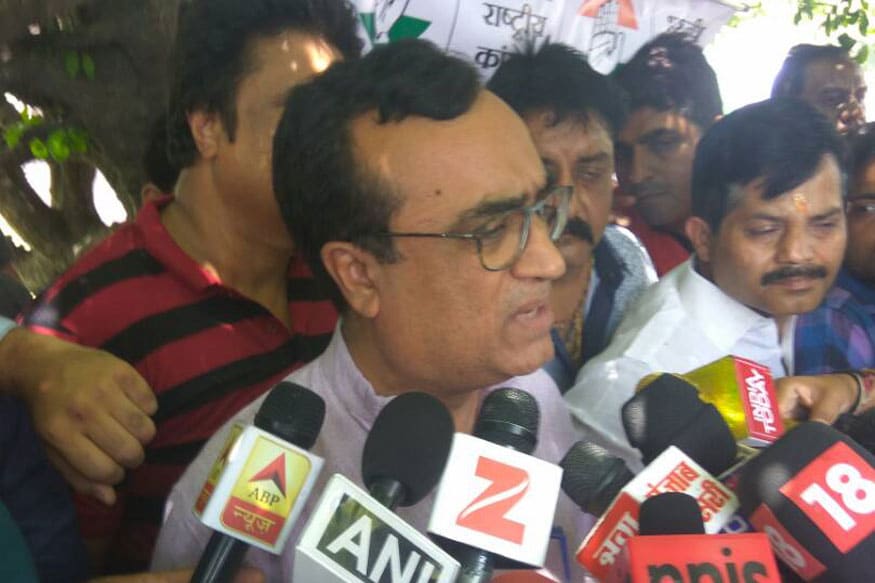 File Image of Ajay Maken (Nasib Singh/Network18)
New Delhi: It was in March 2015, less than a month after the Grand Old Party was wiped out in the Delhi Assembly polls that Ajay Maken took over the reins of the Delhi Congress. The party's Delhi unit was in doldrums; it had lost two successive Assembly polls and had failed to win a single seat in the 2014 Lok Sabha polls. Maken, the nephew of deceased veteran Congressman Lalit Maken, was tasked with scripting the party's revival. As the results for the MCD elections poured in on Wednesday morning, the Congress finished at number 3. Hours later, he resigned as the President of the Delhi Pradesh Congress Committee (DPCC).
Successor who became successful
Maken has, on more than one occasion, proved his electability. He took his first steps in politics as the president of the Delhi University Students' Union (DUSU). When he won his first major election from the South Delhi Lok Sabha seat, he was written off as someone who won on a "sympathy wave", following the assassination of his uncle Lalit Maken. But with three successive terms as an MLA, followed by his tenure as New Delhi MP in 2004, Maken silenced his critics. He also gained experience as a minister in the Sheila Dixit Cabinet and later in the Central government. When he was chosen as DPCC chief, replacing Arvinder Singh Lovely, Congress spokesperson Randeep Surjewala described him as "a politically and electorally tested face of the Congress party with wide administrative and organisational experience."
However, not all were happy with his elevation. Lovely, who is now with the BJP, told News18 in an exclusive interview, "I was removed as DPCC president without a reason. Maken was rewarded for getting us zero seats in 2015 and even losing his own deposit. Now things are beyond anyone's control."
Rebellion from colleagues
Weeks ahead of the MCD polls, signs of a rebellion began to emerge in the Congress. The overwhelming narrative was that Ajay Maken, who now had complete control of the party's Delhi state unit, was ignoring veteran leaders. Just 20 days before the polls, veteran Congressman AK Walia, reportedly unhappy over ticket distribution, threatened to quit the party. After offering to resign, he told the media that the Congress leadership was treating veteran leaders like 'Class 8 students'. Former chief minister Sheila Dixit and other Congress leaders openly blamed Maken for failing to take senior leaders along. Leaders such as Dixit and Harun Yusuf stayed away from the campaign.
The final nail in the coffin came when former DPCC chief Lovely quit the Congress and joined the BJP. "We had no say in ticket distribution, we had no say in the manifesto and none of us were even a part of the campaign committee. What are we in politics for? I could either stay silent like Dixit or speak up. I come from a community where self-respect is the most important thing. If anyone has even an iota of self-respect, they will not stay in the Congress for even a single day," Lovely said, in a scathing attack on Maken.
Maken, too, addressed the issue of infighting in an interview with News 18. "Well, never in the history of Congress has there been a leader who didn't face infighting. This is something even former Delhi chief minister Sheila Dikshit faced. When she was president of the party in Delhi, some people wanted her to step down. Even when she was the CM, some demanded her resignation. I am talking about 1999 and the earlier years. At that time also many people were against Sheila ji. But when she came to power, she governed for 15 years. She has been my mentor. I was her blue-eyed boy once," he said.
Allegations of harassment
Rachna Sachdeva, the Babarpur district president of Mahila Congress, filed a police complaint accusing Maken, Shobha Oza, president of All India Mahila Congress, and Neeta D'Souza, state Congress leader of mental harassment and criminal intimidation. In her complaint, Sachdeva had accused Maken of demanding money for tickets in the MCD polls.
'I take moral responsibility'
Speaking to the press after his resignation, Maken said, "Congress has made a reasonable comeback from the 9% vote share it was left with after the 2015 assembly polls. But it's lower than what I had hoped for. I take moral responsibility for this disappointment. I resign from all party posts and will continue to serve as a dedicated worker."
What next for Delhi Congress?
Delhi Congress has suffered from successive changes in leadership and infighting. Maken's resignation will come as a fresh blow for the party since he was seen as a "fresh face" who could revive the party. Maken's successor will have to build a consensus among veteran leaders, prevent defections and boost the morale of party workers who are dejected after repeated losses.
| Edited by: Ananya Chakraborty
Read full article