Falsehoods of Rebels, Rivals: Sasikala on MLAs 'Held Hostage'
Sasikala said the legislators are free and determined to ensure their the party and the government stayed intact.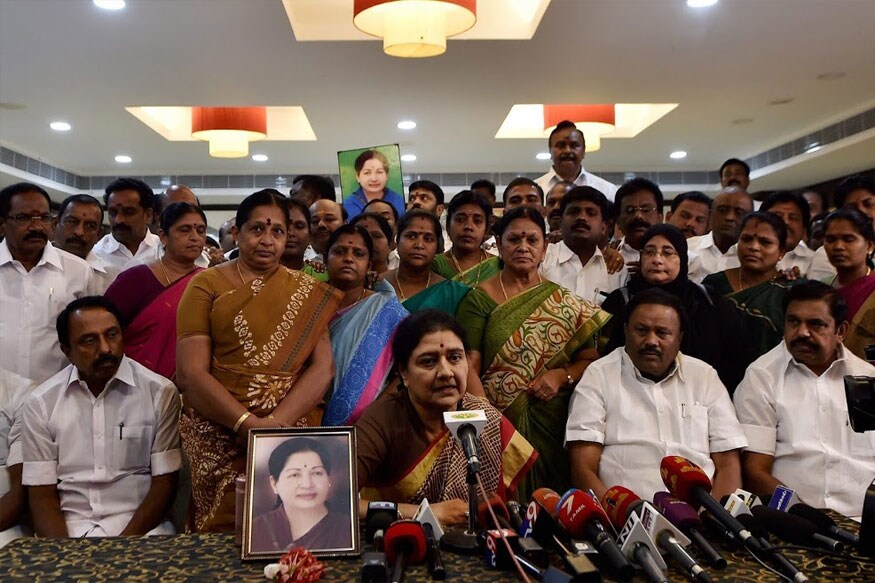 AIADMK General Secretary VK Sasikala briefing the press along with party's MLAs at the resort in Koovathur at East Coast Road, outskirts of Chennai on Sunday where various AIADMK MLAs are camping to decide on the further course of action in forming new government/PTI Photo
Chennai: AIADMK General Secretary V K Sasikala on Sunday rejected as "falsehoods" the "reports" being spread by "rebels and rivals" that her party MLAs were held hostage at a resort near the city.
She said the legislators are free and determined to ensure their the party and the government stayed intact. Addressing reporters at the resort where the MLAs are staying, she chose to adopt a wait and watch policy when asked about the verdict in the disproportionate assets case expected in the coming week. "Let it come, we shall see. Why do you jump to a conclusion?" she asked.
Flanked by some of the women party MLAs, Sasikala alleged they had received threats that their children would be
abducted but they have asked their relatives to take care of them and continued to stay at the resort.
"It shows their dedication to this movement. I was moved...they (all the MLAs) are keen that there should be no
impediment to AIADMK and the government," she said.
Alleging that those "who defected from us" and "our rivals" were spreading "falsehoods" that the MLAs were being
held hostage, the AIADMK chief insisted that neither their free movement nor their freedom of expression have been
hindered.
ALSO READ: Sasikala Says MLAs Not Held Captive; Panneerselvam May Send Police to 'Free' Them
"See it for yourselves," she told the journalists, "they are in touch with their families over phone." Asked about reports of Governor Ch Vidyasagar Rao awaiting the Supreme Court verdict in the graft case, Sasikala shot back saying the "Raj Bhavan has denied it".
"We know who is spreading such reports. They want to create confusion among us. Our MLAs are very much aware of
this," she said.
ALSO READ: Very Difficult for a Woman to be in Politics, Says Sasikala
On her next course of action, she said, "You are also here, wait and watch." She earlier held detailed discussions with the MLAs at the resort.
Get the best of News18 delivered to your inbox - subscribe to News18 Daybreak. Follow News18.com on Twitter, Instagram, Facebook, Telegram, TikTok and on YouTube, and stay in the know with what's happening in the world around you – in real time.
| Edited by: Huma Tabassum
Read full article