Finally in Spotlight, Rajasthan's Tonk is Hoping for Jobs, Railway Station and Solution to its Water Crisis
A head-to-head battle for power between Sachin Pilot and Yunus Khan has put the spotlight on Tonk and its people want solutions to the town's many problems.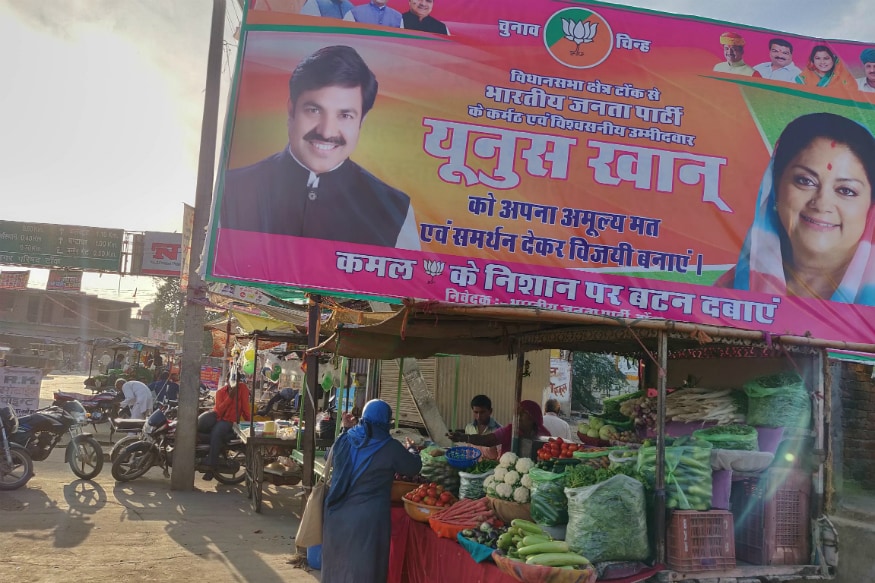 With Congress's Sachin Pilot and BJP's Yunus Khan in the fray, Rajasthan's Tonk is at the centre of attention.
Tonk: Shahnawaz, who had strolled into Tonk's Hira Chowk to listen to Yunus Khan's public address, spit out his paan nonchalantly and prepared to leave. "Nobody has done any work in Tonk. Neither the Congress, nor the BJP," he said as a loud applause rang out in the background. "Why should I vote for any of them?" he said, shrugging his shoulders.
A local from Purani Tonk in Rajasthan, Shahnawaz wasn't sure why he had walked into Yunus Khan's public address since he had already decided he won't vote for anyone this time. The BJP candidate's address was not going to change his decision. By the time Yunus Khan started making promises, Shahnawaz was done.
Tonk has been in neglect for as long as Shahnawaz and his friend Shahrukh can remember. But ahead of the assembly election, it is suddenly at the centre of attention. Just over a 100 kilometres from Jaipur, the town came into spotlight when the Congress announced its list of candidates for the upcoming polls. Sachin Pilot, former Member of Parliament, Pradesh Congress Committee president and one half of the chief ministerial face of Congress in Rajasthan, got a ticket from Tonk and things were set into motion.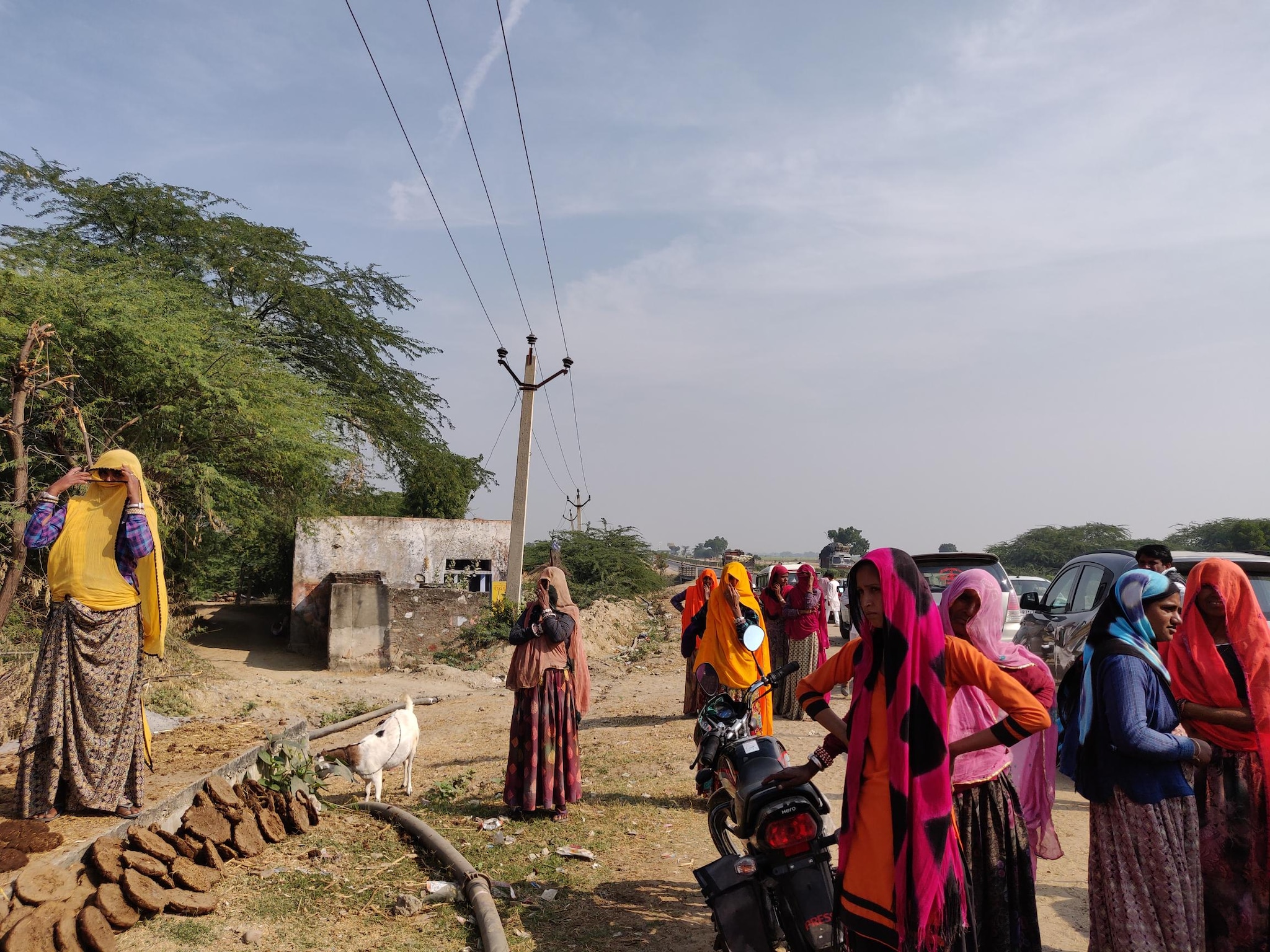 Women of Motuka village in Tonk stand at the sidelines of a BJP jansabha.
After Congress' decision to field a popular leader and star campaigner, BJP took a decision of its own. They dropped Ajit Singh, an incumbent legislator from the constituency, and brought in Yunus Khan. Khan, an MLA from Deedwana, is a minister in the state government and BJP's only Muslim candidate in upcoming election.
"Nobody even knew that this place existed," said Ganesh Sahu, another Tonk resident, adding: "There's no industry here, no railway station; only a small bus stop. Now everyone is talking about it."
A major head-to-head contest between Pilot and Khan has put the spotlight on this forgotten town and its people want that the issues faced by them also get the same attention.
"Umemployment is the biggest problem here. There is nothing to do here. Both Gurjars and Deswalis have to go to Jaipur to earn their daily bread," Shahnawaz pointed out and most people that this reporter spoke to echoed a similar sentiment. Mahesh Gurjar, a resident of Hira Chowk, said that most locals work as labourers at construction sites or at a mustard oil factory.
Tonk does not have private industries. There were a few garment firms earlier but they shut down about four years ago. "About 1,500 people were laid off when Isuzi Garments shut down. Most of them have not received severance payments and provident fund payoff till now," Sahu said. According to him, there's just one garment industry left, DCM Garments, but it too is on the verge of shutting down.
Tonk also has a struggling mustard oil industry, where firms function for about three to four months and remain shut for the rest of the year. Sahu, who works at one such oil factory, RT industries, said that most youngsters from the town either drive autorickshaws or run agricultural shops. "Industries must come in Tonk. People will work here for any rate, even Rs 8,000 a month is good enough," Sahu said.
Many locals are also part of the bidi manufacturing business. "Yougsters sit in shops or drive rickshaws and their wives roll bidis at home," said K.R. Khan, who is also the general secretary for All India Journalists' Welfare Association and cultural director for International Human Rights Association. K.R. Khan, a journalist and Tonk resident, is also the Rajasthan head of Khabar India News and sometimes sells sporting goods at a shop run by his son. "The previous governments never supported any industries here. With little financial aid, they shut down," he said, adding that Tonk used to have a leather industry and a few carpet manufacturers too, but none survived.
No just unemployment, Tonk is facing a serious transport problem as well. The city has no railway link, despite there being a demand for years. The nearest railway station in Isarda, which is about 34 kilometres away. Chief Minister Vasundhara Raje had promised a railway station in Tonk, but never delivered on the promise.
"Whether it is Congress or BJP leaders, whether it's Lok Sabha polls or assembly elections, whoever has fought elections here has won over the rail issue. But after winning, they all forgot their promises," said Akhbar Khan, president of the local Rel Lao Samiti. He has been fighting to bring a train to the town for almost two decades.
According to Akhbar, when the Congress was in power at both the centre and state, central government had provided 873 crore to Rajasthan government for Tonk's rail project. When the BJP came into power, the project was put on hold before it could even begin. "Things were left hanging in the middle," he said.
Akhbar said, he has been knocked the doors of BJP leaders and CM Raje for the last five years and was given assurances of a rail link. "I met Chief Minister Vasundhara Raje five times. Every time she said, 'Tonk will get its rail. I will see to it, soon.' She came to Tonk during her Gaurav Yatra. Before her public speech she told me she will do something about the issue before she left Tonk. But she didn't even mention rail in her speech," Khan said.
When Khan objected and tried to question Raje during her speech, the chief minister responded by saying the responsibility of the rail link lies with the centre, not the state. "She felt no shame in saying that. Five years ago she had come to Tonk asking for votes and had said, 'If we form the government, I will bring rail to Tonk'," Khan said.
But rail-link is not the only problem. Tonk has been demanding good roads too. Almost all roads in the city are dotted with potholes. Apart from the highway that bypasses the town, only a few main roads are pucca. The main road that starts from Chavni Chowk, Tonk's starting point, was built only recently when Raje came for a visit, residents said. "That one good road was built only a few months ago for Raje's visit. They only built the road along the route that her cavalcade was supposed to take," said Gurjar, another local from the area.
Besides issues of unemployment, transportation, Tonk is yet to get basic amenities. People say the drinking water scarcity is severe. Both Tonk city and the villages in the district, get drinking water supply on alternate days for a few hours. "Most days, we get brackish water in supply," said one resident. "Drinking water comes on every other day and lasts for an hour at the maximum," he added.
According to journalist and human rights activist K.R. Khan, the water crisis has been brought about by rampant illegal sand mining at the banks of Banas river. Banas crosses Tonk and is now almost dry. "Even during the monsoons, it doesn't have much water," said Akhtar Nawab, a journalist and a jeweller from the area.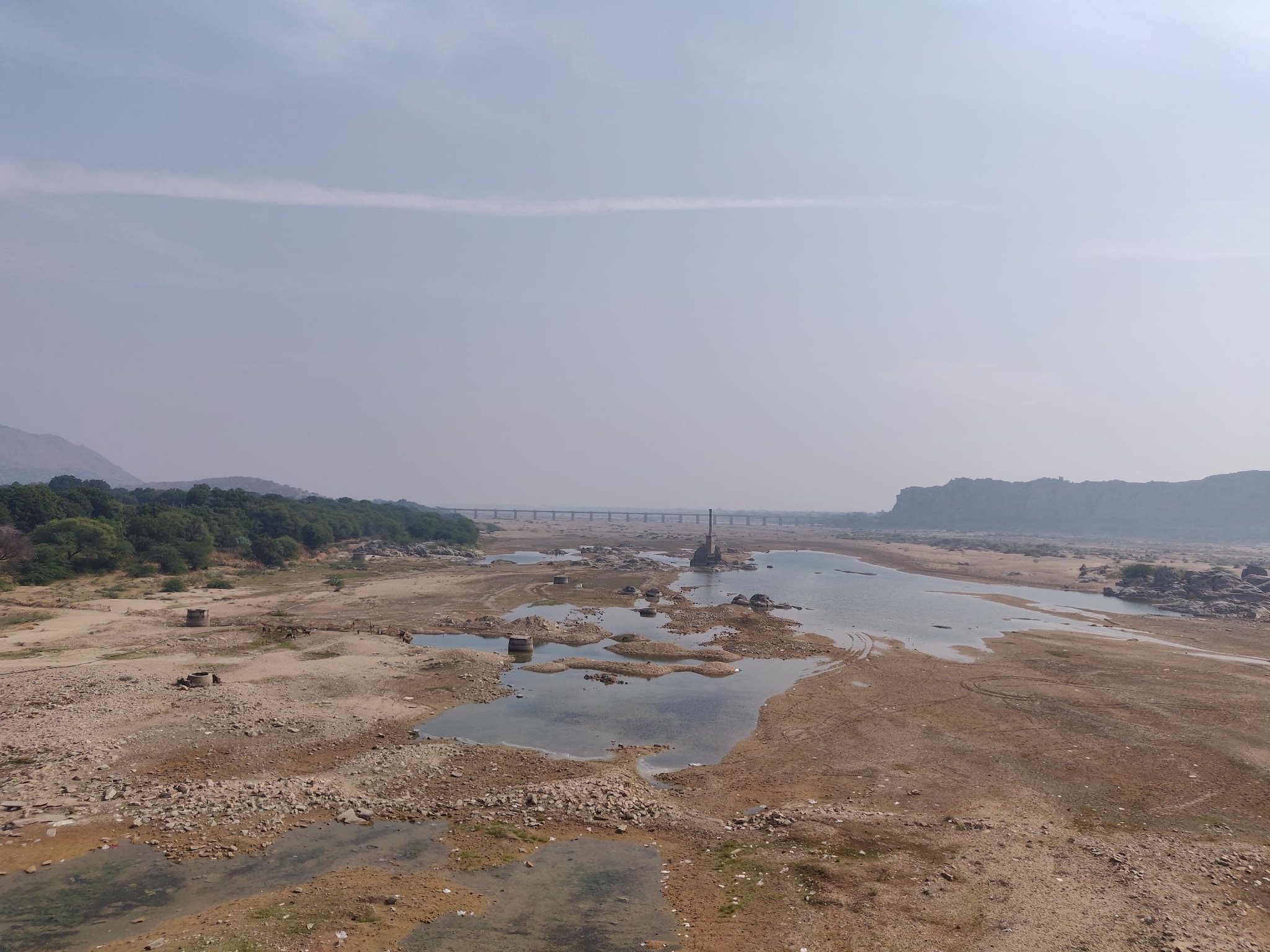 The Banas river has almost dried up, exacerbating the water crisis in the region.
It was building Bisalpur dam on the river in 1999 that restricted the river waters. "Banas dried up when the dam came into existence," Gurjar said. Tonk and its surrounding villages get drinking and irrigation water supply from the Bisalpur dam. It also supplies drinking water to Jaipur and Ajmer. The pipeline project to bring water from Bisalpur to Jaipur started in 2004 and finished in 2009 and was protested by farmers who relied on Bisalpur water for irrigation. "There is no other option. The state capital needs water too. So the Bisalpur water has to be shared," K.R. Khan said.
Health and education is another major concern. The schools lack basic infrastructure and teachers. There are several hospitals in the town, but residents said most of them don't have enough beds. "For every little thing, the hospital here says go to Jaipur to get yourself treated," said Shahnawaz.
Now, in the poll-bound Rajasthan, all eyes are on Tonk and its residents say no matter who wins, its two big candidates should bring in change. "Yunus Khan is close to CM Raje and I've heard that he has worked well in Deedwana. Pilot could become the next chief minister. He had said if an airport can come to Ajmer, he can also bring a train to Tonk. It will be a big feat that happens," Sahu said.
Read full article