Four Out of Five Petitions Cited by AIADMK to Deny Marina Beach Burial to Karunanidhi Withdrawn
The fourth to withdraw his application, advocate S Duraiswamy alleged that there were "political motives behind not allowing Karunanidhi's burial at Marina beach" and said his petition had nothing to do with providing Karunanidhi a place beside his political God-father Anna Durai.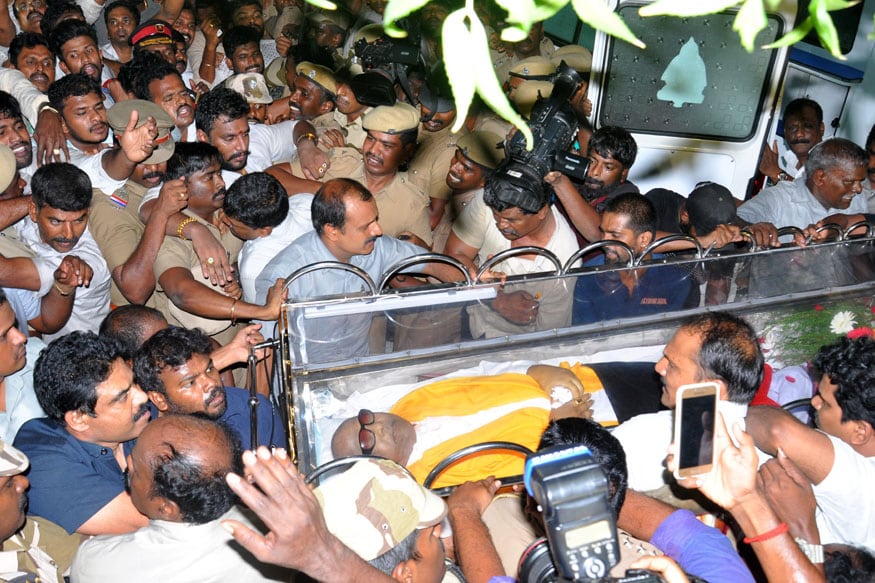 Mortal remains of DMK chief M Karunanidhi reach his Gopalapuram residence in Chennai on Tuesday. (PTI Photo)
Chennai: In a late-night twist in the ongoing legal battle launched by DMK to get permission to bury their party patriarch M Karunanidhi at 'Anna Square' at Marina beach, four out of five PILs arguing against burial at the site have been withdrawn, News18 has learnt. The latest withdrawal of application was by Tamil Nadu-based advocate S Duraiswamy.
Emerging from the ongoing hearing, Duraiswamy, informed the press waiting outside that he had withdrawn his PIL. He alleged that there were "political motives behind not allowing Karunanidhi's burial at Marina beach" and said that his petition had nothing to do with providing Karunanidhi a place beside his political God-father Anna Durai.
In fact, his petition was against the burial of senior AIADMK leader and former chief minister Jayalalitha, Duraiswamy told the press.
"The state is spreading misinformation about Coastal Regulation Zone. My petition has nothing to do with burial space beside Anna, where Karunanidhi was supposed to be buried. The state is spreading misinformation on this. I am also withdrawing my plea. Four out of the five petitions have been withdrawn. There is just one standing petition now," said Duraiswamy.
According to sources, DMK in its case before the Madras High Court, which is being heard by the present Chief Justice, has argued that Karunanidhi must be provided space at Marina Beach given his "political stature" and "wishes of millions of people".
The state government's refusal to allow Karunanidhi a burial at Marina beach was based on these five petitions. The AIADMK ruled state government had argued that legal arguments had been made against burial at Marina beach and, given the fact that only Chief Ministers were allowed a burial at 'Anna Square' DMK's requests could not be honoured. Madras High Court is still presiding over the case in an urgent midnight hearing.
Hours after former Tamil Nadu chief minister M Karunanidhi breathed his last at a Chennai hospital, the controversy over allocation of the last resting place of the DMK patriarch sparked off.
The Tamil Nadu government rejected the request that was made by Karunanidhi's political heir MK Stalin - to grant him a burial and a memorial on the Marina beach stating that there were five Public Interest Litigations before the Madras High Court which said that building memorials at Marina were against the Coastal Regulation Zone rules.
The state also stated that only sitting Chief Ministers including Annadurai, MG Ramachandran and Jayalalithaa had memorials there. He also said that memorials for former Chief Ministers like K Kamaraj and Rajaji had been built at the Gandhi Mandapam in Guindy. Though the CM offered the place, DMK wanted Karunanidhi's memorial next to the other Dravidian icons.
The state government has instead offered alternative sites for the burial including at Gandhy Mandapam at Guindy.
Duraiswamy had filed a PIL in the Madras High Court last year opposing a memorial for former Chief Minister of Tamil Nadu J Jayalalitha claiming "Memorials are raised in praise and memory of leaders who spent their life for public cause, and not for persons convicted by courts." He had also argued that building such a memorial would violate the prescribed environmental norms.
In his PIL, which was admitted by a bench including the then Chief Justice of the Madras High court, Duraiswamy had claimed that Jayalalitha no right to be celebrated and honoured by the state.
He had claimed that even the existing memorial for former chief minister M G Ramachandran was built without obtaining any approval from the authorities concerned. He had also alleged that the body of Jayalalithaa was buried in utter violation of the rules and regulations and against the provisions of the Environment (Protection) Act, 1986 which has declared coastal stretches as Coastal Regulation Zone.
Referring to provisions of Madras Corporation and Municipal Council Act which says that no person shall bury, burn or otherwise dispose of any corpse except in a place which has been registered, licensed or provided for the purpose, Duraiswamy had claimed that the government buried the former CM's body in total violation of laws.
Duraiswamy had said in his petition that the Marina promenade would be converted into a grave yard if the proposal was allowed to take shape.
No mandatory recommendations have been obtained from State Level Expert Appraisal Committee (SEAC) under Environment Protection Act, 1986, Duraiswamy said.
If such a memorial on 9.09 acre-plot is not prevented, in the next few decades the entire 13-km Marina promenade would turn into one long stretch of burial grounds, Duraiswamy had argued.
Get the best of News18 delivered to your inbox - subscribe to News18 Daybreak. Follow News18.com on Twitter, Instagram, Facebook, Telegram, TikTok and on YouTube, and stay in the know with what's happening in the world around you – in real time.
| Edited by: Aakarshuk Sarna
Read full article