From Lemons to Cow Worship, Karnataka Leaders Swear by Superstition
BJP leader B Sriramulu, who is challenging Chief Minister Siddaramaiah in Badami seat, was seen performing 'gau puja' at his residence before voting.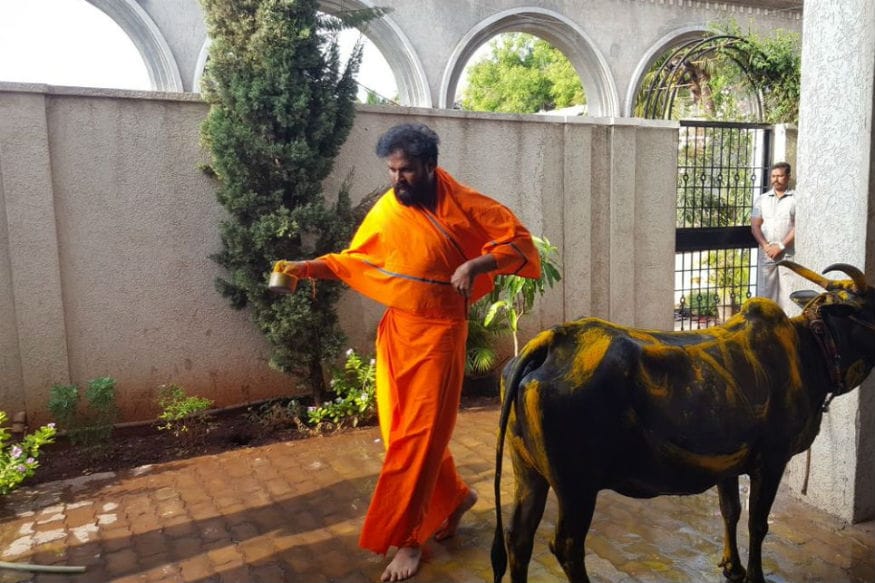 BJP's B Sriramulu performed 'gau pooja' (cow worship) before casting his vote on May 12, 2018. He is contesting against CM Siddaramaiah from Badami constituency.
New Delhi: Apart from bitter attacks and massive roadshows, the campaign for Karnataka elections was also marked by innumerable visits to temples and mutts. The trend continued on voting day as well as several netas made a beeline to seek divine before heading to the polling booth.
BJP leader B Sriramulu, who is challenging Chief Minister Siddaramaiah in Badami seat, was seen performing 'gau puja' at his residence before voting. Siddaramaiah holds prominence here as it is dominated by the Kuruba community, a shepherd community to which the CM belongs.
Wide-ranging rituals and consultations with seers and astrologers for an auspicious time to file nominations were a common site in the run-up to the elections. However, AICC Secretary and former minister Satish Jarkiholi decided to choose the most inauspicious movement to file nominations.
Speaking to reporters in Belagavi, he said that he chose the most inauspicious moment to file his nominations. "I will file my nomination during Rahu Kala," he said. Jarkiholi is known for his staunch stand against superstitions and blind faith.
"I am a follower of Buddha, Basava and Ambedkar philosophies," he said.
Jarkiholi, who is known to be progressive, has been holding an annual event involving night stay in a graveyard in Belagavi. According to reports, the efforts were to ensure 'Kalyana Rajya', wherein the state will be devoid of blind faith and superstition.
Very few candidates filed their nomination papers on the first day of nominations on Tuesday as most of them preferred to do it on an auspicious day, Thursday or Friday.
Chief Minister Siddaramaiah filed his nomination papers on a Friday after a puja at Chamundeshwari temple. Though he claims to be a staunch socialist, Siddaramaiah has in recent years been seen frequenting the temples and participating in religious events.
HD Revanna, son of former prime minister HD Deve Gowda, too, filed his nomination on a Friday after an elaborate religious ritual at Lakshminarasimha Temple, a practice he has maintained for more than two decades.
The BJP had also accused CM Siddaramaiah of 'hypocrisy' for campaigning with a lemon in hand, but "antagonising" people by bringing in the Anti-Superstitions Bill to "demean and criminalise" Hindu traditions.
"Campaigns with a lemon in hand, but brings in Anti-Superstitions Bill to demean and criminalise Hindu traditions. Hypocrisy thy name is @siddaramaiah," BJP Karnataka's Twitter handle posted.
The BJP Twitter handle for the state, also posted a photograph showing Siddaramaiah campaigning with a lemon in hand.
The chief minister replied to BJP allegation by tweeting, "When you visit a village people welcome you with lemon. That this is not a superstition is known to all Kannadigas. Anti-Superstition Bill has become a law passed by Karnataka legislature. It does not demean any Hindu tradition. Learn about Karnataka before tweeting young fellows (sic)."
Get the best of News18 delivered to your inbox - subscribe to News18 Daybreak. Follow News18.com on Twitter, Instagram, Facebook, Telegram, TikTok and on YouTube, and stay in the know with what's happening in the world around you – in real time.
Read full article