'Let's See What Happens After 2019': Siddaramaiah Casts Doubts Even as HDK Says All is Well
A video surfaced on Tuesday showing Siddaramaiah expressing doubts about the longevity of the coalition government in Karnataka.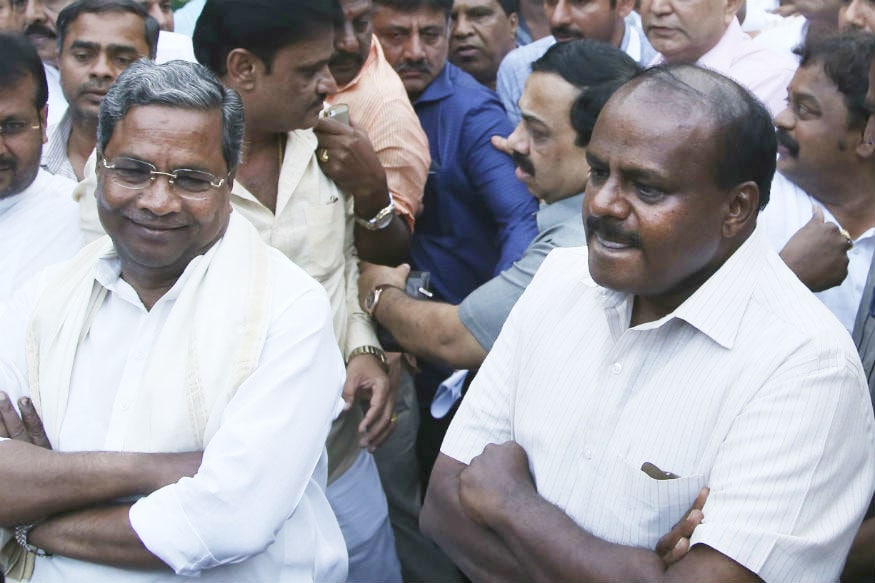 Former Karnataka CM Siddaramaiah (left) and chief minister HD Kumaraswamy.
Bengaluru: Just hours after Karnataka chief minister HD Kumaraswamy assured that all is well in the Congress-JDS alliance, a video showing his predecessor Siddaramaiah expressing doubts about the longevity of the coalition government has surfaced.
In the video, Siddaramaiah can be heard purportedly speaking skeptically about the government completing its five years term. When someone asks him about completing five years, he purportedly says "five years...difficult...let's see what will happen after the parliament election (in 2019)."
"They (government) will remain until parliament elections are over, after that, what all developments will happen (we will have to see)," he added.
Siddaramaiah, who is also the Chairman of the Congress-JD(S) coordination committee, is currently undergoing treatment at a nature therapy hospital in Dharmasthala and the video had been reportedly recorded there.
This comes two days after a video clip purportedly showing Siddaramiah expressing his displeasure to a few Congress MLAs over presentation of a fresh budget had emerged, adding to the unease among the coalition partners.
Deputy Chief Minister G Parameshwara, however, asserted that the government would complete five years term. "I have not seen it (video), when we reached an understanding (to form government); we had agreed to run the government for five years. We will run the government for five years," Parmeshwara told reporters.
When repeatedly asked about Siddaramaiah's purported comments, a visibly upset Parameshwara said, "I'm saying it... if you repeatedly ask the same thing I will say the same. I'm saying it officially that we will run the government for five years."
"I'm saying it, I'm the party (state) President...what will happen in politics when, no one can predict, but we have agreed that we will run the government for five years," Parameshwara, who is also the Karnataka Pradesh Congress chief, added.
Chief Minister HD Kumaraswamy had in an interview to News18 accepted that there was some discontent in the Congress camp, but said it was "nothing serious".
"The Congress decides its names. Yes, some are unhappy. But the Congress high command is talking to them. We have 34 Cabinet berths, including that of the Chief Minister. And we have 118 MLAs. Naturally, some will be upset," he said.
On Monday, he had sharply reacted to Siddaramaiah's remarks and said that an attempt was being made to create confusion about presentation of the full-fledged budget.
Differences have emerged between the Congress and the JDS on a host of issues, including presentation of the budget. Siddaramaiah, who had held the Finance portfolio in the previous government, has recently said there was no need for a a fresh budget and insisted that a supplementary budget would do.
Kumaraswamy, who holds the finance portfolio now, is scheduled to present his coalition government's first budget on July 5. On June 15, Kumaraswamy had himself said that no one can "touch" him at least till the 2019 Lok Sabha polls are over.
Get the best of News18 delivered to your inbox - subscribe to News18 Daybreak. Follow News18.com on Twitter, Instagram, Facebook, Telegram, TikTok and on YouTube, and stay in the know with what's happening in the world around you – in real time.
| Edited by: Aakarshuk Sarna
Read full article