Gowda, Sons & Grandsons: Karnataka Polls May See Upsurge in JDS 'Family' Values
HD Deve Gowda said he would be open to his grandsons working for the JD(S) during the Karntaka Assembly elections, a day after he completed a string of meetings on likely contestants from the party for the next polls.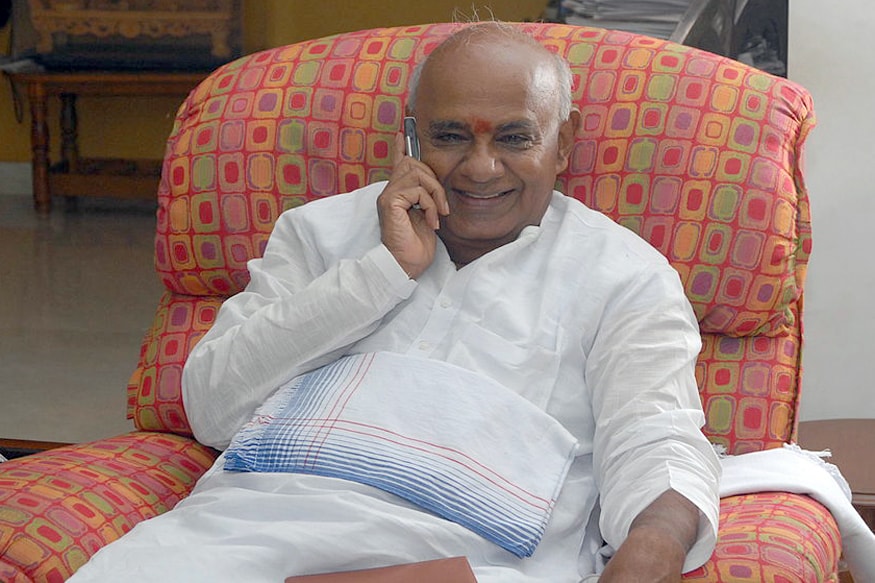 File photo of HD Deve Gowda.
Bengaluru: The second-generation Gowdas are already prominent faces in Karnataka politics but now, the Gowda grandsons are ready to add to the numbers.
Karnataka's most prominent regional party, Janata Dal (Secular) or JDS, is set to bring in the third generation of its leader, former Prime Minister HD Deve Gowda's family into the political mainframe during the upcoming elections. Elections to the Karnataka Assembly are slated for April-May 2018.
Gowda, on Friday, said he would be open to his grandsons working for the party during the Assembly elections, a day after he completed a string of meetings on likely contestants from the party for the next election.
While his son HD Kumaraswamy had become Chief Minister for about a year-and-a-half in 2006, the JDS has been losing its sheen with the voters, thanks to its dynasty politics. Though the party has tried to shun the image, the next election could well see the next-gen Gowda clan coming to the political forefront – with one grandson even trying for a party ticket to contest the Assembly 2018 polls.
"Nikhil, son of Kumaraswamy, is an upcoming actor. He has already shown his talent in the film 'Jaguar'. If his charisma can help our party, why shouldn't we use him? If he can bring in some strength into the party, what stops us from using his help? If he is willing to run around for his father, why not?" Gowda said while addressing a press conference.
Kumaraswamy has long been seen as the 'favourite' son, with Gowda giving him his blessings to lead a coup against the JDS-Congress coalition government in 2006. Twenty months later, he went on to back out of the JDS-BJP coalition, refusing to honour his promise of giving way to a BJP CM.
The following election, JDS lost badly in the election that followed. The JDS's seat tally dropped from 58 in 2004 to just 28 in 2008 but the party played king-maker, supporting two different parties between 2004 and 2008 to form coalition governments.
And while Kumaraswamy himself has taken a back seat – recuperating after a heart surgery two weeks back – his son Nikhil could be pitching in with the campaigning.
Prajwal Revanna – son of Gowda's elder son HD Revanna, a sitting MLA – has also been keen on getting into the electoral fray. He is said to have done good ground-work in Hunsur – a constituency near Mysore – and Belur, an Assembly segment in Gowda's Lok Sabha constituency of Hassan.
Gowda, however, stopped short of saying out loud if Prajwal will be given a ticket or not.
"Prajwal is already in politics. There is nothing hidden in this, it is known. People speculated that he will contest from Hunsur, then Beluru... now they are talking about a third constituency Rajarajeshwarinagar (in Bengaluru) for him. But Prajwal has not put in any application to contest from these places. Ultimately, the decision is mine," he said.
Currently, two of Deve Gowda's sons and one of his daughter-in-law — Kumaraswamy's wife Anitha — are currently MLAs.
Revanna's wife Bhavani too had tried for tickets but had not been allowed by Gowda senior so far.
If this election sees more family members, the JDS could well end up looking like the southern version of the Samajwadi party, that has 6 MPs and 2 MLAs who are all related to its party chief Mulayam Singh Yadav.
Get the best of News18 delivered to your inbox - subscribe to News18 Daybreak. Follow News18.com on Twitter, Instagram, Facebook, Telegram, TikTok and on YouTube, and stay in the know with what's happening in the world around you – in real time.
| Edited by: Aditya Nair
Read full article