Gujarat Violence: UP Congress Declares State-Wide Stir to Protest Attacks on Migrants From UP, Bihar
The decision was taken in a meeting chaired by UPCC Chief Raj Babbar in Lucknow on Monday, after which all district units of Congress were notified about the call for protest.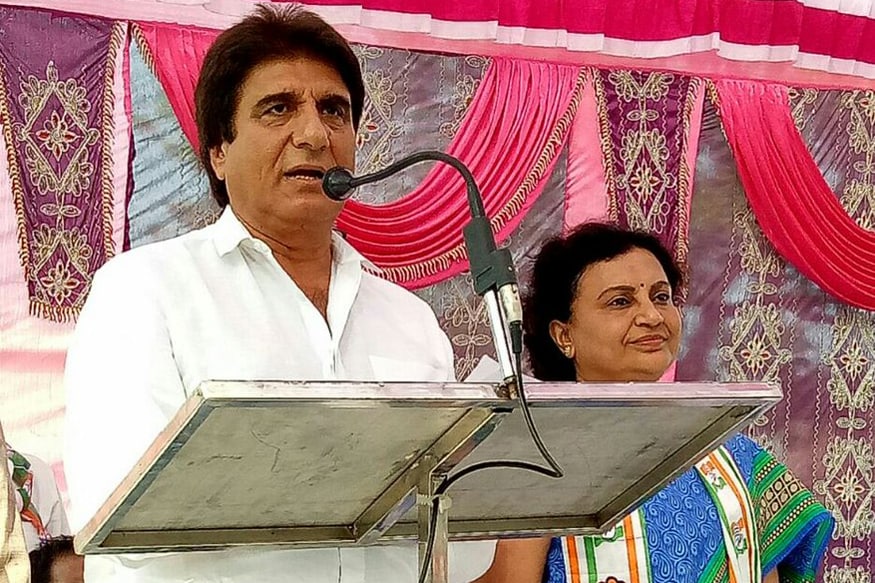 File photo of State Congress president Raj Babbar. (Image: Raj Babbar/Twitter)
Lucknow: After the chief ministers of Uttar Pradesh and Bihar expressed concerns against the widespread attacks on migrant workers in Gujarat that has sparked an exodus —the situation took another political turn — as the Uttar Pradesh Congress Committee has now decided to stage a state-wide protest on Tuesday against the atrocities.
The decision was taken in a meeting chaired by UPCC Chief Raj Babbar in Lucknow on Monday, after which all district units of Congress were notified about the call for protest.
"Till now more than 40,000 people have fled due to violence, another 200 have been jailed and cases have been registered against 400 people. News reports of attacks on people from UP and Bihar in Mehsana, Vadodra, Gandhnagar, Ahmedabad and Surat are coming every day," said the UPCC chief.
In a direct attack on the prime minister, Babbar said the "self declared son of 'Maa Ganga' has chosen to remain silent" even when the situation continues to worsen.
Since the alleged rape of a 14-month-old girl in Sabarkantha district on September 28, six districts — most of them in north Gujarat — have witnessed sporadic incidents of violence against Hindi-speaking people, police said. Police have arrested Ravindra Sahu, a labourer hailing from Bihar and working in a local ceramic factory, for the crime.
However, the backlash against the incident has signed the entire migrant community, with Uttar Bharatiya Vikas Parishad president Maheshsingh Kushwah claiming that over 20,000 people belonging to UP, Madhya Pradesh and Bihar had already fled Gujarat.
Earlier, while commenting upon the situation, the BJP had blamed Congress leader Alpesh Thakor for "fanning anti-Hindi belt sentiments," and instigating violence in the State. However, UPCC spokesperson thrashed this statement on Monday, calling it a classic BJP antic of invariably indulging in a blame-game when something goes wrong, but conveniently taking all the credit for any positive development.
"They have government in the Centre and the State, why don't they arrest if anyone is provoking violence? But the BJP is not doing anything as they choose to do politics over the matter," he said.
​
Keeping in mind the gravity of the situation, Uttar Pradesh chief minister Yogi Adityanath had spoken to Rupani on Monday and voiced his concerns regarding the incident. According to ANI, after the meeting the UP CM said, Rupani had clarified that no incidents of violence took place in the last 3 days and that people are merely spreading rumors because they are "jealous of the development in Gujrat."
Slamming this statement, Congress spokesperson Anshu Awasthi said, "I think CM Yogi is now concentrating to fight elections from Gujarat since he has been rejected by the people from his hometown Gorakhpur."
Awasthi questioned whether the UP CM's sentiments lay with the people of his state or with Gujrat. On the other hand, former Chief Minister of UP and National President of Samajwadi Party, Akhilesh Yadav, has also taken a hit at the BJP for the violence against people from the Hindi belt.
"Once again Gujarat is in limelight, where some people are spreading violence at the behest of others and are spreading hatred against the people of Hindi belt. The Central and State BJP governments are responsible for this," he tweeted on Monday.
Get the best of News18 delivered to your inbox - subscribe to News18 Daybreak. Follow News18.com on Twitter, Instagram, Facebook, Telegram, TikTok and on YouTube, and stay in the know with what's happening in the world around you – in real time.
| Edited by: Zoya Mateen
Read full article