Hardik Patel Taken to Hospital as Health Worsens on 14th Day of Fast, Blinks on Patidar Quota Demand
The 25-year-old, who doctors said had lost 20 kg over the course of the past two weeks, had stopped drinking water on Thursday night.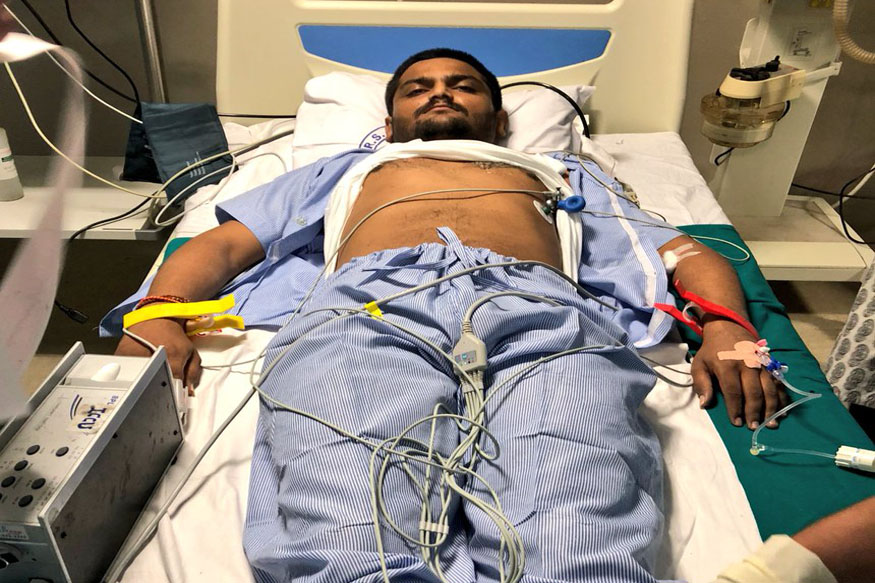 Hardik Patel tweeted this photo of him from the ICU of the Sola Hospital in Ahmedabad on Friday.
Ahmedabad: After 14 days of fasting, Patidar leader Hardik Patel agreed to be admitted to a hospital on Friday after his health deteriorated significantly. He has been taken to the Sola Civil Hospital in Ahmedabad and a team of eleven doctors will monitor his condition.
According to sources, the 25-year-old, who doctors said had lost 20 kg over the course of the past two weeks, was finding it difficult to breathe. He had stopped drinking water on Thursday after a 24-hour deadline given by the Patidar Ananmat Andolan Samiti to the Gujarat government to start talks over his demands elapsed.
Hardik had launched his fast on August 25 for three demands - farm loan waiver, reservation for the Patidar community under OBC category and release of his aide Alpesh Kathiria, who was booked in a sedition case. On Friday, however, word out of the PAAS camp suggested Hardik had resigned to the fact that the reservation demand won't be accepted.
According to PAAS spokesperson Manoj Panara, Hardik agreed to be shifted to the hospital after his supporters requested him to do so in view of his failing health.
"After senior Patidar leader and Khodal Dham chairman Naresh Patel met Hardik this afternoon, his condition suddenly worsened. He was about to become unconscious and appeared to be slipping into coma. The doctors will give a medical bulletin. But all of us unanimously decided to shift him to hospital before his kidneys or liver suffered major damage," Panara said. He also clarified that Hardik's agitation will continue.
But in signs that there cracks between Patidar groups over the agitation have widened, Naresh Patel said Hardik told him he will inform soon about his decision to call off the fast. "Hardik has not taken water since the last 18 hours. I told Hardik that everyone is worried about his health and that he should call off the hunger strike as soon as possible," he said.
Naresh Patel also said that he hope "the state government shows a positive attitude towards the two other demands" and accepted the "issue of reservation may take longer".
"Hardik asked me to be a mediator. As per his wish, representatives of Khodaldham, along with of another Patidar body Umiya Dham Sansthan, will try to talk with the government to break the deadlock. Our priority is to see that Hardik's health does not deteriorate," he said.
But there was clearly some disappointment among the other Patidar organisations. CK Patel, who is convener of all the six organisations that includes Naresh Patel's Khodal Dham as well, said PAAS has been burning effigies of leaders of Patidar organisations and calling respected heads of socio-religious organisations as BJP agents. "This is surely not acceptable," he said.
"As far as Naresh Patel saying that a meeting of Patidar organisations will be called, nothing of that sort has been brought to my notice as yet although I am convener of all the six organisations," he added.
The state government has so far only stated that it is worried about the health of Hardik Patel. BJP ministers and top party functionaries have been maintaining that Hardik's agitation and his fast is politically motivated and sponsored by the Congress party. They had initiated talks with six other Patidar groups, but it was shut down by the PAAS.
Several Gujarat Congress leaders had on Friday morning also started a 24-hour hunger strike in solidarity of the Patidar leader after a party delegation gave an ultimatum to chief minister Vijay Rupani on Thursday evening, demanding that his government initiate a dialogue with PAAS to end the deadlock.
Several other opposition parties such as the Samajwadi Party, Trinamool Congress, Nationalist Congress Party, DMK, JDS had also come out in support and had appealed to the state government to initiate dialogue. Former finance minister Yashwant Sinha and sulking BJP leader Shatrughan Sinha had also paid a visit on Tuesday.
(With PTI inputs)
Get the best of News18 delivered to your inbox - subscribe to News18 Daybreak. Follow News18.com on Twitter, Instagram, Facebook, Telegram, TikTok and on YouTube, and stay in the know with what's happening in the world around you – in real time.
| Edited by: Aakarshuk Sarna
Read full article